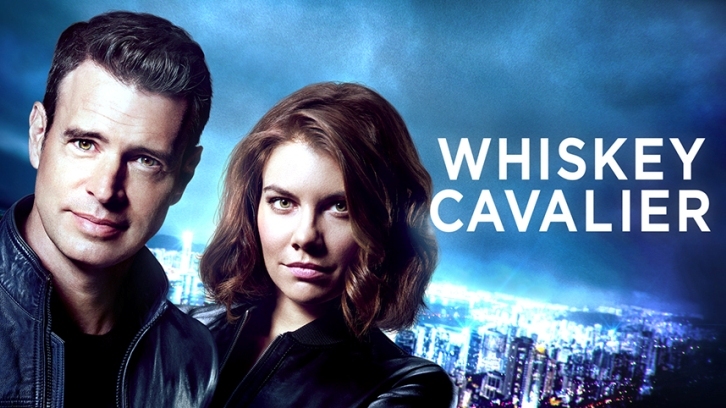 After two darker episodes in a row, College Confidential brings the lighter side of Whiskey Cavalier back. I laughed out loud more during this episode than I have in any sitcoms lately. WC brings the funny and while the episode may be filler, it's fun, fluffy filler that's a joy to watch from the opening scene until the end. The ratings may not be what ABC had been hoping for, but an earlier timeslot is what this show needs and I hope ABC can find that timeslot and give Whiskey Cavalier a second season.
#RenewWhiskeyCavalier.

The opening scene, with Jai and Standish racing a car through Latvian forest kicks the episode off in high gear. Standish is really just along for the ride as Jai gleefully navigates the course, but it's also a reminder of how skittish Standish can be in the espionage world. He doesn't yet have the confidence the rest of the team have, but that's something we will see grow in this episode. By the end, Standish has blossomed into a competent spy – and it's all thanks to this little family guiding him through it.


Frankie and Will adopt the mom and dad roles as they guide Standish's growth. They clash in their usual way when it comes to how to help Standish learn, but the conflict is so familial you'll be feeling it from the moment they chastise Standish in The Dead Drop – long before Standish himself even points out how they're acting.
It's adorable.
Frankie's still showing character growth. There's no backsliding for this badass character. Of course, Frankie and Will retain that conflict as they debate how a newbie spy should be trained, but the two balance one another out and it allows Standish to choose the kind of spy he wants to become by weighing up both sides and finding his own compromise. A little of Will's softness, and a little of Frankie's tough love.
Yeong's (whose name I could not find on IMDB or on the press release so the spelling may be incorrect) work in maglev technology has his country's government interested in weaponizing it. He's a student at a university in Romania - so off the team go, masquerading as college professors, rugby coaches, and in Standish's case, Yeong's roommate.
Standish thinks he's going to befriend Yeong with ease, but he couldn't be more wrong. When Standish's charms don't win Yeong over it forces Standish to adapt flexibility and think on his feet. He doesn't learn this right away, but he gets there. He does so with some conflicting advice from the parental figures, but he's also more sneakily helped along by them. When Will and Frankie stage an attack on Standish and Yeong without letting Standish in on the plan, they tell him it's because he's a bad actor. Later, he throws their words back at them when he hatches a plan to save Yeong's life without letting Frankie and Will in on his plan. It's a nice moment of growth for Standish because it's the moment it feels like he's completely thrown off his skittishness and has the confidence he's been lacking all this time.
Jai and Susan get sucked into the drama unfolding via the cameras hidden in the classroom textbooks (Jai's gadget of the week). Like a bad soap-opera, they're soon hopelessly addicted to their college reality TV show. And while Susan tries to act like the mature adult when they're told to stop, she's just as bad as Jai and can't quit until they find out how the drama between the student and professor ends.
There's a moment where Will tells Standish that saving someone's life is a quick way to bond, and oh if that doesn't feel like a call back to Will and Frankie in the pilot episode.
Standish and Tina continue to be adorable and watching him fall harder for her makes what we know about her even harder to stomach. It feels like that revelation will come to light for our spy team very soon. If not next episode than the one after for sure.
We get hints of Ray and Susan when she comments on missing his rugby shirt. It's not obvious exactly what their relationship is now, because Ray's so dense he doesn't really react the way most guys would. Are they still sneaking off? Or does Susan wish they still were…
My only complaint is the lack of mention of Emma's death. How's Will coping after that? A catch-up on his emotions there would have been nice to see.
Favorite lines:
"Well…. Scared the puke out of the kid."
"Think thick neck! Thick neck!"
"Are you hurting because you're old?"
"I did both in heels."
"Ah, mom, dad?"
"This isn't finished! We're talking about this in the car!"
Favorite scenes:
Ray almost chewing the knockout gum (and yet still pocketing it anyway).
Standish singing Sarah McLachlan's I Will Remember You to Yeong, and Jai loving it.
Every single mom and dad Frankie and Will scene.
Jai and Susan addicted to Cheating Professor and Student telenovela.
Will and Frankie lecturing on Gender Roles and Sexuality in Classic Literature, and bringing their flirty tension into the classroom. A discussion on Charlotte Bronte's Jane Eyre leads to eye-sex and the student who yells "Just kiss her already" might be my own personal hero.