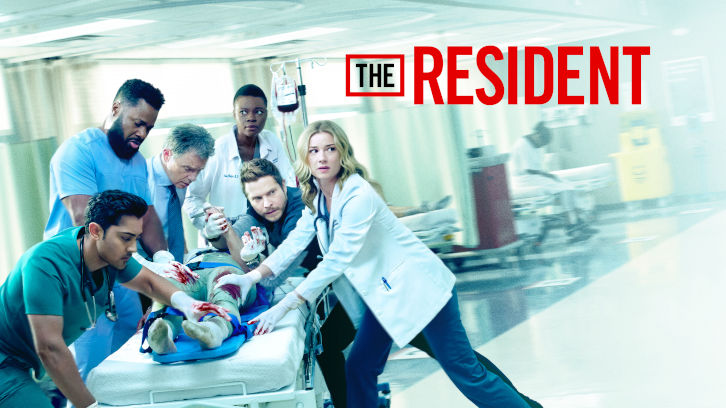 In the last episode of the second season was another solid performance ending on cliffhanger. It wasn't gut wrenching or as fast paced as it could have been, but it was still a great hour of television. Nic continued to deal with issues surrounding her family and her relationship with Conrad. Micah was back in the hospital, closing the loop on his relationship with Mina. Bell seemed to once more put Chastain in a position that will later come to bite him in the arse, and PR nightmares continued to make their way to the hospital.

Chastain is not doing well financially, as was repeated in last week's episode. Bell seemed prepared to, once again, get in bed with someone he shouldn't. For once thought, I felt like he was doing all this for the wellbeing of the hospital, and not his own personal gain. I can hardly believe how much he's grown during the past season, and how differently I see his motivations. Still, I do not believe it will end well for him. As the episode begins, the CEO is pitching the hospital to Red Rock Mountain Medical, who now owns all the hospitals in the 100miles radius except Chastain. The hospital is the last piece they need to acquire to fully control pricing. This cannot, and will not be a good thing.


"We need to treat this man, whether or not he's homeless, whether or not he's insured." –Conrad
An unidentified man is brought to the emergency room. They don't know who he is, and judging by his clothes, they believe he might be homeless. Assuming he isn't insured makes their requests for the treatment of the man unable to communicate his thoughts that much harder. With the hospital 100 million dollars in the red, Bell isn't inclined to perform the surgery knowing he will probably not get paid. It was a sly move from Devon, almost Conrad level of sly, to include Kit, in order to help sway Bell. It worked. Sure enough, it only takes a couple of minutes with Sunflower for Bell to okay the surgery. Bell sees himself in the man, it's hard to pinpoint why, but he does, and the surgery was the right call. It will not be something he will have the power to do once he signs over his decision making over to Red Rock Mountain Medical.
Kit casually lets Bell know she's back with her ex-husband, but it makes me feel so bad for him. He shrugs it off, like it is no big deal, but clearly he's hurting. He's grown so much in the span of the season, he deserves something good, and I believe Kit brings out his good side.
The season finale of The Resident focused a lot on Nic. She has a lot going on in
The Unbefriended
with all that is happening with her sister, her father and Conrad. She was able to do a lot of introspection in this episode, and the show handled it beautifully.
When the Party's Over
was the perfect soundtrack to her internal struggles. After a little bit of thinking she's finally ready to talk, ready to take the next step with Conrad and he accepts her with open arms. He was so happy, I couldn't help but smile with him and be happy for them too. Conrad's smile could light up the world.
Just let the man have his damn chickens.
After everything we've seen, her opening up was a big deal.
"I don't want to do that, I don't want to make excuses. I want to see the pattern, take responsibility, and change." –Nic
There is a sense of urgency in this week's episode as Jessi's health deteriorated quickly. She seems to be in a lot of pain. Her heart is worsening more rapidly than they were expecting. Because of her low blood pressure, they needed to stop dialysis. Jessi doesn't have much time left and seeing Nic hurt for her sister made me hurt, she loves her sister so damn much and can't bear to watch her suffer. She's out of options. She wouldn't go through with the organ broker in last week's episode, which means Kyle is her only option. She has tried contacting him on multiple occasions, but he wouldn't pick up the phone. He didn't want to be found, but Nic has someone in her corner, Conrad, who asked his father to get his private detective to locate Kyle.
Nic goes to beg him to reconsider. He is the only person that can save her. Jessi has days, maybe weeks left. She is running out of time. But Kyle is scared, scared of the risks, scared he won't make. He can't do it, and looking at Nic so defeated just broke my heart. She doesn't understand it, the fear, but Jessie does. It was surprising to see her take the news so gracefully, thinking of Nic in the event that she dies. Jessie doesn't want her sister to blame herself even if everyone knows she will. In a very touching scene between the two sisters, Jessi also asks Nic to try and forgive their father. That is who he was to her, Kyle. She doesn't reference him as being her father, doesn't call him dad. That is, not until he shows up at the hospital ready to donate his kidney.
"Thank you, dad." –Nic
The operation did not go as smoothly as expected when Shira collapsed in the operating room. Nic and Conrad, watching from the gallery, had to jump in to save her father. The surgeon nicked an artery, but after recovering they were able to proceed with harvesting the kidney. Jessi's window for a kidney is closing and if they wait to transplant Kyle's kidney they might miss out, so Nic gives them the go ahead.
Mina knew from the get go something was off with her, Shira Smook a drug addict, and overdosed in the operating room, with Kyle on the table. At the same time, Nolan caught a suspect man trying to get in a car in the hospital parking lot, a car filled with stolen drugs. When they discover the owner of the vehicule, Nolan immediately gets Bell, accompanied by police officers. After Devon revives her, it wasn't long before she was cuffed to the bed, outraged. Chastain does not manage to stay away from PR mishaps. The woman had been fired in Pennsylvania for drug abuse, but since records don't travel states, hastain had no way of knowing this before hiring her. They could have probably just called her old employer to see what kind of doctor he was before hiring her, but maybe I'm oversimplifying it. It is simply crazy that something like this could happen in the US, why is no one screaming about this?
Mina had asked Austin to keep Shira off of Micah's surgery, who is back to have his pace-maker installed. He has a new girlfriend in toe which doesn't sit well with The Raptor, his stance with Micah changed when he saw the woman. He continues to be very protective of Mina, he protects her emotional state in all of this. He was being genuine with Micah for Mina's sake, because of the lingering feelings she still has towards him. Bringing Micah back was a way to close that chapter of Mina's life. He has moved on, and he is happy. She can be happy too, and stop blaming herself for taking too long to answer. They simply weren't meant to be.
Both Jessi and Kyle are in recovery, but have not yet woken up when Conrad told Nic to take some air. He would watch over them, and tell her if there was any change. Everything seemed to fall into place for Nic, her sister had a new kidney, her father had showed up and Conrad was meeting her halfway. Everything was looking up, until her pager beeped. Nic rushed to the hospital only to see Conrad fighting to keep the person alive. Mina is there to stop Nic from going in the room where Conrad was running the code. The fact that the scene did not have a backgroung score made it even more poignant. The heavy brething, the machine beeps, all sound amplifying the sense of doom. And this is what the audience is left with at the end of the season, a cliff-hanger on who is dead, Kyle or Jessi.
I really loved this season as a whole. I don't believe there are any episodes I disliked. The Resident is able to surprise, to entertain, while still giving insight on the American medical industry. I have no doubt they will continue to bring forward solid storylines in it's the third season. I give this episode, and this season an 8.5/10. This show is my guilty pleasure.