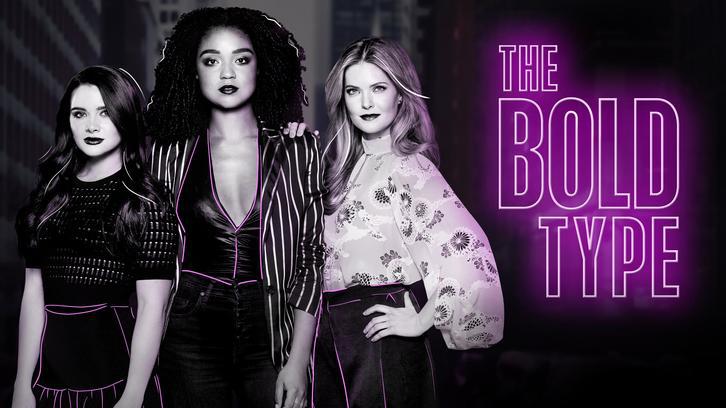 This week on The Bold Type, Scarlet gets hacked and emails could get leaked which could compromise Jane's article. Sutton and Richard host a dinner party for their friends. Sutton finds out that Richard has been looking at houses outside of the city and is not happy. They talk it out and decide to hold off on starting a family. Jane drinks a bit too much and lashes out at Patrick but later apologizes. Kat tries to figure out if her campaign manager Tia is interested in her or not. She eventually just asks but it turns out Tia wasn't actually flirting with her and things get awkward.

Awkward: I totally understand why Kat was confused by Tia. I, too, thought she was flirting with Kat on multiple occasions. Dating is a lot more difficult when you're not straight. There's a fine line between being friendly and flirting and it can be very confusing to figure out which is happening, especially with someone from the same sex. And you can't outright ask because, if you're wrong, things get all awkward as they did for Kat and Tia. The thing is, I doubt that someone who's straight even considers that their actions could be seen as anything other than platonic. But when you're queer, you notice a lot more things and see them in a different light. I don't doubt that Kat and Tia will move past the awkwardness. I do think it'll be hard for Kat to shake her crush. But I wonder if the writers plan on having Adena return, or if we're done with that storyline. Because it sure seems like they're ready to have Kat move on.

I've said it before: And I'll say it again, communication is key. Richard and Sutton had their first big hurdle since they got back together. Sutton was right to be angry, Richard shouldn't have been even considering a decision like this without her. I think we really saw what issues an age difference like theirs brings to a relationship. They're in different places both professionally and personally. Sutton is just starting to build her career while Richard's is already well established. So it makes sense that he would be ready to settle down and start thinking about kids. But for Sutton, everything is only just getting started. She's going to be crazy busy the next few years and kids are definitely not on the radar yet. If the roles had been reversed, this would've been a deal breaker because women can't wait that much longer to have kids, but men can. But I also get that Richard doesn't want to be in his fifties when he takes his kid to kindergarten. So, while they may have settled this issue now, I'm sure it'll come up again in a few years.
Pay up: I feel like a lot of shows are having similar storylines involving getting hacked these past few years. Probably because it does happen more frequently nowadays. While Kat and Sutton didn't seem all that worried about their emails getting released, Jane was and for good reason. She's in an entirely different department, journalism. Where confidentiality is a very important factor. And of course, this would happen just as Jane is working on a huge story. If only it had happened when she was working on a butt lift story or something. On top of that, Patrick seems to be getting on her nerves a lot. Still, not sure I writing emails like that with your work email is such a good idea. I would be terrified that those would somehow find their way to the boss. I do have to commend Patrick on how well he took Jane's outburst. There are a lot of bosses that would've reacted entirely different. I think he was actually impressed by her. Judging by next week's synopsis, I assume the board won't pay the ransom and the emails will get leaked. I'm sure this will lead to a fallout concerning Jane's article. Once the photographer knows Jane is working on that story, she'll probably try to stop it by any means necessary.
Best quotes: Sutton: "But you're the one that's out here, talking to people, spreading your signature Kat-ness. How have we never made a Katniss Everdeen reference?" Jane: "Slinging arrows of political justice, fighting for the district! It works!" Sutton: "It does." Kat: "Does it, though?"
Richard: "Running's actually fun, you know, once you get into the spirit of it." Sutton: "Yeah, me, I'm more of a sitting girl, you know? Sometimes when I'm sitting, I wish that I could be sitting harder, like on a bench."
Kat: "My campaign manager is straight. She also has a date tonight and she smells like lavender." Jane: "Up until very recently, didn't we think that you were straight?" Kat: "That's true."
Sutton: "Okay, time to play nice. How do I look?" Kat: "Like a Stepford wife." Sutton: "Great."
That's it for this week. Check in again next week for an all-new review and let me know in the comments what you thought of this week's episode.
Please be respectful in the comments, any unnecessary rudeness isn't welcome.