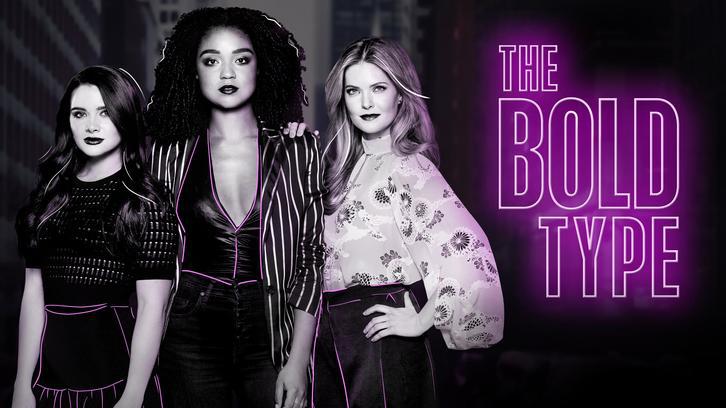 This week on The Bold Type, all of Scarlet's emails were released which lead to a lot of damage control. Sutton lent her mother money, which meant she could no longer afford a sewing machine. She did open up to Richard about her relationship with her mother. Jane struggled to find a second source for her story. She considered omitting the fact that she's a report but luckily Ryan, Kat and Sutton talked her out of it. Tia told Kat she could no longer be her campaign manager. Kat tried to change her mind but it turns out Tia did have a crush on Kat and they kiss. Through flashbacks, we see Kat, Jane, and Sutton on the day they first met, which was also Jane's first day at Scarlet. The women bonded after nearly killing an advertiser.

Money, money, money: I have to admit, after seeing her and Richard in their fancy apartment this season, I kind of forgot that money has always been an issue for Sutton. And still is. She's always been very self-reliant and, despite having a rich boyfriend now, she probably still wants to pay her own way. Which, apparently, everyone knows because not once did anyone suggest that she ask Richard for the money, nor did he offer it himself (I really thought that that's where this storyline was headed). Maybe they'll still go that way. It can't be easy for him to see his girlfriend being unable to buy something she needs when he could probably buy her 20 sewing machines. But as we as in the flashbacks, she prefers to solve her problems on her own, and she usually does. I mean, she basically talked herself into a job that didn't exist.

I don't buy it: Despite the fact that Jane couldn't find a second source for her story, I still don't think we've seen the last of it. There's just no way. And I don't think Jane will be able to walk away from it that easily. But I'm glad she didn't lie to get a statement. Once you cross that line as a reporter, it can seriously damage the future of your career, even if it does land you a huge story. The truth may not have gotten her what she wanted, but at least she didn't comprise her morals and who knows, perhaps her honesty left an impression on the hair stylist.
Speak up: I feel like the message of Kat's storyline this week was crystal clear. If you're unhappy about something, whether it's management at work or having to choose a new campaign manager, speak up about it. Sure, it may not make a difference. But then at least you tried. Nothing's going to change if you stay quiet. And this week showed that it doesn't always work out. It worked great for Kat at her job, it probably got her to the position she is at now. But she'll probably still need a new campaign manager. However, it did lead to a great talk with Tia. I'm guessing she's struggling with a lot of internalized homophobia. So I'm not sure it would be wise for her to stay on the campaign.
More please: I absolutely loved seeing Kat, Jane, and Sutton on the day they first met. I really hope we get more flashbacks at some point, doesn't have to be this season (hopefully there will be more seasons). I'm not even remotely surprised that the thing that brought them together was nearly killing a guy. I really related to Jane, starting a new job and being worried you'll suck at it, nearly crying when someone yells at you. I love that Jacqueline believed in her from day 1. I have a feeling that everyone on the writing staff has a similar Jacqueline story.
Please don't: This show has always stayed away from clichés and I really hope they'll do that again. I don't want a storyline about Jacqueline cheating on her husband. But when an ex starts talking about you as "the one that got away", we're usually headed in that direction. It was kind of creepy actually, especially when she not so subtly reminded him she's approaching her 21st wedding anniversary. Dude, back off.
Best quotes: Oliver: "We'll be sending apology gifts today." Sutton: " Who'd you offend?" Oliver: "Manhattan."
Jacqueline: "Are you a writer?" Jane: "No, I'm an intern." Jacqueline: "That doesn't mean you can't also be a writer. You look like a writer to me."
Jane: "Okay, a toast. To long and prosperous careers at Scarlet." Kat: "And no more nuts." Sutton: "Cheers."
Kat: "The truth is very powerful. We learned that lesson today." Sutton: "And while we're on the subject, this wine tastes like crap." Kat: "I like the wine, the label is so cute." Sutton: "You have to stop picking wine by the label. This is the third time we've been screwed by that." Jane: "Yeah, I'm gonna drink it anyway."
That's it for this week. Check in again next week for an all-new review and let me know in the comments what you thought of this week's episode.
Please be respectful in the comments, any unnecessary rudeness isn't welcome.