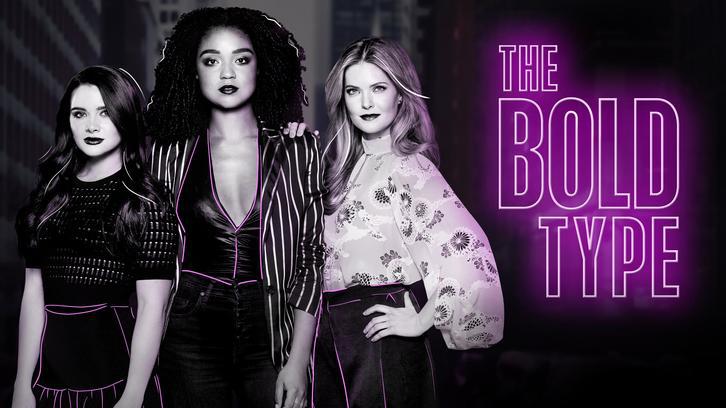 This week on The Bold Type, Alex moves in with Jane after his place is temporarily uninhabitable. Ryan isn't too happy about this because he'd hoped to move in with Jane himself. He's leaving on a 2-month book tour. Sutton tries to throw a birthday party for Richard but realizes that he's not really up for it since this is his first birthday without his dad. Kat and Tia are racially profiled while out canvassing for Kat's campaign and the 2 disagree on how to handle it. Kat wants to fight it online while Tia wants to focus back on the campaign. Eventually, Kat agrees with Tia after seeing how Patrick completely misread the message she was trying to spread. They take their relationship to the next level. Kat gets a text from Adena saying she's in town and wants to see Kat.

Big steps: So this week's episode was very relationship-centric and the general message seemed to be how important communication is. Jane and Ryan both have very busy lives and seem to keep missing each other. Now Ryan is headed towards a huge book tour that will lead to them being separated for at least 8 weeks. While the 2 were talking about taking the next step (moving in together) I can't help but feel that this separation will lead to some friction. It seemed like they were hinting at that when they couldn't even finish their conversation without being interrupted by their phones. They may promise to call or skype each day, but I have a feeling keeping that promise won't be easy with their crazy schedules. There was one thing that I'd like to point out. I loved how Ryan wasn't jealous that Alex moved in with Jane. He was unhappy about it because he wanted them to live together, not because he didn't trust Jane. Which is super refreshing because any other show would've gone with the jealous boyfriend route.

Stay on point: Kat and Tia's issues had more to do with not being on the same page. I totally get where Kat was coming from. I have the same impulses when I see injustice done. You want to fight back immediately but often that just makes things worse, and it does take away from the message you wanted to spread. Patrick immediately focused on the identity of the woman in the photo even though that's not the important thing here. Tia has had a bit more experience with all of this so she knew what would happen. But I think Kat needed to see it first, for it to really sink in. But the couple seemed back on track by the end of the episode, even taking things to the next level. Adena's return will definitely cause some friction.
Less is more: Richard and Sutton's relationship has really grown a lot of the past 3 seasons. I almost forgot that they weren't together last season. Which indeed makes this the first birthday that they spend together. Sutton had the best intentions with the party and any other year it probably would've gone great, but since he only recently lost his father things are a lot more difficult. I'm glad he opened up to her, and she to him. They're both the closed-off type, at least when it comes to personal stuff. They both had very different childhoods and relationships with their parents but somehow it works. I wouldn't be surprised if we see a proposal soon (probably next season, YAY we got renewed)
Friendships that matter: This show is great at portraying friendships, and not just amongst our fabulous threesome. I really liked seeing Jane and Alex bond outside of the office. At first, I thought them being roommates would be awkward but it seems to really work. Don't get me wrong, there will be plenty of awkward stuff, just look at all of the shenanigans that ensued with Jane and Sutton. Speaking of Sutton, it's rare to see her and Jacqueline really talk. I really enjoyed that scene. Sutton's not really in Jacqueline's department but that doesn't seem to matter when it comes to handing out advice. Honestly, the woman should write an advice column.
Best quotes: Kat: "Well, I made it to first base again." Jane: "Ah, yes, Baseball, love it. So that makes mine a triple play. No, a grand slam because it's morning, night and middle of the night sex." Kat & Sutton: "Wow." Jane: "We're really trying to pack it in before Ryan leaves." Sutton: "That sounds great. Me? I am warming the bench, looking at the field … from afar, not even in the game."
Jane: "Alex and I are taking a roommate compatibility quiz." Sutton: "The same one I failed?" Jane: "Ah, yes."
Jane: "So let me get this straight. You couldn't save your clothes, but you could save your French press and your gaming system." Alex: "Priorities. The French press is waterproof and the gaming system is awesome."
That's it for this week. Check in again next week for an all-new review and let me know in the comments what you thought of this week's episode.
Please be respectful in the comments, any unnecessary rudeness isn't welcome.