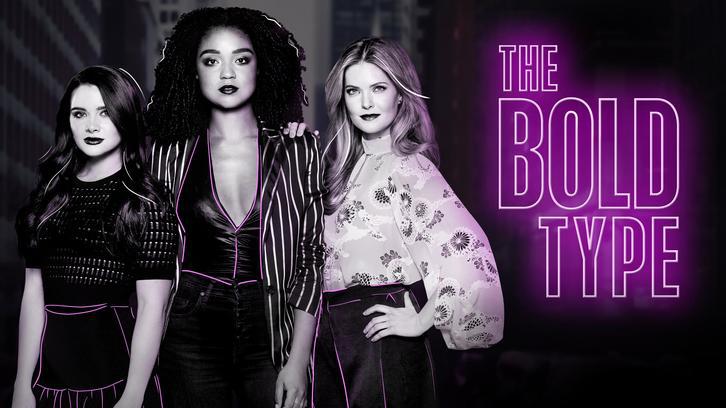 This week on The Bold Type Jacqueline feels like she's being pushed out. Kat is uncertain about running for City Council after the oppo research uncovers an abortion she had years ago. Sutton wants to quit designing after Oliver and that other woman give her a harsh critique of the dress she made, but Oliver later convinces her to not give up. Jane wants to write a story about a photographer who is rumored to abuse her models. She helps Jacqueline realize she can't give in. Jacqueline's speech inspires Kat to run for City Council anyway and use her weaknesses as her strengths.

Tiny cheerleader: Jane has come such a long way as a writer since season 1. She used to be so unsure when coming upon a big story, Jacqueline had to kind of push her into it but now the roles seemed reversed. I have a feeling that this story with be a recurring storyline for the rest of the season. Tackling a story like this, about abuse from a very respected person in a certain business, will be very challenging. And if what Oliver said is true, Jane will have to be very careful that this person doesn't come after her for this. But I loved how determined she was. Can't wait to see where this investigation leads her.

First steps: So, Kat is officially in the running for City Council. Man, I really hate politics. Running for anything should be about your own platform, what you want to accomplish for the district. But instead, it always ends up being about the opponent's flaws and past indiscretions. Kat's opponent hadn't used hers against her yet, but we all know he would have eventually. So, I was really happy to see Kat use what would've been used against her as a platform. I kind of saw it happening, though, after Tia told her about that clinic she went to. Places like that shouldn't exist (seriously America? What the hell is wrong with you?). But she won't have it easy. I expect the abortion issue to cause some problems with a certain group of voters.
Taking critique: I'm starting to feel like Sutton is just my role model in every department. Each week she does the exact thing that would terrify me. Her self-esteem took a real hit this week when Oliver and that other woman didn't like the dress she made. I also would've been ready to quit at this point (and cry). I'm glad Oliver talked her out of it. I love how close those 2 have gotten. He gives her fashion advice, she gives him parenting advice. Despite the fact that she works for him, this really shows how much he respects her. Why can't all fashion related boss/employee relationships on TV be like this?
Fight me: I was surprised by Jacqueline this week. I didn't think she'd give in that quickly. She seemed so defeated, though. We know she's been struggling as media evolves to a more digital platform and less paper. But I guess it must have affected her more than we thought. What Jane said to Jacqueline was really powerful. She inspired Jacqueline and by doing so, Jacqueline then gave a speech that inspired Kat. And that's why women sticking together is so important. I'm glad that this show gets that right.
Best quotes: Sutton: "Oh, hey Carly. What are you reading today?" Carly: "Uhm, what's it called? Fifty Shades of…" Sutton: "What?" Oliver: "Don't mind her. She's a natural Maya Rudolph. She's actually reading … Three Dark Crowns? I don't know."
Jane: "We didn't know that." Sutton: "No, I didn't know that." Jane: "Why didn't we know that?" Kat: "It's not something you just drop into a conversation." Sutton: "We're the queens of dropping things into a conversation." Kat: "That true."
Sutton: "I had sex on that last night." Kat: "Well done." Jane: "How?"
Oliver: "And Red, if you want to make it as a designer, you're going to have to take a note, roll with the punches and bounce back with the confidence of a mediocre white man." Sutton: "I can channel my inner Kevin Costner."
Jane: "I actually asked her why she still does it. Why she puts herself through the work day after day. She says it's because she loves it. Because she's good at it and she doesn't care if people think that it's time for her to hang up her skates. But most importantly, it's because her fearlessness and her heart make every woman on that team better."
That's it for this week. Check in again next week for an all-new review and let me know in the comments what you thought of this week's episode.
Please be respectful in the comments, any unnecessary rudeness isn't welcome.