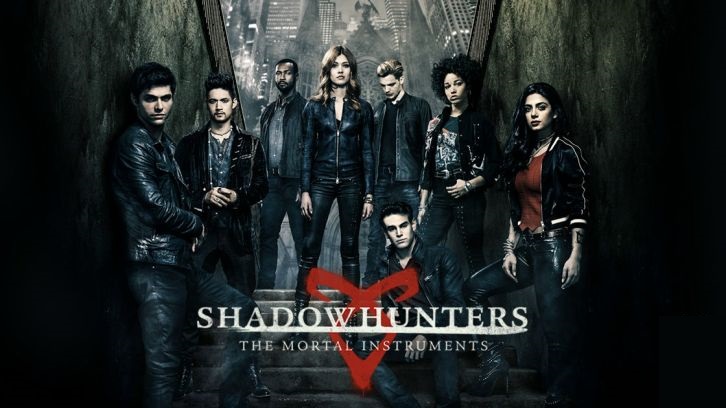 This week on the series finale Shadowhunters, Izzy has Heavenly Fire running through her veins, which could kill her if she's near anyone with demon blood. The gang uses an Alliance rune to travel to Edom and save Magnus. Jonathan goes on a rampage around the world. The gang defeats Lilith and saves Magnus and Izzy, while simultaneously destroying Edom. Clary gets a warning from her mother that if she ever uses one of her special runes again, the Angels will take her powers. But she uses on to stop Jonathan and save all Shadowhunters, which apparently the Angels didn't appreciate because she slowly started to lose her runes and her memory. Alec and Magnus get married. Clary walks out of the institute after the wedding, completely human with no memory of the Shadow world. We flash forward to a year later. Where Clary had her own art show where Jace watches her until she suddenly spots him. They meet again and Jace regains hope that her memories will return.

We were robbed …: … of more time. We've known for months now that this would be the end of Shadowhunters. I thought that knowing beforehand would make it easier to say goodbye to this show. And maybe it would've been had the writers known before 3B was shot. But instead, it just pissed me off even more. The writers clearly had a lot of plans for a fourth season. So much of 3B was build up for what would have probably been the final season. If only Freeform had granted us that. Of course, I'm happy that we got a huge wrap-up finale, rather than have things end on a cliffhanger. But it wasn't enough. The writers did a great job with the finale, I can only imagine how difficult it must have been for them to shrink everything down to an hour and 40 minutes. But the network should've given us more.

What a waste: I wanted to highlight some of the storylines that didn't get the time they needed. First up, the werewolves. I actually thought Luke's storyline was going to get cut from the finale completely, but we still got a glimpse. I did not expect the Praetor to have him take the vial of Heavenly Fire himself. I thought they'd study it or something, maybe use it as a weapon. Yes, I was expecting the absolute worse. Can you blame me? They had been acting really shady lately. But it makes sense that they'd want someone in the Clave who understood their interests. And I'm sure they would've asked the occasional favor from Luke. But this twist did throw me a bit. I thought Luke was happy as a werewolf. I didn't think he wanted to be a Shadowhunter again. (sure, maybe when Jocelyn was still alive). And I wish we could've seen more of Maia as a leader. We barely saw anything of her this week. Wouldn't it have been awesome if she'd accompanied the gang to Edom, rather than Meliorn? But she seemed to be doing really well in the flashforward so I'm happy about that.
And then there are the relationships, like Simon and Izzy. Talk about rushed. I'm still surprised their first kiss didn't happen last week, in what was supposed to be the finale. Everything happened so fast for them in this finale. It makes me wish they'd started their build up a season earlier. In the books, Simon and Izzy got together a lot faster as well (sure he was dating Maia at the same time, which I'm happy they left out, but still). The flashforward also didn't really help in their case. We never really got to see their relationship develop. We saw an intense beginning and then they immediately skipped to domestic bliss. Can these 2 get a spinoff of everything we missed? Another couple that deserves a spinoff is Aline and Helen. I doubt we'd ever get that because then we'd need the rights to a few other books in this series. But I still appreciated that the writers gave us a glimpse of them. I wonder if they would've gotten the recurring status had we gotten a fourth season. Because they did seem intent on showing us the development of their relationship.
Parallels: A couple that did get the time they needed was Alec and Magnus. I really liked the parallel of the wedding. Alec's wedding to Lydia was the first time he and Magnus kissed. And now they got married in the same place. It was also really nice to see how far Maryse has come. Remember how outraged she was when she found out Alec and Magnus were together? And now she was walking them down the aisle. Talk about progress. Clary and Jace also had a few parallels, specifically with the pilot, with her being the only one who could see him. There are a few storylines from the books that were turned upside down (see paragraph below) but Clary's memory loss is the one I minded the least. I actually really liked how things ended for Clary and Jace.
And the book fans went "Huh?": As for the changes I didn't like. I always try to look at an episode from both a book fan's perspective and a non-book fan's perspective. Which is why this review was so difficult to write. Those perspectives didn't really agree much this week. So for this paragraph, I'm going full book-mode. There were a lot of elements this week that were taken from the books but were still completely different. The Heavenly Fire, for instance. I found it weird that Izzy was the one with it in her. Clary would've made way more sense here since she was actually stabbed to the chest by the sword. But I guess they didn't want both major aspects to go to her, plus it created some drama between Izzy and Simon. I was surprised that the Alliance rune made its appearance now. This is something from book 3, which was used during the War of Alicante (which this show skipped over) and at a much larger scale, with Shadowhunters and Downworlders fighting side by side. Instead, they used it as a way to enter Edom. I don't fully remember how they entered Edom in the books but I thought it had something to do with the Seelie Court, which would've taken too long for this finale. And then, of course, there's Clary's memory loss. In the books, this was supposed to be Simon. Him becoming human and losing his memories later lead to him being able to go to the Shadowhunter's Academy. I should've known this would be different when the subject of Clary and Izzy becoming Parabatai came up since Simon became Clary's Parabatai in the books. But I didn't mind this change because it wouldn't have had the same emotional depth as with Simon. His relationship with Izzy wasn't intense enough yet for this storyline.
How dare you?! And now for what pissed me off. I figured I'd leave this for last so that you guys could skip it if you wanted. Why go through all the trouble of including the LA Institute, only to completely leave out any mention or appearance of the Blackthorn family (who live there)? I actually cheered when I saw the LA institute because I thought that meant they would make a cameo. And I get that this would be difficult because of the rights to TDA, but those characters were all introduced in the final Mortal Instruments books, so why wouldn't they be able to use them? And they could've easily just used any other institute for Robert and Max' scenes. And then there's the absence of Jem and Tessa. Actually, Jem was in this episode, he officiated Magnus and Alec's wedding but that was it. I know it would've required extra time for Jem to remove Izzy's Heavenly Fire rather than have the gang do it (which was way too easy) but come on. That was one of my favorite parts of the final book. Needless to say, I wasn't too thrilled and unfortunately, it affected my overall enjoyment of the episode.
Thank you: Regardless of everything I wrote above, I want to thank the writers, the cast and the crew for giving us 3 great seasons. I know this show meant a lot to the fans, I saw #SaveShadowhunters videos for months despite there being very little chance of the show getting saved. I know a lot of us had our doubts when the show first started, but these actors really made these characters their own. So thank you!
Best quotes: Magnus: "I'd say you were rude for neglecting to knock, but dad didn't really seem to care much for doors. Or ceilings for that matter."
Simon: "Are you sure one of you guys doesn't wanna go first?" Lorenzo: "Absolutely not." Meliorn: "No, thank you."
Jace: "Wearing a leather jacket to hell, that was a great idea."
Clary: "I wanted to believe in you, Jonathan, I did. Ever since I was a little girl, you were my boy in the tower. The boy that I always wanted to save but I never thought I could. I guess I was right."
That's it for Shadowhunters. Let me know in the comments what you thought of the series finale.
Please be respectful in the comments, any unnecessary rudeness isn't welcome.