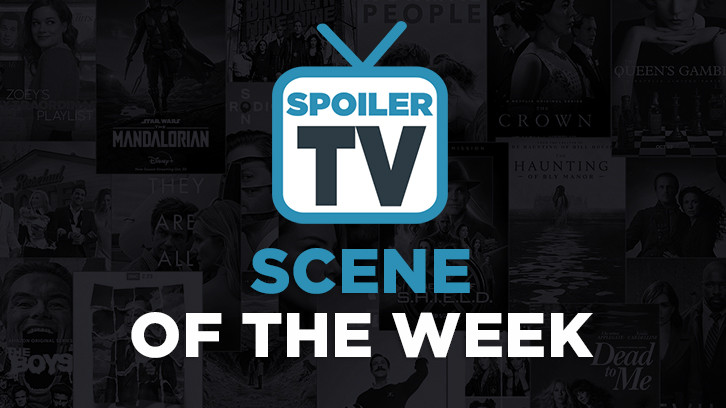 A weekly feature in which we're trying to find the most compelling, best acted, written, directed and just generally great, memorable scenes that we've seen in past seven days on TV.

AGENTS OF SHIELD, "Fear and Loathing on the Planet of Kitson", May 24, 2019, Actors: Chloe Bennet, Elizabeth Henstridge, Iain De Caestecker, The Scene: Daisy and Jemma's conversation at the bar
Justyna: This is the last thing that I would expect to see on Agents of SHIELD but it turned out to be such a hilarious surprise. I really enjoyed all the interactions between Fitz and Enoch, those two (best friends) are great together, but I can't help but highlight the other duo of the hour - Daisy and Jemma. Under the influence of some sort of space drugs the two suddenly forget the reason why they've infiltrated an alien casino on planet of Kitson and after quite a struggle they reach the bar and have an unexpected conversation. The rescue mission briefly becomes a "ladies night" and random question from Daisy prompts a talk about Harry Potter houses and magic. Of course Jemma is a proud Ravenclaw and her "Expecto Patronum" would be a monkey / Fitz-related. However I did not expect it to be a tiny Fitz in a monkey suit. It was impossible not to laugh throughout this scene and the episode's many other hilarious moments. This team has been through so much and even this hour ends on a rather heartbreaking note, with the almost reunion, so it was a great idea for a change of pace and a moment for the characters to just have fun and not think about a million of their problems. Great work by both actresses who were given a chance to display their comedic skills this week and did not disappoint. Kudos to cast & crew for all their work on the show!
DJRiter: Jemma and Daisy's stoned "Ladies Night" mission talk at the alien bar/casino. This was the comedic scene and pairing that I didn't know I needed to see from the show. After eating the equivalent of alien drugged mushrooms and getting high, Daisy and Jemma stumble their way to the bar at the alien casino they've infiltrated in search of Fitz. Proud of their accomplishment the two share a private moment bonding over which Harry Potter house they belonged to- of course Jemma is Ravenclaw and topped by Henstridge's attempt at an "Expecto Patronum" spell with a straw. Both actresses truly went for it and seemed to be having a ball with these scenes. A nice bit of unexpected levity in a serious situation.

AMERICAN HOUSEWIFE, "A Mom's Parade", May 21, 2019, Actors: Katy Mixon, Meg Donnelly and more
The Scene: "The Full Westport" song
Winston: This show is an underrated gem, and while it's never setting my world on fire, it's always entertaining. I wasn't expecting them to go and do a musical this week and I was pleasantly surprised. My favorite number had to be the scene at the diner where they sing "the full Westport". It was a cute song with some great choreography that had me bopping my head. It was at this moment I was all in on the episode.

CHARMED, "The Source Awakens", May 19, 2019, Actors: Melonie Diaz, Madeleine Mantock, Sarah Jeffery, The Scene: Maggie and Mel stand by Macy's side
Marko: In a really strong season finale, the sisters' emotional bond finally came into play and exploded all over the screen. The sisters promising they will stick by Macy's side no matter what just felt like the finish the writers were aiming the whole time. The writers didn't always do their best in developing the sisterly bond but it all worked when it came down to it.

ELEMENTARY, "The Further Adventures", May 23, 2019, Actors: Aidan Quinn, Jon Michael Hill, The Scene: Bell confronts Captain Gregson
Dahne: I wasn't thrilled with how Elementary ended last year, so it was nice seeing someone besides Sherlock call Gregson out for his part in the debacle. Bell has had an amazing character arc and I loved seeing him have the confidence to confront the Captain with what he knew, but also to be able to see the grey side of the whole issue. If this had been the first season, he would have had a far different reaction. All in all, it was a great scene that allowed Gregson to show some remorse as well.

GAME OF THRONES, "The Iron Throne", May 19, 2019, Actors: Kit Harington, Sophie Turner, Maisie Williams and more, The Scene: The final montage
Ellys: The Fate of the Starks. Some of the most satisfying minutes of TV this year made up the final moments of Game of Thrones. Sansa, Arya and Jon all received an open-ended conclusion that made sense for their respective journeys. Arya, who has constantly reinvented herself and faced bigger challenges, decides to explore the unknown. She takes with her the family name and crest. Sansa's wisdom and leadership skills, born of the fieriest travails, are honored by her people. She proved to them that she was not only stronger within the walls of Winterfell but that she could stand up for them in the face of any monster, human or otherwise. And while Jon's fate was perhaps the most controversial, he leaves behind the life he didn't want: crowns, politics, banquets, etc. Tyrion once told him to make his bastard name his own. Over the series, Jon did just that. He rides away from the Wall to build a new civilization with the Free Folk, a different type of power than some may have wanted for him, but this is the life of promise and opportunity that Jon Snow more than earned.
Laura B: Starks' final montage. The open-ended nature of the final scenes is what really gives the series its hopeful bittersweetness, as the pack finds themselves separating once more. Arya being one of the first Starks to travel on the seas west in a long, long time goes back to her dreams she once told Lady Crane about while in Braavos. Bran becoming a King perhaps doesn't make the greatest sense, as we don't really know enough about 3ERs to know what we can trust, but I think Tyrion put it best in his speech and after all, mostly good people sit on Bran's council and seem to be more or less in charge. Sansa becoming Queen in the North and having the North go back to what it once was, a separate kingdom, goes hand in hand with Jon leaving with the Wildlings to live a more peaceful life beyond the wall. It all feels like it could relate back to the First Men learning the ways of The Children of Forest and being in touch with nature. Jon was the PRINCE that was promised and by being true to himself, he broke the cycle and brought The Dawn for a time of peace and hope in Westeros, made evident by the tone expressed in this final montage. A beautiful ending for one of television's most engrossing and complex series of all time!

GOOD GIRLS, "Jeff", May 19, 2019, Actors: Mae Whitman, David Hornsby, June Squibb, The Scene: Boomer's alive
Lexi: The big plot reveal that Boomer is still alive was certainly one of the best scenes of the week. Not only is he still alive but living in and being aided by Marion who before this seemed like the most innocent and sweet adult character on the show. This really shakes things up because now the girls can't ever be convicted for Boomer's murder (which Beth is clearly using to her advantage in the trailer for the finale) but also Boomer can now corroborate to the cops the shady business that the girls have been committing. The shock on everyone's faces when they all awkwardly stared at each other was brilliant comedy, well played by all the actors involved. I can't wait to see how all of this will unfold in the season finale.

IN THE DARK, "Jessica Rabbit", May 23, 2019, Actors: Perry Mattfeld, Calle Walton
The Scene: Murphy and Chloe reunite
Marko: So simple, so beautiful. The joy you could hear in Chloe's voice was everything. Their friendship is a beautiful and rare thing on the TV landscape and we deserve more and more of it.

KILLING EVE, "Wide Awake", May 19, 2019, Actors: Jodie Comer, Owen McDonnell, Emma Pierson, The Scene: Villanelle terrorizes Niko and Gemma in the storage unit
DJRiter: With so much else going on in this episode this almost throwaway moment where Villanelle confronts Niko and Gemma is a standout. It's equal parts terror and comedic at the same time. Jodie Comer does Villanelle doing what Villanelle does best terrorize without emotion. Emma Pierson's squeaks of "Niko" were at first understandable but then became humorous in tone and as grating as the character was intended to be. Nice work from all. One take away from the scene, dressed in slacks and button-down plaid shirt, and with her slouched, masculine stance with her hands shoved in her pockets Villanelle acted more masculine than Niko did.

LEGENDS OF TOMORROW, "Hey, World!", May 20, 2019, Actors: Nick Zano, Tom Wilson, Tala Ashe and more, The Scene: "Sweet Baby James" song
Lexi: Hank returns + group singing. Tom Wilson's return and the singing of James Taylor's Sweet Baby James was the cherry on top of an otherwise satisfying and amazing finale. Tom Wilson's reappearance was perfectly fitting albeit brief with Tom & Nick's bittersweet conversation making us all cry happy tears. Legends of Tomorrow is at the end of day all about camaraderie, teamwork and friendship and there was no better way to show that than everyone coming together and singing with one another hand in hand, proving that love is stronger than fear. On a side note, Dominic Purcell and Tala Ashe were beyond amusing and talented!

NCIS, "Daughters", May 21, 2019, Actors: Cote de Pablo, Mark Harmon
The Scene: Ziva returns to help Gibbs
Klutzy girl: While I stopped watching the show a few years ago, I never once believed she was dead and to be proven right this season (followed along as the clues built up) was amazing. The fact that she actually showed up in person was a jaw-dropping surprise, one that I'm never going to recover from. Will be watching the premiere next season just to see her and am unbelievably excited about Cote's (probably brief) return to the show.

SUPERGIRL, "The Quest for Peace", May 19, 2019, Actors: Melissa Benoist, Jesse Rath, Nicole Maines, David Harewood, Jon Cryer, The Scenes: J'onn and Dreamer save Argo & Supergirl's final battle with Lex Luthor
Justyna: Season 4 has turned out to be my favorite one of the show so far. There's a lot of reasons why but one of them has to the introduction of a few new and memorable characters, such as Brainy and Dreamer. The moment that I decided to highlight is focused quite heavily on these two, as well as J'onn J'onzz. When Argo City is targeted by Lex and it's up to these three heroes to save Superman, Lois Lane and the last remaining Kryptonians living there. After his recent reboot Brainy appears cold and calculated and informs his friends that there's nothing that can be done to save Argo. That's when J'onn chooses to risk his own life for even a smallest chance of success, promising to his best, in a way he didn't back when his own planet was under attack. His sacrifice proves once more what a great character he truly is, but this time he's not alone in the fight. Nia decides to join J'onn and uses all of her strength to try to overload the power core and prevent the tragedy. With these two lives at risk Brainy's system overflows with emotions which his cold and calculated self can't quite understand. Our Brainy is able to break through and stands by his friends, proud and hopeful, even confident that they can succeed. He also finally admits to Nia that he's in love with her. Such a wonderful performance by Jesse Rath and a fantastic character moment for all three involved. Kudos to cast & crew for the great season.
DJRiter: Supergirl's final battle with Lex Luthor. This final confrontation between Supergirl and Lex during the show's superb Season 4 finale will go down as the quintessential superhero-supervillain battle. It had everything – iconic quips and one liners – "How do you think I did it, I'm Supergirl", Matrix-level stunt work, a heavy metal score and more as the two traded blows. What topped it off was the ultimate act of heroism- self-sacrifice by Red Daughter to save her doppelganger. Kudos to Cryer and Benoist who went all in with their characters and to the stunt and special effects teams who elevated this to one of the best action sequences of the year.

THE 100, "The Face Behind the Glass", May 21, 2019, Actors: Eliza Taylor, JR Bourne, Tattiawna Jones, Bob Morley, Tasya Teles, The Scenes: Russell makes Clarke a vessel for his daughter & Echo shares her backstory with Bellamy
Justyna: What a terrifying and memorable ending for an episode! A true cliffhanger and a game changer that I certainly did not expect when the hour started. It's not the only great scene from the episode, but I couldn't help but highlight this moment. After Clarke is attacked and temporarily paralyzed she is brought to Russell and his wife Simone - the leaders of Sanctum and the people who gave Clarke and her friends a new home. Instead of giving her the antidote for the paralysis the two decide to use Clarke as a host to bring back their daughter, Josephine. They're careful and gentle with her, Russell even attempts to provide Clarke some sort of comfort, telling her that this way she can finally find peace in a better place, just like she wanted. But in reality what he and his wife are doing is beyond terrible. Clarke is awake, it must be an absolute horror to feel helpless and watch these people take advantage of her situation and prepare to erase her mind. I can't begin to imagine her thoughts in the moment, but the way the scene is shot, partially showing Clarke's point of view and often focusing on her eyes, makes this a haunting image that can't be easily forgotten. Eliza Taylor does a wonderful job during this ending, she can't even move but there's so many emotions on her face and her eyes are filled with the tears. I don't believe this to be the end for Clarke, but if it was, it would be the most tragic one. For now everything has been taken away from her and I can't wait to see what's going to happen next. Kudos!
Milo: This was a fantastic ending cliffhanger that really provides potential for a different Clarke than we've seen in the past. After Clarke finally getting some things right only to have them taken away from her, it represented a jaw-dropping twist that could serve to provide a real game changer.
Marko: Echo shares her backstory with Bellamy. In a really strong outing throughout Tasya Teles delivered a performance to be remembered. And while I doubt this issue hasn't come up during their thing in space it was nice to see the depth of Echo's damage and how far she has come and how deep the abyss she was hanging over was. The tone of her voice, the pain in her eyes, the set up was just miraculous.

THE KIDS ARE ALRIGHT, "Irish Goodbye", May 21, 2019, Actors: Sam Straley, Mary McCormack, The Scene: Lawrence hugs his mom before he leaves
Dahne: I am going to really miss The Kids Are Alright because it had a way of combining laughs with the right amount of heart. I loved how all the characters were sympathetic, even if their words didn't always match their sentiment. In many ways, Peggy Cleary reminds me of Murray Goldberg. She's gruff but she loves her family so much. In this scene, she actually makes herself vulnerable to her eldest son, Lawrence, a little bit by explaining how hard it was for her when he left for the seminary and how much she loved having him back. Now with him leaving for his own apartment, she felt like she was losing him all over again. It was a heartbreakingly honest moment for her, but important because Lawrence finally got it. I loved watching his angry expression turn to compassion and then understanding. His mom has always been there for him, even if she didn't verbalize it, and to watch the two of them hug was the cathartic heart of the episode. I feel for you, Peggy. It's going to be hard for me to let go of the Cleary family too.

THE VIRTUES, "Episode #1.2", May 22, 2019, Actors: Stephen Graham, Helen Behan
The Scene: Joseph reunites with his sister
Milo: After an emotional first episode the second episode continued to bring forward those emotional moments on a near consistent basis, knocking it out the park. The scene outside of Anna's house was perfection, with both Stephen Graham and Helen Behan knocking it out of the park.