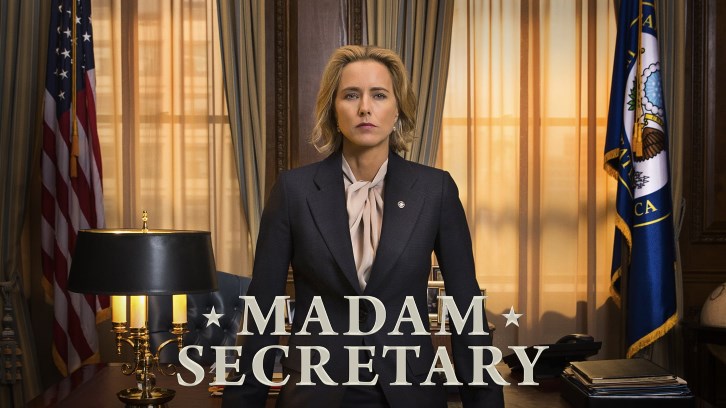 Now that we know
Madam Secretary
has been renewed, I thought this would be the perfect time to revisit the season finale. "Better Angels" was written by Matt Ward and was directed by John Murray. I like how this last arc focused so closely on the climate action issue, allowing the show to really focus a light on the issue and a number of the issues relating to national relationships that are so prevalent in today's news. I was sad to see the show lose Skipp Sudduth (Peter Harriman). This episode transitions us into Elizabeth's (Tea Leoni) campaign, so I'm curious to see how next season will play out. I'm sure that only part of the season will focus on the campaign – and will we then see a name change to Madam President? Or maybe that's where the "final" 6th season of
Madam Secretary
comes in...I certainly hope so!
As the episode opens, we see Peter Harriman lose his good luck charm – an old RFK button down a grate as he's late rushing to the UN for a vote. Russia and China are still the hold outs, but Harriman is sure that he can sway them over to their side – which he does.
Dalton (Keith Carradine) and Russel (Zeljko Ivanek) congratulate Elizabeth on getting the votes – now it's on to the Senate. Russell is adamant that Elizabeth not help, and while Dalton tells her to let them worry about the Senate, he agrees when she insists. She also tells them she's announcing her resignation in the morning.
Mike B (Kevin Rahm) is busy trying to find the right headquarters. It's hilarious as he goes from feast to famine trying to find the right look and feel. Meanwhile, he assigns Daisy (Patina Miller) and Blake (Erich Bergen) to "vet" the kinds and give them a sense of what it will be like on the hot seat – under the media scrutiny of the campaign. Daisy has real doubts that Blake can ever play bad cop… and she's not wrong!
Meanwhile, Henry (Tim Daly) and Elizabeth plan a 10 day vacation for between her stopping as Secretary of State and announcing her candidacy. I thought that this was an interesting storyline with her insisting that Henry try scuba diving with her – even though he's been uncomfortable with the idea – and really doesn't want to do it. As a fighter pilot, I'm not seeing that Henry has anything to prove. I kept thinking that the episode was going to end with a potentially tragic scuba diving accident or misadventure…
Naturally, the kids prove to be a challenge. Jason (Even Roe) refuses point blank to change anything about his Twitter account. Alison (Katherine Herzer) informs them that smoking marijuana is disgusting – that's why she eats it! Daisy is in full bad cop mode and not happy with Blake, so he tries to get tough with Stevie (Wallis Currie-Wood) about her dating history. There was a brief moment there when it looked like she was going to spill the beans on Dimitri, but maybe working for Russell really has taught her something. She shuts them both down by telling them that she's been cleared to work in the White House!
Elizabeth moves from her resignation to trying to whip votes for the Senate and answering questions for the committee. Naturally, Senator Callister (Will Chase) is the chair of the Foreign Relations Committee. I loved them channeling current events once again – something I've always enjoyed about the show and continue to look forward to! Elizabeth asks Callister why he's conjuring hypothetical people to distract real people from the real issue. She points out that their own vetting process for immigrants is very stringent and that they've let in no terrorists.
Other members also have questions – Senator Eckstad thanks Elizabeth for her service, and then asks why the most extensive treaty on climate change says nothing about climate change. At least, it doesn't address the causes of climate change. Elizabeth explains that the treaty is focused on the most urgent matters. Eckstad (Bill English) objects because they are simply addressing the symptoms and not the causes, so he won't vote. As it turns out, Eckstad wants Elizabeth to help him get the corporate carbon tax bill out of committee. Elizabeth for once loses her temper and tells him to get his facts straight! In the end, she gets the votes and the treaty passes.
Meanwhile, Blake so can't stand being bad cop that he apologizes to Stevie, and the two end up going out for a drink. I did NOT see this one coming! The two freak out over climate change together, and end up comparing notes on what they would do if things got really bad. Blake says that he would sing more – and maybe even do a singing contest. Stevie says she'd spend more time with her family… and the two kiss! It's a really great scene. Stevie is surprised – and Blake explains that he's bi. They both think it's not something they can pursue.
When Daisy and Blake report to Mike on their vetting, he sees no issues with them. Blake ends up defending Stevie, calling her an asset. Daisy leaves, and Blake tells Mike about the kiss. Mike teases him – I loved this scene too – and tells him that it's fine – nobody cares! I really love that they have actors that are talented enough on the show to do both comedy and drama equally well! I also love that the writing maintains the dramatic balance even in these lighter moments.
And by the end of the episode, Stevie ends up texting Blake for an "emotional bootie call." Stevie tells him not to ever feel bad about being nice… I'm leaning towards being in favor of this unexpected development…
Elizabeth sees Harriman off to Geneva for the signing of the treaty. She's gotten him a new RFK pin to replace the one he lost. He tells her the story of getting the old one in 1968. At the time, he wasn't getting along with his Dad, but they went to see Bobby Kennedy together. Pete tells her that it felt like Bobby Kennedy was speaking to each of them, putting his soul out there. Pete thought that if he could bring him and his Dad together, he could unite the country.
He advises Elizabeth to forget about party politics and be what Americans yearn for: a leader with the integrity to tell the truth, the charisma to make people listen, and the guts to act on it. Elizabeth calls it a tall order, and Pete insists she's up to the task. And I loved that she essentially showed all of those qualities in this episode!
And then the episode takes a turn. I was really sad to lose Skipp Sudduth as the UN Security Council Welcome Dinner turns deadly with an attack of Saran gas perpetrated by a White Nationalist group – the Knights of Washington Freedom. They also vow to attack any country that welcomes immigrants – it's an attack against globalism – again, an issue ripped from the headlines.
Elizabeth and Harriman's victory appears to be going up in flames. Countries are afraid to stand up to the terrorists. Dalton offers every resource available to push back. Jay (Sebastian Arcelus) reports that his call with France doesn't go well. Meanwhile, Callister undermines their efforts by announcing that as President he will pull out of all the treaties! Sound like anyone else we know??!!! Elizabeth wonders how they can keep other nations on board when those nations can't be sure that the US will keep their word.
I finally am warming up to Nina (Tracee Chimo Pallero) a little bit. She does go a bit over the top with some of the less serious scenes, but her grief over Pete was a moving scene.
Elizabeth calls Konstantin (Yasan Peyankov) and the two exchange condolences – both having lost delegates in the attack. Elizabeth points out they were both great diplomats who gave their lives for the treaty. The conversation quickly goes downhill as Elizabeth wants to know if Russia is pulling out because the Russian people are afraid or if it is because the politicians are afraid. Konstantin throws back that he warned her after the White House bombing. Elizabeth insists that they can't let them use fear to undermine the global agenda. Konstantin chillingly tells her that free speech is just another weapon that can be bought and sold. And given the various attacks on free speech lately, this is more fodder pulled from the headlines – press access revoked at the White House, freedom of speech challenges on university campuses, and accusations of fake news…
Elizabeth discusses the matter with Henry – and these discussions are such a great centerpiece to the show. I know I keep remarking on how wonderfully these two balance each other – but this was another great scene. Henry urges Elizabeth to read Ephraim (Clifton Davis) in on the information that Callister is tied up with the Russians. I wish real life had gone as well as the show in this regard…
In the Oval office, Dalton, Russell, Ephraim, and FBI Director Frank Meredith (Christopher Shyer) discuss Callister's links to Russian funds in his superpack fund managed by his campaign manager – Don Finnerty. Dalton worries that Callister may call witch hunt (hmmmm, haven't I heard that before??) and come after Elizabeth. Elizabeth isn't worried – Callister is the traitor, not her. In the end, Callister does call it a witch hunt, but he also suspends his campaign.
While Jay gets France back on board, the other countries are still on the fence. Elizabeth goes to Dalton asks him to rescind her resignation. She feels like everything they've fought for is under attack. Dalton tells her that he still needs her help, but to carry on and preserve and build on what they've done. He tells her that her fight is the future – his is now. I do hope they find a way to keep Carradine in the show – I'm sure he'll turn up at least as a mentor from time to time.
At Harriman's memorial, Elizabeth tells his kids that she respected him very much – because of the strong reactions he inspired. Two months later, we see Elizabeth declare her candidacy. Dalton and Russell watch from the White House as she declares "it's not about me – it's about us – 'We the people'."
And now it's on to next season! This could have been a series finale if it had to be, but I'm so glad it isn't! This show is so well acted, written, and directed, but most importantly, it shines a light on important issues. I'm confident that it will continue to bravely do so. Now, we just need to hope that all our favorite characters will find places in Elizabeth's administration! What did you think of the finale? What are your hopes for the new season? Let me know your thoughts in the comments below!