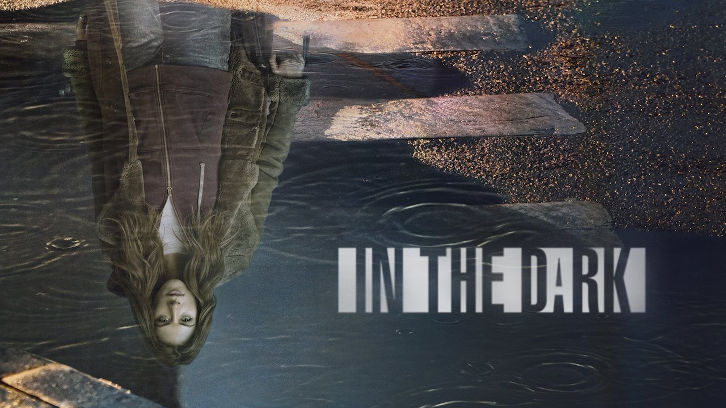 This review covers the second and third episodes of In the Dark season one.

Despite its bumpy start, In the Dark quickly reveals a much stronger version of itself in its second and third episodes "Mommy Issues" and "The Big Break". And, yes, a UTI, a strap-on, and a broken penis all factor into the creative elevation. The show is not blaring its edginess as it did in the pilot, choosing instead to lean into character development while balancing its central mystery very well with Murphy's evolution. The occasional cringe spots are more mixed in and don't distract from the better parts. It's especially impressive how the show starts to interweave the characters together, which creates a number of impactful scenes. The show, like Murphy, starts to show us a little bit more of its heart, and it's better for doing so.
"Mommy Issues" goes back to a pre-attack Murphy, one who happily strolled through alleys chatting on her phone. The mugging is just as vicious as Jess (Brooke Markham) described, which goes a long way towards defining why Murphy hasn't really come back from it. Tyson (Thamela Mpumlwana)'s rescue is also shown, as is his subsequent friendship with Murphy. Their connection is naturally affecting enough that the scene where she later visits his mother, to get her to file a missing persons report, sticks the emotional landing. Perry Mattfeld does a pretty exceptional job of selling her character's snarkier moments, but she nails this quietly awfully sad scene with Murphy sitting on the bed and listening to Tyson's music. The authenticity of the grief gives her quest for answers the necessary weight. It also defines the loneliness she feels after discovering that Tyson kept major parts of his life from her, like his girlfriend. It also creates a shred of hope when we and Murphy learn he was around someone else named Jamie. There's answers to be found. There might even be someone else that needs help.
Tyson's case also connects Murphy with people she would have otherwise not met. One of those people is Max (Casey Deidrick) whose food truck Murphy visits looking for Darnell (Keston John). It's a good choice to make him someone already working with Darnell's operation. He launders money basically. Him already being a part of that world prevents a number of distracting storylines. He is also aware of the Tyson mystery. A separate scene with him asking Darnell about it also takes him off any suspect list, so that's another bit of silliness the show squashes before it can happen. When Darnell won't cooperate with Murphy, Max offers her Tyson's mom's info in exchange for a date. Normally, Murphy wouldn't pass up a one night hit-him-and-forget-him, but she has a UTI which takes that off the table. They (gasp) have a nice conversation instead. Later, he comes back for a second date, but Murphy, despite washing her hair, is determined to prove she's not falling for him. She throws him off during birds-and-bees business, and he badly sprains himself. That would have been a little raunchy and funny if they had left it there, but the injury forces him to stick around longer for more conversation, including a light argument. I guess the old saying is true. If it doesn't get broken, no one will be doin' any fixin'. And unable to just send him packing, Murphy is forced to deal with the fears of maybe pursuing a longer connection. Also, not that such superficial things matter, but the two of them sizzle together. Another plus is that Max is by no means too perfect, except that his moderate imperfections of situation and personality make him a near perfect character from a writing perspective, so just dump a bucket of ice on me and let's move on.
Another new connection that is becoming a bigger part of Murphy's life is literally on the other side of the law. Detective Riley (Rich Sommer) whose platinum heart is too good for this world is working overtime to simultaneously protect and empower his daughter Chloe (Calle Walton) who is tenderly exasperated sometimes by his efforts. There's a blink-and-you-miss-it line that very briefly hints he might like Murphy, but that might just be Chloe teasing. Chloe and Murphy's budding friendship is pure delight. Chloe, especially because of Walton's pitch perfect delivery, possesses a healthier version of Murphy's snark. The scenes they share together have been some of the show's sharpest so far. And my heart glowed more than a little when they sat on the bathroom floor together trash talking, while Riley and Pretzel sat outside in the hallway smiling at their laughter.
However, what made me laugh harder than anything else was Brooke Markham's delivery of "Surprise" when girlfriend Vanessa (Humberly Gonzalez) walked in on Jess in the bathroom with her strap-on. She was the blushing emoji come to life. That led to a very romantic exchange of "I love you"s. Both Jess and Vanessa bring a sparkly energy to the show that quickens the momentum. With Jess being the vet at Guiding Hope, it's likely she'll play a bigger role in future events, though she's hovering in roommate status for now. Murphy's relationship with her parents, particularly her mom Joy (Kathleen York), was a big part of the aptly named "Mommy Issues." The mini argument Murphy has with Joy about Guiding Hope being more for her parents than her hits the right notes. One can see how Murphy could feel that, but one can also see how her parents found this work through their search to help their daughter. And then there's Felix (Morgan Krantz) who was shown to be way nicer than Murphy deserves in the pilot, when he interrupted his date to make sure she got home safe. "The Big Break" dives more into their (now official) frenemy status when they are basically left in charge of Guiding Hope when her parents go out of town. Murphy manipulates him into doing a high school presentation so she can question Tyson's ex-girlfriend. The ensuing fiasco involves faking blindness and flashing boobs, but it ends with a really nice scene between the two of them under the bleachers. He expresses sympathy after hearing about Tyson's death, and she advises him to stand up to the water delivery guy who has been making him look weak. Little conversations sprinkled through these episodes really do a great job of rounding out the characters so we will be invested in what they do next and how they continue to support each other. In the Dark stepped up by taking a step back to focus on its interpersonal relationships, and every member of the cast is getting great material.
Notes:

Darnell tried to give Tyson's mom $15,000 to help her get by with Tyson being gone. She was appalled and rejected the money, but he got the cash from Max who skimmed it off the top of what he was supposed to be laundering. Darnell seems to honestly have no clue what happened to Tyson, whose death gets more strange by the minute.
Because Murphy is not a monster, she didn't tell Tyson's mom about finding his body.
"Since the beginning of time, women have healed themselves."-Murphy sampling random juice bottles in the store just because she could, along with her showing up in that awful dress to be nice to her mom, was one of my favorite moments.
One last thing: SOMEBODY HUG PRETZEL!