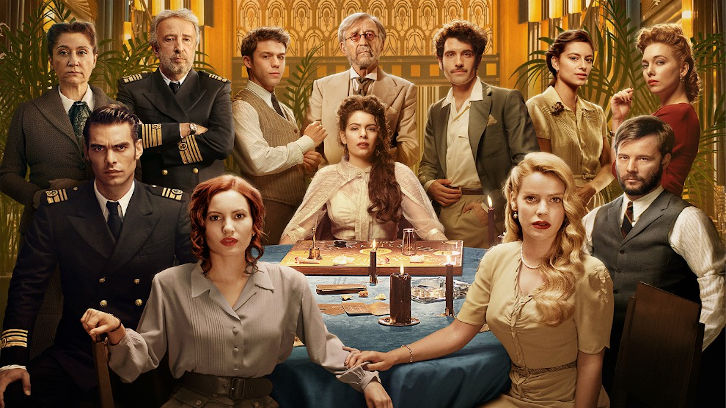 This review contains spoilers for the first three episodes of Alta Mar only. Please keep spoiler discussion in the comments limited only to these episodes, so that everyone can speculate on whether that person was actually murdered or not at their own pace.
In its second episode "The Rings", High Seas give us more reasons for passengers to want other passengers dead. It also doubles down on existing suspicions and ends with a distressing assault that reminds us that, in any era, predators are the worst. General awfulness of that last part aside, what we really need to address though is that closing scene where Fernando drops his and Carolina's wedding bands into the ocean. It's dramatic and seemingly too drastic. Why not just say the rings were found among the alleged thief's loot? Whatever Fernando's secret is, one can only hope it is as complicated and shadowy as the show is making it out to be. On a boat full of shady characters, Fernando is the most interesting. A straight up awful person, like Natalia's husband, will never be interesting. In large part thanks to Eloy Azorín's performance, we can't be sure what to think of Fernando. His love for Carolina seems genuine, but his spy games, as I'm calling them, and his commitment to lying are another story entirely. In addition, between brooding while looking at her wedding dress and quickly accusing Fernando of lying (even though he is), maybe Carolina isn't as much in love with their future as she claims to be.
Eva has fixed on Fernando as her number one suspect, a decision hastened by his very real lies and the length of this season. When she and Carolina confront Fernando about the pin, it's a wonderfully tense scene as he flies off the handle, quickly conjuring a fake robbery and telegram all while shouting at them both to overpower any objection. Carolina is happy to accept his meltdown as proof of innocence, but you can see Eva's wheels turning. You know she will come back to check out that telegram, and she does. Ivana Baquero is carrying these early episodes of the show with her charismatic performance, but the show does her credit by giving the character a measure of caution and discretion. And while I like Jon Kortajarena's performance, I preferred watching Nicolás with other characters at this point. It might be mandatory for Eva and Nicolás to be a thing, but he's way too handsy in this episode.
There is reason to be concerned about the ship's captain. I was so confused when he gave Nicolás that big speech about how the voyage had to be perfect. Is it an act, or is he losing his mind? He did mark the Villaneuva trunks in the last episode though, and we find out the trunks were broken into but nothing seems to have been taken out. There's also that scarred man who works in coal shoveling. He burns a whole bunch of stuff, so he's hiding something. Playboy Sebastian sees his sweet valet Dimas pinning his heart on his sleeve for Veronica, and Sebastian immediately asks her out, later even having Dimas bring champagne to his cabin while Veronica is there. Now that's just rude. When you add in that Natalia is still drunk, Uncle Pedro and the Doctor are still shady, The Other Officer will want vengeance for The Singer's assault (not a fan of that storyline), and someone (definitely Fernando but the Detective is on it too) makes a third class passenger named Manuel falsely confess to murdering Luisa......there is a whole parcel of trouble on this ship. All that aside, the second episode doesn't really pick up the pace, nor does it start to change up how its characters are connected. That is saved for the third episode.
A waterfall of clues pours out in "Sofia," prompting all manner of conjecture into how the puzzle pieces fit together. The death of Manuel, supposedly by suicide, makes our heroines almost desperate for answers. The revelation of Luisa's identity only turns up the heat. We shall not speak of Awful Brother-In-Law, as he doesn't die in this episode, which is a disservice to everyone. However, I did note that Nicolás stayed out of Eva's personal space for the most part except when it was absolutely necessary for lifesaving purposes. There were several great Eva scenes in this episode, such as her leading the investigation and questioning Dimar, as well as her confrontation of Fernando at the rail. He promised her an explanation, and, even without the ending reveal, I would stake money on him not being a murderer.
The Doctor, on the other hand, is at the very best extremely careless. He didn't know Eva was in the cabin when he set it on fire, but she still could have died. Her own quick thinking saved evidence and her own life, since taking refuge in the bathroom when the exit was blocked prolonged her survival. Eva being in recovery allowed for Nicolás and Carolina to team up on some detective work. The show has given the sisters' relationship enough screen time to make it the most important connection of the show, and Ivana Baquero and Alejandra Onieva really sell that the Villaneuva women have each other's backs. There's a little moment where Carolina examines her burnt wedding dress but move quickly past that. Onieva plays that beat very well, leaving us as unclear as ever about her feelings for Fernando but a little proud that her sister being endangered has spurred her into action. It's Carolina who looks for answers about Luisa a.k.a Sofia Plazaola. Uncle Pedro says the woman was just an interpreter. She doesn't push ask him too many questions and doesn't let Fernando in on her discovery. Discretion is not Eva's gift alone. She doesn't shy away from accompanying Nicolás to the lower decks in search of answers either. I don't believe for a minute that Nicolás would have left Carolina in the bowels of the ship to find her way back up alone, but I will excuse it because she would have gone back down anyway.
While the pacing in "Sofia," started off a little bumpy, by the end, it felt like the show had reached a tipping point. The Captain is trying to secretly turn the ship around. The Doctor is ready to "burn the whole ship" if he has to prevent the Villaneuva secrets from getting out. Carolina found not one but two Plazaolas. Neither of them is likely to harm her, which means she'll learn something from the time she spends in their captivity. Dimas grief-hugged and wanted to grief-kiss Veronica, but she's keeping her eyes on Sebastian. It's unclear where this is going, but if she ends up falling overboard because surely someone will for real....you know Dimas will be blamed. Only three episodes in, and it seems rather clear what the "three murders" are, as Natalia's Awful Husband is almost sure to die when his D-plot burns out. If the Plazaolas do confide in Carolina, we'll be just about out of mysteries and murders soon.
Let's Put On Our Detective Cloaks
We and this show deserve better than the Awful Brother-In-Law thing, which mark my words will likely contribute nothing to the plot or the overreaching Villaneuva family mysteries.

Uncle Pedro is really fixated on Francisca's cakes. Did she help him and the Doctor kill Carlos via Eva's birthday cake somehow? Surely she can't know nothing about all this.

The Villaneuva company was dealing with N*zi's, right?

I knew once they found a dress that Luisa was still alive, but Carolina discovering her was still an effective surprise.

What could be hidden in Eva's birthday pendant?