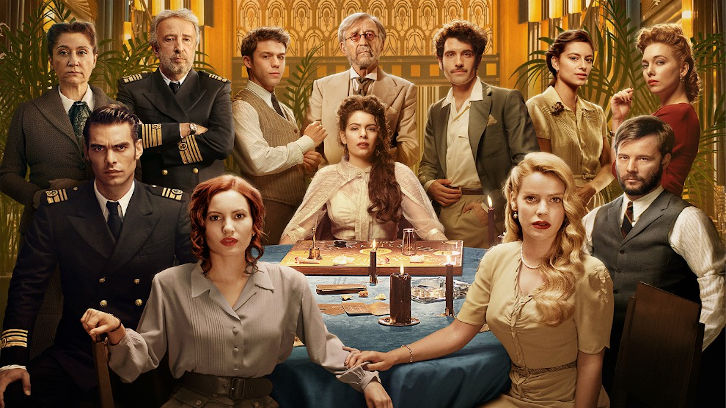 This review contains spoilers for the first episode of Alta Mar only. Please keep spoiler discussion in the comments contained to the premiere, to allow others to feast at their own pace.
Raising the stakes in its very first minute, High Seas (Alta Mar in Spanish) wastes no time smoothly introducing its mysteries and an array of suspects that would make Agatha Christie proud. This first episode is classic setup, but that's the main goal it needs to accomplish. With a mystery like this, we shouldn't know too much about anybody too soon. Eventually, a scream will disrupt the seemingly cheerful voyage. It's a piercing echo of the ominous albatross slamming into the cabin glass earlier in the episode. Though it might be a postwar-new-beginnings kind of world for some; but, for others, this voyage will be a literal one-way trip. Our heroines are Eva (Ivana Baquero) and Carolina (Alejandra Onieva) Villaneuva who are headed for a new life in Rio de Janeiro. The death of their father Carlos hasn't left them alone in the world, since Carolina is to marry the owner of the shipping line onboard the
Bárbara de Braganza.
An ocean voyage, an impending murder, AND a wedding. High Seas doth spoil us already. Eva is a photographer and an aspiring author with a touch of writer's block.When a woman in distress "accidentally" stumbles into the path of their car, Eva is quick to take responsibility for her, a responsibility that she isn't about to shirk when things go awry.
The stage for the drama that follows is exquisite, thanks to the production quality, and the direction captures the essence of each character perfectly. The ship is a dream, with gorgeous wood paneling in the first class area and a myriad of other lovely details. Costumes and jewelry are elegant and simple, a reflection of postwar limitations and creativity. Fans of other glorious Spanish dramas like Cable Girls will appreciate the assortment of details and outfits. Of course, the ship is also huge. As First Officer Nicolás Vázquez (Jon Kortajarena valiantly fulfilling his duty to be swoonworthy) suggests, imagine the Eiffel Tower lying on the sea. It could contain any number of secrets. There's glimpses at its dark side too, with one lingering shot of a man with a scarred face shoveling coal. For the most part, though, there's a flurry of unpacking, exploring, and tossing confetti streamers at the crowd waving goodbye from the pier.
However, there's much more going on than Eva and a reluctant Carolina's decision to sneak Luisa onboard. The sisters are spied on by a Mystery Man in a Hat who turns out to be reporting to a Mystery Man in a Bow Tie who turns out to be a doctor friend of the Villaneuva family. As if that wasn't curious enough, the possibly not-so-good doctor is keeping a secret with the girls' Uncle Pedro. The sisters' maid Francisca might know what that secret is. Meanwhile, Francisca's daughter Veronica doesn't much love that she might be a maid forever. She tries on one of the sister's lipstick while they are out at Fancy Dinner. Another friend of the sisters', Sebastian, is something of a ladies' man and strikes up a light flirtship with Veronica. The captain of the ship seems to be carrying his own burdens. Nicolás shares with Eva that he used to be a teenage pickpocket trying to provide for his family until the captain caught him and let him choose between jail or naval academy. Now, though, the captain is in a mood, and he's covertly marking boxes in the hold with an encircled X. The tangles don't stop there. Carolina's fiance Fernando (Eloy Azorín) might have more sins than being a workaholic. He makes arrangements for a midnight meeting, a meeting that he might have arrived late too after his watch stops. Then there's Fernando's perpetually drunk sister Natalia whose skeevy husband has a creepy, roving eye.
The winner for Most Shady is Luisa herself. Her story about fleeing a forced marriage seems mostly untrue. It's also an odd coincidence considering Carolina is heading into her own wedding. Luisa begs the sisters to not reveal she's onboard until the ship reaches high seas, so that she won't be made to leave. However, her interest in the sisters' extra cabin key that Francisca pockets revealed that Luisa wasn't just using the Villaneuvas. They were her targets all along. She later knocks Francisca unconscious, stealing the key and ransacking the sisters' cabin. An unknown person interrupts her. Is she the woman whose body plummets past Eva and Nicolás into the dark and swirling ocean? It's more than likely, especially since every other main character is accounted for in the aftermath, except Natalia but I doubt it was her. Regardless, someone has fallen to their death, and the cabin bears the signs of a struggle.
When the sisters reveal they brought a stowaway on board, there are varying levels of concern from the ship's officers, Detective Varega, and the others. Eva is quick to believe it's murder, and, though she doesn't know it, the captain agrees with her. In fact, mysteriously, he seems more than certain. In the closing moments, Eva walks along the spot of deck where the woman would have last been. She finds Fernando's pin and her first suspect. It's an effectively dramatic note to end the premiere on. One murder down. Two more to go. Oh yes that was a very effective opening note too.
Let's Put On Our Detective Cloaks:
Was mystery hat man the one who tried to enter the Villaneuva cabin?
Uncle Pedro totally killed Papa Carlos, didn't he?
It's too soon for me to have a favorite character, but I'm in love with the hat Eva wore in the beginning scenes and the gloves she wore in the ending scenes.
Was there a weird vibe between Fernando and Veronica?
Isn't it refreshing that they aren't going to New York? I feel like all ocean liners in TV and movies are going to New York.
It's been hard for me to find a cast and character list, so if you know who any of the cast is that I didn't name in this review, please identify them in the comments so I can credit them properly.
And, while this is just a setup episode, the chemistry between Eva and Nicolás is already setting off sparks and flutters.