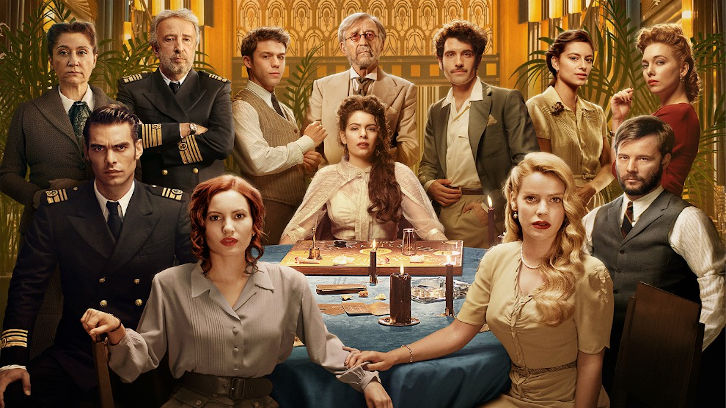 Spoilers for the sixth episode of Alta Mar follow.
A bloody shoe, a scrap of torn fabric, and a suitcase full of Nazi gold. Absolutely no one isn't entangled in the mysteries and deceits onboard the ship at this point. Even a storyline I would have bet money wasn't going anywhere presents interesting complications in this episode. The voyage hasn't reached its halfway point, and it's becoming more and more dangerous. The pace has picked up significantly, whisking the characters into new dilemmas. Most of the turns it takes resolve some of the season's smaller mysteries in satisfying ways but the answered questions only introduce major complications for the overall story.


Bárbara de Braganza because we know how TV works.) Nicolás tells Eva that she's given him something to dream about for the first time in a long time. My heart breaks. Eva's does too, more so because of something that he says about his wife being taken away on a truck when she was captured.

Let's Put Our Detective Cloaks On!
The mystery of the Captain's strange behavior is explained, though it's still a bit confusing. He was working with Sofia and Carlos the whole time. That's why he marked the boxes. It doesn't quite explain why he snapped and tried to turn the boat around, even if he did think Sofia was dead. So he might still be a little unstable.
Who put the microfilm in the typewriter? It definitely wasn't Carlos, or he would have told Sofia where to look.
Francisca thinks Dimas is courting Veronica, and she approves. Veronica decides to coerce Dimas into keeping her relationship with Sebastian a secret by saying she'll help persuade Sebastian to finance Dimas's ethanol plans. Dimas just has to fake being her boyfriend for her mother. This won't backfire at all. Sebastian, it turns out, has a secret of his own. It would be hilarious if that secret is that he's broke. His affection for Veronica might be genuine, but her affection for him most likely isn't.
I loved that Carolina pressed pause on sharing her big clue to make sure Eva was alright.
Are we annoyed that Nicolás's wife is probably awesome? Here's to hoping she has already fallen in love with someone else.