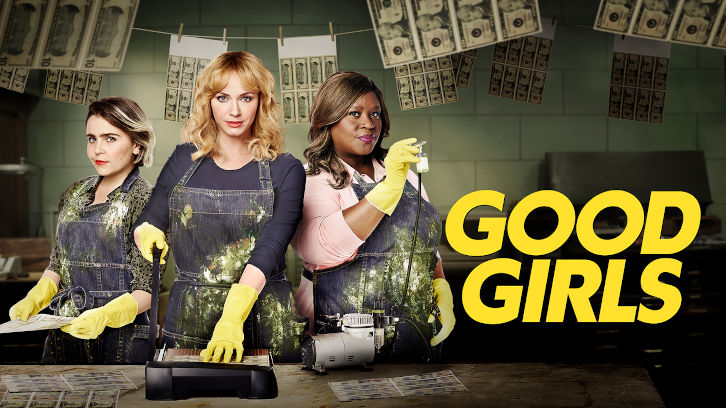 Good Girls continues its action packed second season with two very solid episodes that set up things as we head towards what one can only assume is an explosive finale. Let's discuss!

Thelma and Louise 2x08

The show finally did something a lot of fans were clamoring for, flashbacks to how our girls became ride or dies. The writing here was sharp as it seamlessly wove the present day with context from the past. We see how Ruby met Beth and Annie and her pull to them made much more sense as the backstory was revealed. Beth and Ruby were bonded through maturing faster than they should have to. We learned that Beth was raising Annie while their mother apparently stayed out all night to drink and left an empty fridge for the girls. Ruby had lost her father and clearly felt isolated even before that but found her sisters in Beth and Annie.


What starts as a massive problem leads to a temporary solution to try to get Turner off Ruby's case. The girls decide to set up PJ and Tobin with a meet Turner set up thinking he'd trap Beth. It was essentially a double double cross and as a bonus, led to much needed alone time for Beth and Ruby to talk things out. The only problem is that they still didn't retrieve Beth's cash thanks to a bad plan to go to the moron assassin's house and get the money while they were being arrested. I won't go into how it all went down but it seemed a little weird that after all Beth and Ruby had done to hatch this plan, that they just left the money with the towel clad woman pointing a gun at them. Yes she had a gun, but Beth has gone toe to toe with much tougher than her. It felt a bit odd she just gave up with that amount of cash in play. In the end, Dean's feelings were hurt Beth didn't feign much concern about him so he took the kids even though he was a huge reason the events of the day happened. Oh Deansie!
Finally, Annie is still keeping company with Noah and building a web of lies in the process. Noah clearly sees something is up but doesn't press her which makes sense by episode's end. Noah is the least of the excitement in Annie's orbit as Nancy is set to welcome her baby. Annie is dragged into the birthing process when Nancy won't call Gregg and Sadie wants no part of it. I did love this entire storyline because Nancy is justifiably angry and Annie takes it all because she should and she knows that. In a moment of pure solidarity, Annie jumps in Nancy's birthing goo and let's her insult her so she can welcome her baby boy into the world. This is why you gotta love Annie, for moments like this! She also comes clean to Noah about her messed up life and he seems fine, a little too fine actually because in the most obvious set up ever...... Noah is a cop working with Turner, so of course he's more than okay for Annie to come clean. I have to ask, how is it ethical to jump into bed with your mark when you're undercover? This has always irked me about undercover stories, but I digress.
All of these Annie moments pale into comparison to her last and most important one of the episode. Sadie knows who he is and he's ready to say it, which was a beautiful moment. When Annie jokes about her day and says 'it's a boy!' about Nancy's baby, Sadie sweetly says 'Mom, so am I'. Annie is the first person Sadie has told and it seems mother and son have finally turned a corner to better days after a tumultuous couple of weeks between them.
One Last Time 2x09
Losing her family pushed Beth to the most lonely and isolated place we've ever seen. On top of that, she must help Ruby when Turner loses his patience and arrests Stan for stealing the pen cap. Annie actually gets a warning that makes sense from Gregg.
Now that we know what Noah's deal is, it is cringeworthy to watch him further imbed himself in Annie's world. What is puzzling to me is that since they've met he really hasn't tried to pull much information out of her. Was this on purpose? Or is he staring to actually feel something for her? The undercover cop thing starting a relationship is not winning me over, I think Noah has already crossed some lines he should not have especially cozying up to Sadie. Gregg for once is logical and tells Annie something is up with this guy and she needs to be careful. Annie is setting herself up for a world of issues now that Noah has gained her trust enough for her to start talking about her checkered past and the person I worry about most is Sadie. This entire storyline is a bit too obvious, but it was bound to happen at some point given that Ruby shunned Turner's demands, for which Stan pays a very hefty price for.
Since the show started the girls' deeds have been out of sight of the children for the most part until now. Stan being hauled off by the police in front of Harry and Sara was heartbreaking to watch. What wasn't expected is through all of this Stan seems to be re thinking the professional life he so desperately wanted when seeing it through Turner's lens. Turner is the type who just wants the get and doesn't care how ethical it is to arrive there. Perhaps that is why Noah is having no issue getting intimate with Annie, it helps the case along. So who is worse here? A father and husband protecting his wife by doing something illegal? Or a cop willing to be dirty to get what he wants? I think the answer is obvious. Perhaps that is why Stan had no issue with how Ruby got his bail money, the tides are turning. What is scary is the fact that Sara seems to know her parents are having an issue much bigger than she can comprehend. Ruby getting Stan out was also quite interesting and gave Beth one last heist, if we can believe that.
Odds and Ends Of Both Episodes:
* Annie's stories for Noah were pretty ridiculous yet highly entertaining.
* Pj and Tobin...... Playing dumb or actually really dumb?
* How gross was Annie walking around in Nancy's birth goo for dang near half the ep?
* The heist at the check cashing place was one of the best the show has done. While I thought the plan was ill thought out at first, I appreciated the pay off of the guy just wanting to use Ruby's address for his nephew instead of reporting her to the cops. Dare I say I like him now? What is everyone else's thoughts on this?
* Dean's mother was not at all what I was expecting in a good way.
* Instead of Annie and Gregg only addressing Noah, it would have been nice for them to discuss Sadie and what is best for him in all of this. That is something I wish the show would do more.
* Dean was unselfish for the first time in the show's history. This was a great color on him.
* Now the focus of the investigation rests on Annie, unbeknownst to her. We better buckle up friends!
So what did you think? Let me know in the comments and tune in tonight for more intensity!