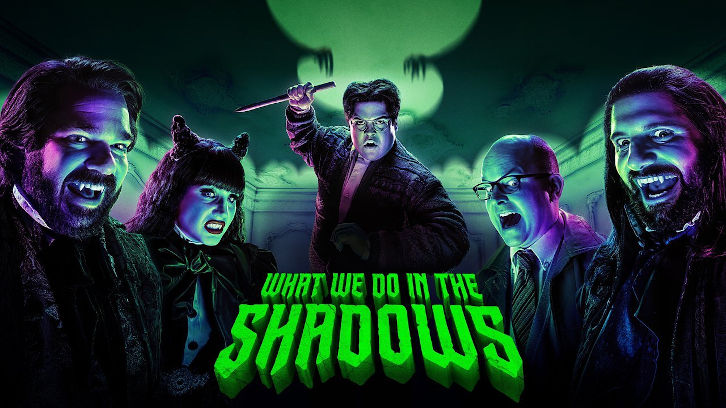 Laszlo loves topiary and has trimmed many bushes, because even vampires need a creative outlet. There's one in the shape of Anubis, one is a Chimera, there's a bunny he's particularly proud of – and then there is his mother's vulva. Yes, you read that right.
There's a revealing moment as Laszlo shows us his bush art. One of the vulva's is that of Polly Nichols. From Whitechapel. 1888.
Well...that's one mystery solved?
It's while showing off his mother's vulva (these are sentences I never thought I'd type) that Laszlo gets a whiff of werewolf urine on the bush.
He sets a trap and catches a werewolf in it. None of the housemates are thrilled by this. You see there's a truce that's been in place for tens upon tens of years (since 1993, actually) and this use of a trap could spark the end of the truce. The werewolf leaves the house on his injured legs, and that won't be the last we see of him.
The wolves return in human form and mark their territory by peeing all over the front yard. Unlike in the movie these are definitely the swearwolf variety of werewolf. A fight breaks out but it's quickly broken up by Nandor who reminds everyone there are protocols to follow.
Protocols written in 1993.
On a scroll.
The two groups battle it out on the roof of a Circuit City late at night. It's a fight that's been fought with honor for a thousand years – so of course Nandor ends this round pretty quick by pulling out a squeaky chew toy and throwing it off the side of the building. Toby, the werewolf, can't help but chase it over the edge.
Honestly, I'm appalled by these werewolf stereotypes. For such a diverse show it really is quite racist.
And if you're worried about Toby, don't be. Werewolves heal quickly and his friends will stick by him. With the squeaky toy.

Colin Robinson takes us through his morning routine. His idea of a morning coffee is feeding off the vampires' annoyance. Rejuvenated, he heads into work and continues to drain his colleagues. He spots a newbie in the office, Evie Russell and is quick to go over and introduce himself so he can begin to feed off her. Evie's life is one sad story after another. It doesn't take too long for Colin Robinson to realize Evie is an emotional vampire. Her stories are absolutely ridiculous, yet believed, and she feeds off pity. Instead of the usual workplace drama that ensues when a new person enters and begins competing for promotions, Evie is draining Colin of his food supply.
They battle it out in the office after hours, a head-to-head of emotional stories vs banal ones. The two, both drained from the battle, realize they're better as a team and begin working together to feed.
Sadly the union isn't to last and the two ultimately break up.

It's the little things that make this show so funny:
Nadja can open a door with her mind, but a locked front door requires a key.
Werewolf packs are more diverse than your average US TV show.
Nadja has quite the collection of taxidermy animals, animals that she hates.
Meanwhile Colin and Evie are the kind of oversharing customers no server should ever have to put up with.

Jenna's story wasn't continued in this episode, but it was nice to get a glimpse of other supernatural beings, and I hope both Jenna and the werewolves return again soon.