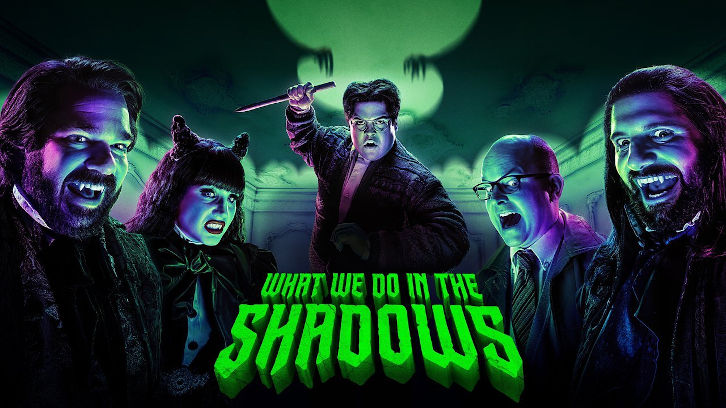 First up this week we check in on Jenna. Who is dead.
Don't worry, she revives while on the gurney and is quick to rush back inside. "I'm fine," she promises the startled paramedics.
"Ma'am, you are not fine."
She's really not.

The Staten Island vampires have total dominion over two entire streets. No, wait, sorry. They only have dominion over five houses. But, look, it's a start, okay? You can't rush this.
So they're off to Manhattan, to attempt to join dominions with Simon the devious, who owns a nightclub.
Laszlo owns a hat that's 100% witch skin and completely cursed – although he's in deep denial about that last part. He wears it to Manhattan, which irritates Nadja to no end.


"It's a big bloody stupid hat with a big bloody stupid curse on it. And every time you wear it something bloody stupid terrible happens."
The hat is somewhat alive. It crawls back (literally) every time Nadja has tried to throw it out. It bleeds. It's sprouting human hair. And we won't mention that thing that is puckering and sucking at the back of it.
Laszlo's new familiar, Justin, likes it – for the whole five seconds he's on screen before one touch of the hat sees a bookcase fall and kill him.
Yeah. That hat is cursed.
Most people would take the Staten Island ferry. Not our vampires though. They take a rowboat.
Guillermo is adorable. I think I would actually be disappointed if Nandor ever turned him and destroyed such pure innocence.
At the nightclub owned by Simon, Guillermo leads us to the
Familiar Room
, where we're introduced to a few other familiars.
One of which is Sam. A cat.
Back in the club, Guillermo is accosted by a vampire who's eying him up as a meal. Nandor approaches and lets it be known Guillermo is his familiar. But he still acts like it would be okay for the vampire to eat Guillermo. This is Guillermo's last straw, and he exits he nightclub and walks away, seemingly done with the familiar life.
Simon's always had his eye on Laszlo's hat. Laszlo knows this; it's why he wore it. Faking interest in joining forces with the Staten Island vampires, Simon agrees to negotiate. But first – he wants the hat.
With the hat on Simon's head, he orders our vamps out of the club. It's all he wanted. And he's got what he deserves, because no sooner are Nadja, Nandor, Laszlo, and Colin out of the club, the building explodes.
"I think my hat's probably cursed,"
Laszlo finally admits.
To make it up to Guillermo, Nandor takes him for a flight over Manhattan.
"I feel like a real vampire!"
"Don't push it,"
Nandor replies, because if he can't suck Guillermo's blood he'll instead suck any enthusiasm and joy out of him.
Nandor accidentally lets go of Guillermo, who plummets to the ground, and Nandor's deadpan delivery of the word
"shit"
feels like art. Sitcoms are great, but What We Do In The Shadows might be the funniest show on TV right now. The cast nails every disgruntled look at the camera, every cringe, and every dry line delivery.
At the hospital, while visiting Guillermo, Laszlo finds his hat.
Nadja isn't going to be thrilled about that.