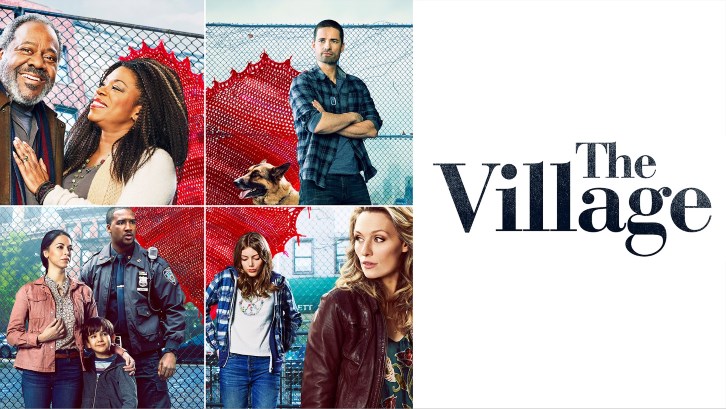 Previously in The Village: So much happened. Sarah discovered Katie had actually known about her pregnancy for seven weeks. This caused some tension between mother and daughter that ultimately dissolved in a happy dance. Nick knows about Katie's pregnancy too. Sarah asked him to not give advice to Katie about it. After all he's only known Katie is his daughter for three weeks. It turns out he might have known much much earlier than that, although Sarah doesn't know that yet. Nick also got some rather awful news from one of his veteran friends. He made a mistake that got another friend and fellow soldier killed. Elsewhere, the Davises and Officer Ben showed up at Ava's hearing to support her. Little do they know she's lying to them and the judge about not knowing her papers were forged, although it was her ex-husband's idea apparently. Busy juggling Ava's case, his school, and a disapproving girlfriend, Gabe made a big change and moved Enzo out of the nursing home into his apartment. Ron told Patricia they are having money troubles with their bar, and she told him her cancer is back. All that drama carries over into this week's mostly very good installment, which was loaded with recognizable guest stars.


"I'm not your baby. I'm HAVING a baby."
I felt that, and it hurt. But it was also darkly funny. It will not surprise anyone that boyfriend Jagger doesn't take the news with any amount of chill. When Sarah finds out that he was less than supportive, she confronts his mom Julie (Amy Carlson) about the issue. Katie doesn't entirely lose her mind, but mom and daughter are on the outs again for a moment. Jagger's parents invite Amy over, where they offer all sorts of things: counseling with a priest, a place to stay, help with education, etc. Once she recovers from finding out Jagger's real name is Paul, Katie latches onto them referring to her situation as a "mess." She gets out of there. And how bittersweet was that moment when she looks at Paul and says "You're a kid." Katie is growing up fast.
Next week we jump forward two months in time. Share your thoughts in the comments below. Are you ready to move into The Village? Ready to crochet a heart to beg for this show to not be evicted?