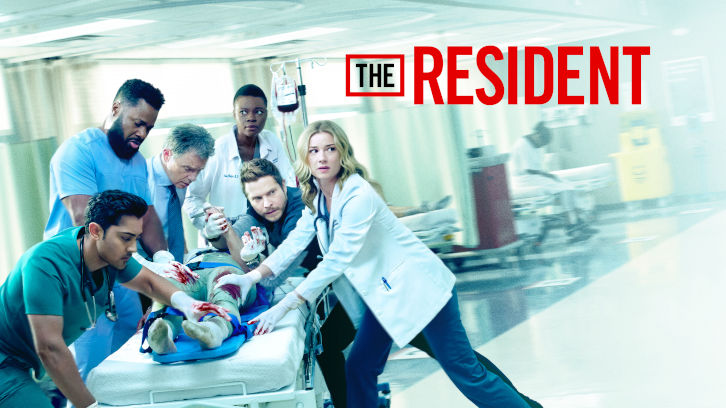 Just as the weather is getting warmer outside, a blizzard hits Chastain. It's a weird time for the episode to air, but that's just how things worked out. Considering a major snow storm in Atlanta, Georgia, which has to be an extremely rare occurrence, there wasn't too much chaos in Chastain's emergency room.

Bell prepares them for a big night, he has canceled all elective procedures but just as he makes his announcement to the staff present, clonking starts to be heard outside. Two kids crash into the ambulance bay, their frozen father in the trunk of their car. He's frozen solid, and his heart is no longer beating. There is no cardiothoracic surgeon in the hospital, so Mina needs to take the lead on the case.

While the staff is snowed in, AJ is snowed out. His car is stuck in the snow, no longer cooperating with the climate conditions. When Mina says she needs him though, AJ decides to walk the four miles separating him from the hospital, in the blizzard. What he was willing to endure for her said a lot about their relationship. He only does so because it is Mina that is asking. His attitude changes drastically when he learns that she is the one that needs her. As the episode progresses, she calls him for comfort, for encouragement, and The Raptor delivers, he is there for her.


"I really liked kids, especially that one." -Mina
The daughter reminds Mina of her sisters, and it somehow clouds her confidence. What happened to the overconfident and slightly distant surgeon from season 1? This episode showed how far she's come from the emotionally detached doctor she used to be.
Nic's sister is still in the hospital, her kidneys are failing. She is on dialysis and she has quite the entourage. She has Nic and Conrad; she also has Alex. He still can't sense when he isn't wanted. While it was harsh of Nic to point out that she was only using Alex, it's not like she hasn't made her feelings perfectly clear to him in the past.
Alex and Jessi together though, I ship it
.
"Maybe, but I prefer you. So does Nic." -Jessi
Nic and Conrad are both working on a dying woman, a patient they have had a long time. The woman is in end of life care, going into hospice. She has signed a DNR, and her only wish was to be comfortable. She didn't want needles, did not want to be poked and prodded. She also didn't want any more drugs as to stay alert for the person coming to visit her the next day. When Donna's condition worsens Nic wants to do everything in her power to save Donna so she can live to see the next day, and see her visitor. Conrad disagrees, and believes they should just let her go.
Most of the tension between Nic and Conrad during the episode is related to their patient. Conrad has noticed that Alex is into Nic but they have an adult conversation about it, and both seem to be in a place where they can trust the other. Their conversation about Alex is the reason I love them together, it just flows. It seems easy.
There really seems to be no need for the drama. While I understand it is device to bring the plot forward, I feel like they are bringing it up very clumsily. Since most of the tension was related to the patient, it felt completely out of the blue for Nic to tell Conrad they needed to talk. We keep hearing about the issues between them without ever really witnessing them. It makes it hard to understand Nic's motivations and get behind her. She kept repeating it, during the episode, that she doesn't want to be with Alex, that she loves Conrad. She was really believable, so why is she always pulling away?

"Nic's got your back." -Conrad
Bell is left to babysit the two kids that brought in their father, to his dismay. It doesn't come natural to him, but he does come around to it, somewhat. He tries to unload the kids onto someone else, but everyone is busy, so when Nic comes to him with a surgery, even a morally questionable one, he jumps to the occasion to get away from the little people. Getting Bell on Donna's surgery wasn't the best thing for the patient, the darker side that we've grown accustomed to resurfaces. Bell won't respect the DNR. He will not have that death on his OR stats. It makes Nic realise maybe she had been in the wrong by going over Conrad's head, but she never actually vocalises it. In the end, it works out and Donna got to see her first love again after 30 years, and was able to check one last thing on her bucket list: telling Bob to fuck off. It was totally unexpected for both Nic and the audience.
While Bell is stuck babysitting the kids, Devon is stuck babysitting the med students. Why are they all so catastrophically bad? They were pretty childish, to the extent I wanted to smack every single one of them on the side of the head. I had absolutely no pity towards Eric, he seriously sucks, and I hope that's the last we see of him.
There was a couple of good things about this episode, but as a whole, I didn't love it. I give it a 6.5/10.