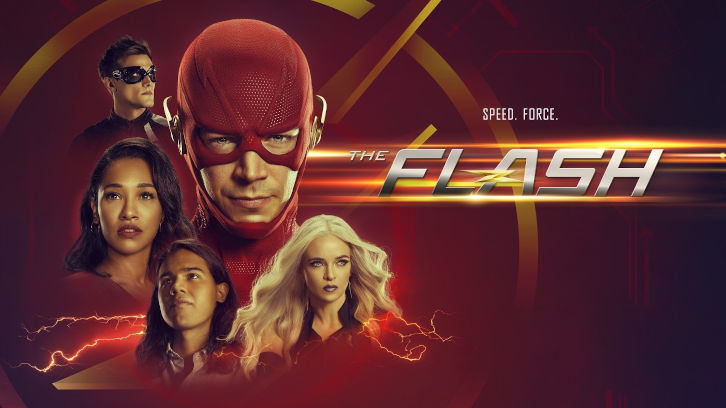 The Flash continued a good bit of story telling for the Flash family in "Snow Pack". For the titular family of the episode, not so much. The reunion of the Snows was a bit lackluster save for the special effects but the West-Allen family fireworks were on full display.

Barry and Iris

Want to see the most loving couple become fierce rivals? Bring a kid into the picture. Disagreements about how to the raise them and how much or how little to discipline them can be deal breakers. The Harry and Meghan of Superhero Royalty were no different in "Snow Pack". In the opening scene of this episode, Barry and Iris are in the midst of an epic fight over Nora. Barry's unilateral decision to send her back to her timeline has angered Iris. When confronted, Barry stands his ground arguing that he's right and that he didn't think he needed to ask Iris what she thought; he assumed she would back him. Barry wasn't prepared for Iris to stake a position so far away from his-she never really does. Or, she doesn't have the opportunity to do so. Iris' point to Barry is that he often makes emotionally charged split decisions without giving her the chance to weigh in. She hit him with two verbal body blows- Flashpoint and his decision to enter the Speed Force. Both were choices he made without telling her first. Both decisions affected her life greatly. Now, he has taken their daughter away without any word or warning. No chance for her to say goodbye.

Not to be outdone, Barry returned with a massive jab by making the observation that the very thing Iris was accusing him of doing, she was guilty of as well. Nora's poor treatment of Iris was very painful, and it was obvious to everyone that she preferred her father over her mother. He surmises that Iris is only making a big deal out of his decision to take Nora home because Nora "finally stopped hating you." That if it were anyone else who had betrayed the team or worked with Thawne, she would be on his side.

This scene was a long time coming and both actors brought their 'A' game. Grant Gustin and Candice Patton always show the wide range of their acting abilities when they are in West-Allen mode. Though that on screen chemistry is usually reserved for the lighter moments of their relationship, it was just as obvious in this darker moment as well. The anguished looks, the tears, and the pain of hurting one another with words was all to real.


Barry and Iris acknowledging they both made mistakes, when it came to their feelings and actions surrounding Nora, made their reunification all the more satisfying. Neither of them tried to be the winner- they got back to being the couple we know. The couple that works together, listens to one another, that supports one another, and that loves one another unconditionally. (It has been easy to forget they exist these last few months.)


Nora

Nora is treated very harshly by her dad. He doesn't listen to her whole explanation, he doesn't care if he hurts her feelings by being cold- he just dropped her off in the future. Poor Nora right? Well, not so fast. Nora is getting the same treatment from Barry that she gave to Iris. When she first came to the current timeline, she had no love for Iris. She wouldn't even tell Iris why she was so upset knowing that her mother had no idea what she could have done to make Nora hate her in the future. Nora also finds out after going on a heart breaking journey with her dad that Eobard Thawne killed her grandmother. She saw first hand the tension and hatred the two men have for one another, yet she still didn't see it fitting to tell her father the truth. She found out he killed her "Uncle Cisco" in another timeline- still no confession.

While Barry was harsh, he has some reason to be unsure of Nora. She wasn't honest even after it was very apparent that she should have been. She was alone with her powers in her time- going to Thawne isn't the problem. Staying with Thawne is. And now staying with Thawne is more of a problem than ever. Negative Speed Force anyone?


Snow Family

Sigh. This family drama was nothing compared to the drama of the West-Allen family even though the episode was meant to be centered around them. The Snow family just lacks a powerful punch in comparison to the Allens. The characters lack in story and some of the actors, well... Think back to when Henry Allen died or when Francine West died. The emotional toll those deaths took on Barry and Iris were palpable. When Thomas Snow died, Caitlin didn't cry, and her mom just looked on. It can be said that Thomas Snow was gone for so long that there wasn't a great emotional connection to his death by his family. This may be true- as a viewer, it didn't really move me either. The not so convincing acting by the Snow/Tannhauser duo didn't help.

It was nice to see Caitlin and her mother sort some things out. We got to hear her mom's side of things for once and so did Caitlin; hopefully that makes a positive difference in their relationship going forward.


Other Things I was Thinking as I Watched:

* Ralph is nosy as hell! But was Iris really about to leave Barry with that "I don't think I could ever forgive you" letter she was writing?

*Barry and Iris in the thick of it- using curse words!

*Barry and Iris making up. About time. How long has it been since they've shown each other an ounce of affection?

* Nora couldn't be bothered to thank her mother for coming to get her because she is fixated on Barry. Ungrateful child!

*Iris snapping up Thawne was music to my ears! Why did he seem to like it though?


*Why does Nora "need" to see her dad undetected?

*Why do we still have Cicada? I or II, they are both pretty lame as super villains go and they pale in comparison now that Reverse Flash and his motives may be coming to light.

*The Icicle and Killer Frost ice surfing scenes were pretty dope.

*Why is Dr. Tannhauser a meta? Is she the new Killer Frost?

*Thawne may be manipulating Nora, but she manipulates him as well. Whatever guilt he may have or his fatherly feelings for her put him a position to help her no matter how detrimental it may be.

*First, Thawne as Hannibal Lecter and now Thawne as Dr. Phil.

*Thawne wanted to be The Flash so does that mean he wanted everything the Flash had? Not just powers, but wife, kids etc...

What did you think of "Snow Pack"? The Flash airs on Tuesday nights on the CW. As always, thanks for reading.