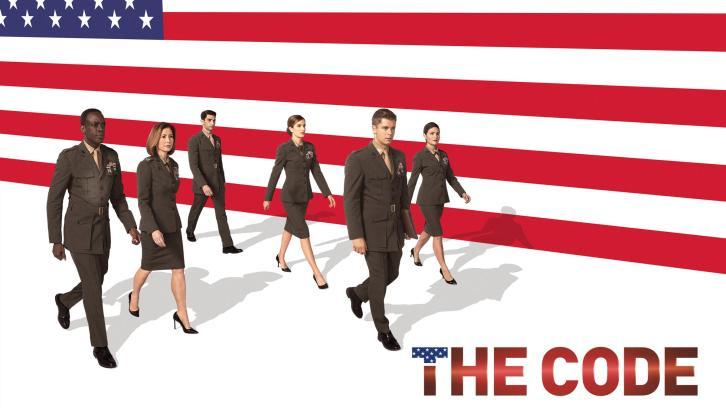 The Code - Blowed Up- Advance Preview - Great Start to a New Show

Series Premiere
Episode 1.01 - Blowed Up

Premieres Tuesday, April 9, 2019 on the CBS Television Network

If you miss Tuesday, CBS is Rebroadcasting of The Series Premiere Of "The Code" on Saturday, April 13, 2019

The Code moves to Mondays beginning April 15.

On CBS Network
- Mondays at 9:00-10:00 PM, ET/PT



THE CODE
The official synopsis of this episode is:
THE CODE is a drama about the military's brightest minds, who tackle the toughest legal challenges facing the U.S. Marine Corps. As prosecutors, defense lawyers, and investigators, these Marines work together to serve their country with integrity while often putting aside their personal ideals for the sake of justice.

Operating out of Judge Advocate General Headquarters in Quantico, Captain John "Abe" Abraham is a driven prosecutor for whom becoming a Marine is a longstanding family tradition and a responsibility he treats with devotion and passion.

His colleague and friend, Captain Maya Dobbins, is the fearless lead defense attorney who is never hesitant to go up against one of her own, but is also a team player if it means finding the truth.

Major Trey Ferry is Abe's eloquent and wise superior officer working for the prosecution who pursues suspects with ferocity.

Commanding officer Colonel Glenn Turnbull, one of the highest-ranking female officers in the Judge Advocate Corps, demands excellence of herself and her staff, while inspiring intense loyalty.

Assisting the team is Lt. Harper Li, a highly capable lawyer who is eager to take on bigger cases, and tech-savvy, efficient Warrant Officer Rami Ahmadi, the Marine equivalent of a paralegal.

These active duty Marines are attorneys who have chosen to serve their country in pursuit of military justice at home and abroad.

Starring:
Luke Mitchell (Captain John "Abe" Abraham)
Anna Wood (Captain Maya Dobbins)
Ato Essandoh (Major Trey Ferry)
Phillipa Soo (Lieutenant Harper Li)
Dana Delany (Colonel Glenn Turnbull)
Raffi Barsoumian (Warrant Officer Rami Ahmadi)

So I should mention up front, even though I write for SpoilerTV, I'm not a huge fan of giving away spoilers for episodes that haven't aired yet. So, that being said, here is my preview and what I can't say in words, hopefully, the pictures tell you all you need to know.

My preview of Series Premiere of The Code...

To me, the casting of a TV show can make or break it. A great cast pulls me into the story, the wrong cast and I'm changing the channel after the first ten minutes. This is a great cast. Though only Luke Mitchell (The Tomorrow People, Agents of S.H.I.E.L.D, Blindspot) and Dana Delany (China Beach as Nurse Colleen McMurphy and Desperate Housewives) are the only two actors who I know from other TV shows, the other actors and actress hold their own and I so far I am enjoying this new show.




As someone who has worked for the Military, it's a breath of fresh air to have a TV show that adds the little touches that I so appreciate, like the appropriate hairstyles, and the body armor while deployed. And I loved that they flew on Military Airplanes, not private jets. Little things.

Though this a procedural type show, like the new Magnum PI reboot which also airs on CBS, The Code also gives us more than what case needs to be solved or prosecuted. Instead, The Code brings us into the lives of these men and women of the Military.


The pilot episode, " Blowed Up" pulls me into the story in the first five minutes. An incident happened overseas that impacts one of the lawyers and from there the hits keep coming. From Quantico Virginia to a Combat Zone and many places in-between. Things start to unfold, yet at the heart of this show are the characters that make up this JAG office. Between them being Marines first always, these lawyers on both the prosecutor's side and the defendant's side bring a lot to the table and we can't forget the support staff. The personal lives help make what could be a dry procedural show into a whole lot more.
I enjoyed this episode a lot, I hope you do too. I know I'll also be watching next week's show as well.
Sorry for being so vague, but I'm not a fan of spoiling things before they happen. I hope these pictures tell you a lot more than I can say.
Let me know what you think of this episode. And don't forget to watch. I know I'll be watching Tuesday night and next Monday at their normal day and time.