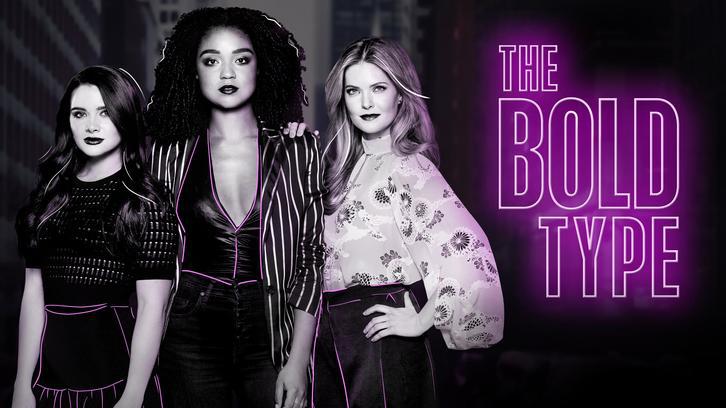 "This is the real me."
The Bold Type is back! And it's as fun and thoughtful as ever. We pick up a month after Paris, and there's already some steamy stuff going on to properly introduce us to the season. At work, they meet the new head of digital in a very awkward way and Jane immediately starts with the wrong foot with Patrick. Speaking of which, this is the consequence for Jane's article and now Jacqueline runs only the print magazine while a new addition, Patrick "careful carelessness" Duchand, becomes the head of digital.

The guy is kind of a pretentious ass with a lot of new ideas, some of them, admittedly, pretty interesting (including bringing in Betty Who for a private concert), but some could be pretty hard, since he wants them, and especially Kat, to become an extension of the brand in their personal lives, and let's just say that's not awesome when you're in a complex moment emotionally.

There are some big steps moving ahead for our girls, a couple of our adored three-way hugs and a surprising kiss. Another big change is Alex, he has definitely been underutilized in the past but it looks like that will change. Sutton and Richard have to be constantly defending their relationship but one of them is more at ease with that idea than the other. And on Jane's choice, well, the good news is there is a choice, but we wonder what kind of drama could be in store for the couple now since nothing can stay quiet forever here.

Teaser quotes:
My first name is Instastories
It turns out I'm not a hit at a lesbian bar
There's no expiration date on heartbreak
A good reporter doesn't shy away from the truth
I just can't figure out how I got so lucky
You never expect a coworker to whip down his pants no matter how well you know them

Season three of The Bold Type premieres on Freeform, this Tuesday, April 9th, at 8:00 p.m. EST/PST.