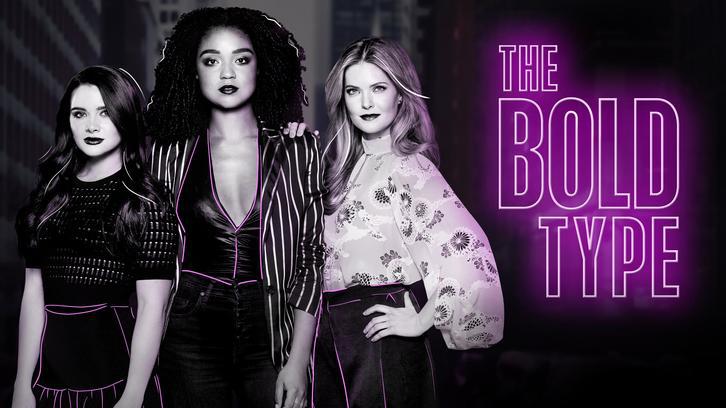 This week on The Bold Type, Jane tried to hide her fertility treatments from Ryan, even when Patrick gave her the assignment to write about it with him. But he kept showing up despite her trying to push him away and she eventually let him help. Sutton had to deal with a crisis at work when Oliver was MIA but she handled it and found out that Oliver had been distracted because he's trying to become the legal guardian of the daughter of an ex-boyfriend. Kat threw a prom to save a lesbian bar from having to be shut down (due to outrageous fines for stupid reasons) but didn't manage to raise enough money. She does seem to be interested in doing more for her community, perhaps through political channels.

Give him some credit: I'm not sure why but Jane seems reluctant to share her medical issues with her partners. It was one of the main reasons she broke up with Ben and now she was pushing Ryan away for the same reason. I'm very glad he didn't let her. I know he doesn't seem like the type to take things too seriously but I think she didn't give him enough credit. Sure, there are things he doesn't take seriously, but when it counts, he does. And he's there, despite previous arguments. He tore down the walls that Jane had built up around her. And rather than put a strain on their relationship, doing this together will probably make it stronger.

Save the bar! So did she save it? Will this be continued? Because after hearing why it meant so much to Kat (and others), I need them to find a way to save it. But I guess most of this storyline was a set up for Kat to get more involved in politics, especially after her run-in with that councilman. I did really enjoy the prom that Kat threw. I thought it was a great idea to raise money.
I would die: I am not equipped to handle high-pressure situations, so if I had been in Sutton's place this week … it would not have gone well. This is actually one of the things I admire most about Sutton, the way she can make the best out of bad situation. There were moments where I felt like maybe she should've talked to Jacqueline about what's going on but I'm glad she didn't until she knew the whole story. And I'm so happy that this show didn't go with the cliché's that my mind was already thinking of. Other shows would've given Oliver a drinking or drug problem, instead, he's trying to adopt/foster the daughter of an ex-boyfriend (wasn't clear if he was in rehab or deceased). Just makes me love him more.
Shame on you: How dare anyone underestimate Jacqueline? I know Patrick won't be doing that twice. I'm so glad she got to one-up him. It was almost like he kept trying to prove that he was hipper than her. So I was basically cheering when she got to politely put him in his place. I do hope she gets a better storyline than this. We've barely seen her interact with the girls and I miss that.
Best quotes: Sutton: "Hey, do you guys think it's weird that I don't want Richard's housekeeper doing my laundry?" Kat: "That's insane." Jane: "Yes." Sutton: "But that he's had a housekeeper his whole life." Kat: "Well, I've had a housekeeper my whole life." Jane: "I had my aunt come over and help my brother and me clean the house, but my life goal is to be successful enough to never have to do my own laundry again." Sutton: "Not only have I never had a housekeeper but in 12th grade, I almost was one at a hotel." Kat: "What happened?" Sutton: "Failed the drug test."
Patrick: "Is Jacqueline really friends with Saha?" Jane: "Jacqueline's friends with everyone."
Sutton: "You can be Richie." Richard: "No, never Richie." Sutton: "You could be Dick." Richard: "Don't you dare." Sutton: "Ricardo." Richard: "I can work with that."
That's it for this week. Check in again next week for an all-new review and let me know in the comments what you thought of this week's episode.
Please be respectful in the comments, any unnecessary rudeness isn't welcome.