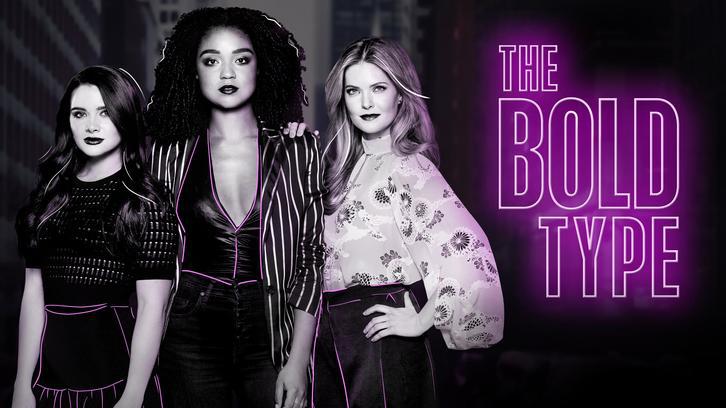 This week on The Bold Type, Richard asks Sutton to move in with him. She declined at first but then changed her mind. Kat is struggling after the break up with Adena. She tries to put on a brave face online but her new boss sees right through it. In the end, she posts an honest video and finds out that Adena is struggling too. Jane tries to find dirt on her new boss but finds the opposite. She and Ryan are dating.

Fake-book: This show perfectly highlighted why I hate social media. So much of what you see on there is just an image that people want to show. Kat was smiling when she was taking selfies and the minute she stopped, she went back to feeling sad. That's why it's so easy to feel bad about yourself when looking at other people's posts. Everyone only ever posts the good stuff in their life, it makes it seem like your life is falling apart when everyone else is just fine. Both Kat and Adena probably thought the other was handling the break up just fine. It's not until Kat was honest about what she was going through online that she found out Adena was struggling too. I like that Kat is going to be more real on social media, even though I don't really approve of the new boss' insistence that her own personal social media is part of the brand. She should have some part that is just for herself and her friends.

You can't always get what you want: Just like Jane, I wanted her to find something shady on Patrick. I want Jacqueline to be in charge again. Especially since the reason, they kicked her off the web portion was so stupid. But a good reporter must accept what she finds, even if she doesn't like it. I must say that she handled all of this really well. Much better than I would have. Our tiny Jane is growing up. But I do look forward to seeing her fight for Jacqueline again, those 2 make a great team.
Stand up for your relationship: Moving in together may feel a bit fast, but these 2 have been on and off for a while so perhaps this is the next natural step. And I understand why Richard suggested it. Everyone is belittling his relationship and he wants to prove to them that it's serious. I'm actually surprised Sutton hasn't received more backlash, but she's not the one who works with old straight white dudes. I'm glad they talked their argument out like adults, though. There are so many couples on TV with bad communication skills, I'm always shocked when I see a couple that actually talks about stuff.
Right choice: You all know I was team Ryan last year so I am super happy with Jane's choice. I just think they are a better fit. I really like it when couples challenge each other and I think that's what Jane and Ryan do for one another. And they seem really happy which makes me happy.
Best quotes: Jane: "They chose a man to run digital at a women's magazine."
Ryan: "So did Sutton say anything about this morning?" Jane: "Are you seriously looking for a compliment?" Ryan: "I'm not looking for an insult." Jane: "No, she didn't say anything. And you can walk around naked all you want because she's probably moving out." Ryan: "Really? That's not the effect I usually have on women."
Richard: "Sutton's great." Eli: "I bet. Come on, you've got to give me something. I mean, what is she? 26? And I bet she's flexible too." Richard: "Listen, Eli, you are talking about my girlfriend here. And she's smart, talented, …" Sutton: "And wildly flexible. I mean, he has no idea how flexible. And he never will. Oh, you're married. That's great. You should probably work on that. I've got a feeling it's not going too well." Eli: "It's nice to meet you, Sutton." Sutton: "So great to meet you. See you around."
That's it for this week. Check in again next week for an all-new review and let me know in the comments what you thought of this week's episode.
Please be respectful in the comments, any unnecessary rudeness isn't welcome.