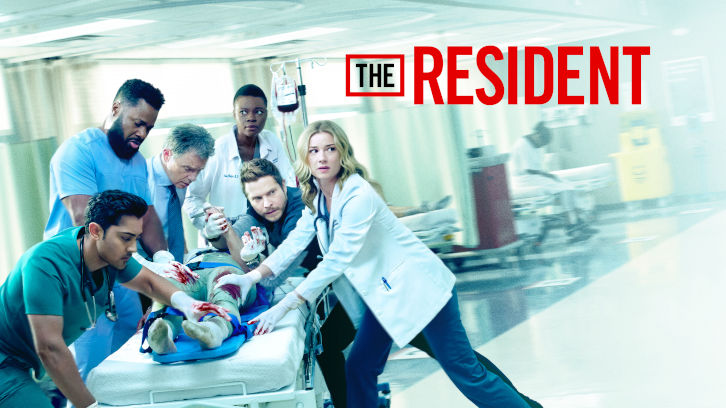 The Resident continues to deliver quality content week after week, and "Stuck at Foretold" was no exception. While the episode did not delve into particularly emotional and difficult subjects, it still managed to pull on the heart strings.

Bell's assistant gets some more screen time in this week's episode as his mother finds herself in the emergency room because of her knee. He was incredibly endearing, and very protective of his mother. He is also a pacifist and he's come to grow on Bell, just like he's come to grow on me. He is funny, and brings out a side of Bell we rarely see. Their relationship is great. Grayson sees him in a way not many see him and it's good for Bell to be looked up to like that.


"You're the dopest Dr. B." -Grayson
Grayson's mother comes to Chastain with gonorrhea presenting in her knee, and Kit is the ortho consult in the ER. This leads to some awkward conversations between Bell and Kit. I love how he is with her. Also in the equation is Kit's ex-husband. He is still in the hospital, and trying to get back together with Kit who is uncertain of what she wants of their future. I felt bad for Bell, who had to act as the friend, when clearly he wants more than that. He was there for her, supported her in any decision she chose.
Conrad is keeping busy. He uses his day off to volunteer with search and rescue, and helps locate a college boy who wondered off in the woods and got lost for three days. The boy is severely anemic, probably has some internal bleeding, but the team has to be conservative with their blood supply. The hospital is facing a blood shortage so they need to find a creative way to get more oxygen in his blood cells. Conrad gets him in a room which simulates being under pressure. It's a hyperbaric chamber that mimics a submarine, which should help. When his patient's health worsens, he calls in the help of Austin to operate. Conrad is reckless, it's hard to see if it is brought out because of his issues with Nic, or if it's just who he is. It's probably a mixture of the two. When they are in need of blood but with no more blood available, as the cabin pressurizes, he fills a bag with his own blood to save the patient.
During the operation, Austin gets high on Nitrogen Narcosis and Mina used this time to get more information on the woman he was meeting with earlier. She learns that her mentor has been looking into his birthparents. They are both prominent doctors, who chose their career over him a long time ago. His mother had gotten pregnant during med school and chosen to give her son up for adoption. Austin seems okay with that truth, almost understands the choice that was made. It led to a cute moment between Mina and Austin, they are great together.
"I can be angry for you." -Mina
Mina and Devon are organising an event to let their coworkers blow off some steam, and to their surprise, Conrad shows up without Nic. They had believed Conrad would only come if his girlfriend did. He, like his patient, missed his homies. He has been stuck in his relationship with Nic and forgot to cultivate his relationships with his friends. It will be good for him.
Also showing up at the bar is the hospital's new anesthesiologist. She seemed harmless, a quirky girl that abuses her puns and who Devon flirts with, but more is brewing underneath. I did not particularly understand what was happening in the end, as she injected the furry's IV drip, but I believe she kept some of the medicine? Anyone?
Nic is having a hard time in this one, she's putting a lot on her shoulders, and she is pretty much going at it alone. As they share breakfast as a family, Kyle seems to have turned a new leaf, he is there for his daughter, he will donate a kidney. Even if her father seems there for them, he isn't. Nic opens up to her father, afraid it is all too much for Jessi. She is able to open up about others, but has a very difficult time when it comes to her own issues which circles back to her problems with Conrad. She's closed off. He was right when he told her she didn't choose for Jessi's addiction, that it doesn't have to be all on her, but it's who she is.



"So it's just you and I now?" -Jessi


Alex finds a way to weasel his way into the situation upon learning that Nic is dealing with it mostly on her own being on the outs with Conrad. Nic and her father are being tested to see if they could donate Jessi one of their kidneys. While Nic has the same blood type, she learns she has an anomaly which disqualifies her. On the other hand, her father is a match. He tells his daughter that he isn't though, but Nic finds out the truth. Jessi confesses to Nic how much wants to use, so it's easy to see where their father is coming from, but it's also easy to see where Nic is coming from she will do anything for her sister. She sends her father packing, so it's back to being only Nic and Jessi.

I give the episode a solid 8/10. I loved that there was no relationship drama in this one.