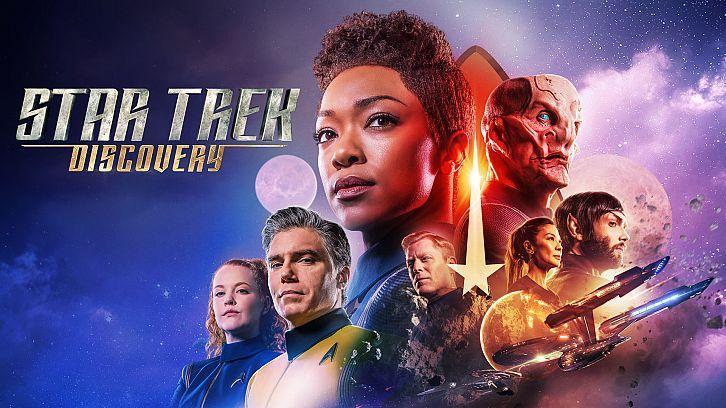 There is so, so much to love about Star Trek: Discovery's season finale that capped off a wonderful second season. Everything went so right here and it needed to, with all the gears clicking as the show delivered an emotionally satisfying conclusion that ranks it up there with some of the best episodes of the entire franchise. From the word go, Enterprise and Discovery were forced into an impossible situation, backed into a corner and heavily outnumbered. It looked like Burnham's vision of the future was about to become true.

And then, just like that, everything changed. There was a running theory that Burnham turned out to be the Red Angel which many thought was disproved when Burnham's mother turned out to be the Red Angel, but the revelation that she was the one responsible for sending the signals for Discovery to follow was an earth-shattering reveal where everything clicked into place. It fit perfectly well and showed that the meticulously planned season structure really paid off. Burnham had to take the Red Angel suit back in time to send the signals putting all the pieces in place so Discovery and the Enterprise could defeat Control. It made sense now, and the danger was just high enough so that when the Klingons and the Kelpiens arrived to help Starfleet, it was a decision that felt earned, and by the time he arrived with L'Rell I've never been happier to see Ash Tyler before. It turns out you can have a good episode with the character after all.

It turns out that Discovery borrowed far more than Interstellar than I could have imagined and the way Burnham goes back into her own time felt reminiscent of the third act of that film. It felt rewarding to see the jigsaws fitting, set against the spectacle of one of the most exciting space battles ever depicted on television. Discovery just had its Adama Manoeuvre moment, and no matter how many seasons this show has, it will be impossible to forget the importance of this episode. The show brilliantly used its ensemble well, not shying away from showing the true cost of war. The chaos in the Sickbay showed the dangers of what could happen and when Stamets was caught in the crossfire helping Burnham prepare the Red Angel suit I was worried that this would be the end of him. Instead, what I got was something more rewarding, we found out that Culber had opted to stay on Discovery and help him recover, opting to remain with his family. That said, the worry hasn't gone away, and he looks in a pretty bad shape, so one thing that the series will have to address when it returns is the fate of Stamets. One person who we did lose this episode was Admiral Cornwell, who sacrificed herself to save Enterprise. We got a good conversation between her and Pike where Pike argued that if his future is unchangeable then surely he should be the one to stay, but Cornwell decided that it would be better not to risk it. It's a shame that the series never used Cornwell more - as Jayne Brook has always been terrific every time she's been on screen, but as send-offs go that's quite a big one.

The biggest question lingering ahead of us is what form Discovery will take when it returns. With Burnham and Captain Saru leading the crew into the future (Saru's crowning moment of awesomeness was surprising Georgiou with his knowledge of The Art of War, something that felt earned), this show no longer becomes a prequel and can push the Star Trek franchise into an entirely new timezone. Whilst doing this, it does a fantastic job at not only explaining why nobody in Starfleet talks about Discovery in the original series, why Burnham isn't around in the original series, and why nobody knows about Section 31. With Discovery out of the way and Pike's Enterprise crew sworn to secrecy - it seemed that when people who were claiming that Section 31 were becoming too public may have rushed to a judgement too quickly. Although the show may be about to transition from prequel to sequel, it did a very good job at wrapping up the prequel elements of the series to the point where it even explained how Spock lost his beard.

I know it was unlikely that he was going to make the jump with Burnham to the future given how much of a one-way trip it seemed to be, and the moment when we got to see Spock board the Enterprise with the theme song playing was a great example of glorious fan-service in action. With recent fan cries for a show set on the Enterprise following Anson Mount's brilliant Christopher Pike portrayal, I want to take this opportunity to lend my voice for calls of a spinoff series following the Enterprise on their new mission that started with this episode. Interestingly, we didn't see what had happened to Discovery after it had time-travelled, choosing instead to spend time that time primarily focused on Spock. It did work to send off these characters on a perfect note, and their farewell seemed only fitting given how important Mount and Ethan Peck have been this season. Both actors were extremely well cast, getting the best out of the script to the very end.

Leland's Control didn't have much of the episode to shine in the grand scheme of thingsbut it was nonetheless very cool to see him pitted against Georgiou and Commander Nhan, with Georgiou coming up with a clever way to send off Control. The one weakness of the series may have been that the villain may not has been as developed as he could have been in the end and was rather one-note at times, but the events that have been able to happen because of this make it more than entertaining and the sheer spectacle of Such Sweet Sorrow - both parts of it , is more than enough to justify that given there's so much stuff going on. This episode looks awesome and utilises its CGI brilliantly, never shying away from unleashing carnage in space. In terms of visually impressive moments on Discovery, the entirety of this episode is up there with the best of them.

There is so much potential for Star Trek: Discovery and the upcoming Section 31 spinoff to exploit going forward and I have high hopes for the show when it returns in Season 3. But most refreshingly of all I have no idea what to expect where this show goes next. But that said, given that this is a show that seems to be getting better and better with every season, I have faith that Discovery will utilise its clean slate to the best of its ability.