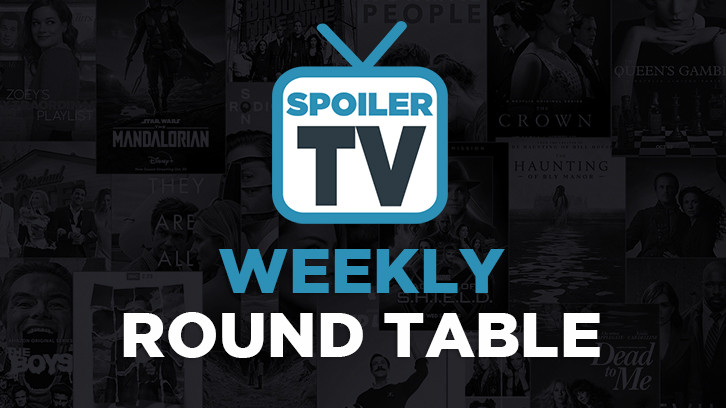 Hello and welcome to a new edition of SpoilerTV`s Weekly Round Table. Joining me this week is Lisa Macklem (LM), Abi Baker (AK), Sam Disnmoor (SD), Jamie Coudeville, Mads, Claire Serowski (CS), Ellys Cartin (EC) and Marko Pekic (MK). You just have to sit back enjoy the read and join the discussion in the comment section down below.


Last week Emily Bett Rickards announced she'll be leaving Arrow once the 7th season has finished. Given the show has one season left, do you think it's right for her to walk away so close to the finish line or do you think this is a decision that should've happened sooner? Do you predict any other cast members leaving before the final season? What are your favourite Felicity moments?
LM: I suspect that the rumors of Felicity going into hiding to protect baby Mia will explain her disappearance. I also suspect that Elena will step in to be the tech guru for team Arrow for the final 10 epiosdes. And I suspect that EBR will likely return in some capicity for the final episode - and possibly show up in other cameos. I certainly hope so. Given how far this show has fallen from when it actually made sense, I don't blame any of the actors for walking away. I'll stick with this ship til the very end, but I can't say that I've enjoyed reviewing it for quite some time now... I'm certainly glad that EBR has hung in for as long as she has because she is always a joy to watch.
AK: I personally don't watch Arrow any more but she's been on this show for 7 years and since she was 20 and if she wants to leave now then she's perfectly in her right to do so. I've heard rumours that she hasn't been overly happy with her storyline, that it's set up for her to leave anyway and she already has something else in the works but I'm sure the door will be left open for her to return so whilst it's slightly strange that she's leaving with ten episodes to go if she wants to leave now then she absolutely should rather than try to stick with something halfheartedly.
SD: I think it's very fair for her to walk away now. If she fulfilled her contractual obligations by staying through 7 seasons, then she has every right to leave afterward. What I don't think is right is fans demanding her to stay or feeling entitled to having her for another season. It's her life and she has the right to make whatever decisions are best for her, especially if they involve finding more work after Arrow. Jobs come first, not fan service.
Since we also know Echo is out, I'm not sure how many more exits there will be. I feel like they would have been announced by now if they were unless they're keeping it a surprise or will decide after the finale airs if they'll be in season 8.
As for Felicity moments, I haven't been much of a fan of the character since season two or three. My favorite moment was probably when she put on The Atom suit to save Oliver. That was an awesome moment for her.
Jamie Coudeville: It's a bit weird that she's leaving with only 10 episodes left. The only departure that makes sense is if she goes into hiding with Mia. Anything else would be odd. Honestly, this reminds me a lot of Nina Dobrev's departure from TVD.
Mads: I'm not caught up on Arrow at the moment but I think it's really weird that she left 10 episodes before the ending. I think there is more to the story and at this point I just hope Emily is happy and healthy. I hope nothing bad happened behind the scenes to drive her off set but she could just be tired of the show. It's a weird situation all around. I doubt anyone else will leave. I was never a big Felicity fan so no moments really stick out to me.
EC: Any show with an extended life these days runs the risk of losing key cast members to other projects. I for one am glad that Rickards has found a new project she's excited about, and I think the final season will actually benefit from not having to shoehorn in stuff for the Olicity relationship. However, this way the Olicity relationship will still be preserved. It just won't be front and center. There have been times where that relationship has overwhelmed everything else on the show. This won't happen in the final season now.
MK: I am semi-surprised on this move. I expected her to move on but with season 8 only being 10 eps I thought she stick it through. I am a major Felicity fan, as an individual. The Olicity angst over the seasons was a bit too much. Despite of that she had some great moments, especially in season 2 and earlier this season during her path against Diaz.
The Will & Grace season finale courted controversy with Karen Walker 'coming out' as straight. How do you feel about this? Do you think the writers have over-stepped the bounds of comedy? Is it right in this day & age for writers to continue using sexuality as a joke, and why do so many TV shows insist on erasing bisexuality?
AK: Honestly, I'm livid with how Will & Grace have treated Karen's sexuality for the entirety of it's run. During the original run it was always a joke how she flirted with/kissed/even slept with women and she was always treated as a straight woman. When the show was revived they released the musical promo which called Karen bi and I thought 'finally, the show is going to address what some fans have always known' and then we had the arc this season with Samira and I really thought we were going to have an out bisexual Karen Walker but instead we had Karen profess she was now a lesbian only to then say she was lost and only thought she was attracted to women because a lesbian told her she was. It was awful to watch. I know some people are going to think I'm taking this too seriously but there will be casual viewers out there who will watch these episodes and think that bisexuality is 'a phase' or that lesbians are predatory and try to turn straight women which are tropes that are wrong, outdated and definitely shouldn't be aired on a show that claims to be 'woke', liberal and with the times.
SD: For all the support Will & Grace have given gay men in the show, they've been completely dismissive of lesbians, and I don't understand why. I feel like they do treat it as a joke and it's frankly tasteless and disrespectful. Having Grace's sister suddenly become a lesbian and Karen suddenly become a lesbian just because is just wrong and completely insensitive to the process and struggle with women discovering their sexuality.
Jamie Coudeville: I haven't seen it, I'm still only on season 4, but I read an article on it and I think I sort of understand what happened in the scenes. It's sad that stuff like this still happens in 2019. We had such iconic bi rep on Brooklyn Nine Nine, so how Will & Grace mess up so badly. In one scene they managed to portray toxic and offence lesbian tropes and completely erase bisexuality (which apparently wasn't the first time for this show). This show may have been ahead of it's time when it first aired, but now it's way behind. Time to get out of the nineties.
Mads: I don't watch Will & Grace but as a bisexual woman I'm not surprised. It's trash, point blank, how we're treated and how we've been treated for years. That's why it's so vital and important to have stories like Rosa from Brooklyn Nine Nine who actually display bisexuality in a positive light.
CS: Just so disappointed in the W & G team for pulling this crap! I was so deeply offended by this storyline that I am at a loss for words. I did find myself being especially offended when Karen was 'trying' to be gay (acting butch, wearing flannel) at Grace's party. Enough with the bigoted tropes!
EC: I am somewhat annoyed by the Karen thing which seemed a huge waste of time in an otherwise very fun episode. I don't think it was controversial so much as it was dumb. The previous episode with Karen dressing up "lez" was too stupid to be even a little bit funny. There were so many things I did love in the finale episode though, like the proposal and the possible new romance that developed!
MK: I wouldnt say the show goes that far as erasing bisexuality. Theyve tried to be funny and represent Karens adventure into Bi once again as a phase during her downroad spiral. I wouldnt even classify Karen as straight, she is rather Pan as she doesn`t look like she cares about the gender. The I AM STRAIGHT statement was way too much though. I agree on that.
With several TV shows coming back from hiatus or just making their way into the stratosphere, some episodes have unfortunately found themselves being leaked ahead of their official broadcasting. Do you find these types of leaks to be disrespectful to casts & crew who put so much work into shows, or do you think it's part and parcel for the Internet age where everything leaks ahead of time?
AK: Screener leaks are disrespectful to the cast and crew of TV shows, to networks, to reviewers and even to viewers. It hurts everyone when episodes are leaked early as it for one ruins the viewing experience by putting spoilers out there, but it also means that ratings are down and jeopardises the jobs of so many people and means that if people watch them and don't tune in live, shows might not get renewed. If networks lock down on releasing screeners, it reduces the amount of promo they get as well and it just hurts everyone. There's absolutely no need to leak episodes, especially when people are leaking episodes that air in just a few days. If people respect others and the TV industry at all then I don't think they should leak episodes or hack those with early access to episodes.
SD: I think it's shameful for people to do that and is in every way disrespectful to everyone involved in the making of the show and the episode. I guess it's something to be expected now since people will do it no matter how wrong it is, and it's sad that shows are now going to have to do something to prevent it.
Jamie Coudeville: I can understand that if you're used to downloading your episodes online (because you don't live in the US where you can watch live) that there doesn't seem to be that much of a difference between that and leaked episodes. But there's a huge difference. Leaked episodes don't benefit anyone. It lowers the amount of viewers (which means the show you love so much is at a bigger risk of getting canceled), it results in spoilers being all over the internet, ruining it for other fans, it results in the networks sending out less screeners which means less promotional articles, less viewers, ... Just don't leak episodes, and don't download them if you come across them (it's what the leakers want).
CS: I just think that this is a terrible and nasty thing that was perpetrated; bordering on being illegal IMHO. I do think that the leaks are disrespectful and hurtful to say the least, especially to the above-board and honest media outlets that do not tolerate this type of behavior (such as STV)! With the proliferation of the internet and all of the small but mighty media outlets trying to make a name for themselves, behavior like this is so damn frustrating. It's always a few bad apples that are going to ruin it for the many. I know how frustrating it is to not receive certain screeners because we are not a 'major' media outlet. And I just hope that the powers that be will not punish all of the smaller sites for something that they did not perpetrate. I'd be very curious to know how the actors, directors and the teams involved in the production of these shows feel about the leaks.
EC: Leaking episodes, no matter when, hurts a show. But leaking them before an episode even airs is just a very rotten thing to do. Dishonorable in every way and hurtful to everyone who made the show and everyone excited to watch it when it airs. If you love a show, don't go looking for leaks. Protect yourself from spoilers by blocking certain keywords on your social media, especially Twitter. Don't let people like this win or contribute to hurting your show and your experience.
MK: It is a really terrible move. I understand fans being uneasy and eager to share. But with these moves they risk the shows to meet a preempted cancellation and that means hundred of people would loose their jobs which is disrespectful. and terrible.
It was the end of an era on Friday as Crazy Ex-Girlfriend finished after 4yrs on air. Do you think it was a fitting finale? What impact do you think the show had on the TV landscape, in particular making musical episodes a thing again? What were your favourite moments from the show & do you think it's important when the airwaves are filled with reboots, revivals, remakes, spin-offs and superhero shows for ones such as Crazy Ex-Girlfriend, which covered a lot of important issues during its time on air, to keep being made?

EC: I have so much love for Crazy Ex-Girlfriend and all the issues, especially with mental health, that it examined. The entire show is basically one long glorious, creative, loving PSA in the best ways. I love that more shows do musical-one-off episodes, as it's a fun way to show off cast talents. Most shows should only do standalone musical episode, but that's another thing. Crazy Ex-Girlfriend is one of the greatest gems of our time. It always acknowledged its heroine had big issues but it didn't count her less a person for having them. And the finale couldn't have ended on a more gorgeous, triumphant, or encouraging note for others with similar struggles, myself included.
MK: It was an beautiful end of an ERA! Crazy Ex Girlfriend embarked on a journey that initially seemed silly and ludacris but from its first scene it was a story about a journey of a troubled woman who didn`t knew where to turn and how to ask for help. CeG tackled personality, sexual identity, mental illness, single life, alcoholism, depression and so much more. And in the light of it they used music to do it,
That's it from us for this week, but be sure to leave your comments below and adios till we read again.....