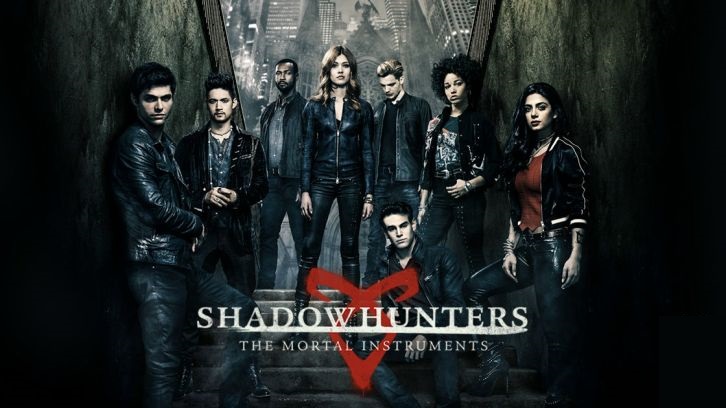 This week on Shadowhunters, Jonathan gets the Morgenstern sword. Clary is separated from Jonathan when Jace (very brutally) stabs her through the chest. Izzy gets hurt in the process. Maryse tells Magnus about Alec's deal with Asmodeus. Jordan reveals he has the last vial of Heavenly Fire and that he's dying to Maia. Maia gives the vial to Luke, who wants it for the Praetor Lupus, and Jordan dies. The gang travels to Alicante where Jonathan creates a rift that releases lots of demons onto the city. Magnus says he can close it but only from Edom. He and Alec get engaged before he leaves.

Too fast: This second half of the season has had a pretty slow pace. That's why it surprised me how fast everything happened this week. I know that this was originally intended as the season finale and that this means there needs to be a culmination of events but there was just too much going on. Jordan's death happened so fast. I know we already got a lot of emotional stuff between him and Maia when they were locked in together, but I would've liked more of a goodbye. I kind of hate that he died by himself. And while I did enjoy the fight scenes with Clary and Izzy, I still feel like separating her from Jonathan should've happened a week earlier. The guilt that she carries around over what happened wasn't explored much. And then there's everything that happened in Alicante. It's been a while since I read the books, but didn't all that stuff with the demon towers being down happen in the battle of Alicante when Valentine was still alive? You know, the battle that this series skipped over. The first half of the big finale is called Alliance which also seems to refer to something from book 3. I found it odd that these events would come up now when I know there's plenty of book 6 that they could've used as a cliffhanger.

Too slow: Despite everything else in this episode happening very fast, there seemed to be very little progress between Simon and Izzy. I was really expecting a kiss this week. The last few episodes really seemed to be building up to something. But then this week was just more of the same. I wonder if the writers will still go for it in the big finale or if they'll drop it altogether. I'm thinking it'll be the former. I mean, this finale is for the fans, right? And I know there are a lot of Sizzy fans.
Choices: I had trouble reading Luke this week. He's always had a good moral compass (except for everything that happened with Valentine) so I assumed he'd do the right thing but after that phone call, I'm not so sure. When he agreed with Maia that no one should have the kind of power that the vial of Heavenly Fire contains, I believed him. So I was confused when he informed the Praetor he had the vial. Seeing how easily they threatened to throw him back in jail, I highly doubt they have good intentions for it. But I also can't help but wonder how much of this storyline we'll see next week.
Thank the angel: I was so relieved when Maryse told Magnus about Alec's deal. I was really worried that the writers had planned to create a huge rift between them. And while Magnus did almost let himself get carried away by his father, once he found out the truth he quickly turned on him. But I have to say that taking out Asmodeus felt a bit too easy. Either way, we got our Malec proposal, even if they're not separated again. So is Magnus stuck in Edom now? Will the gang have to come to rescue him?
Best quotes: Clary: "If you 2 are done flirting…" Jonathan: "I wasn't flirting." Seelie Queen: "I was."
Jonathan: "You're not even going to try and fight me." Jace: "Just waiting for my moment."
Simon: "Supervillain is not a good look on you, Fray. Trust me."
Izzy: "Well, the good thing is that you 2 were together when Alec found you." Aline: "We were just doing…" Helen: "Research."
That's it for this week. Check in again next week for an all-new review and let me know in the comments what you thought of this week's episode.
Please be respectful in the comments, any unnecessary rudeness isn't welcome.