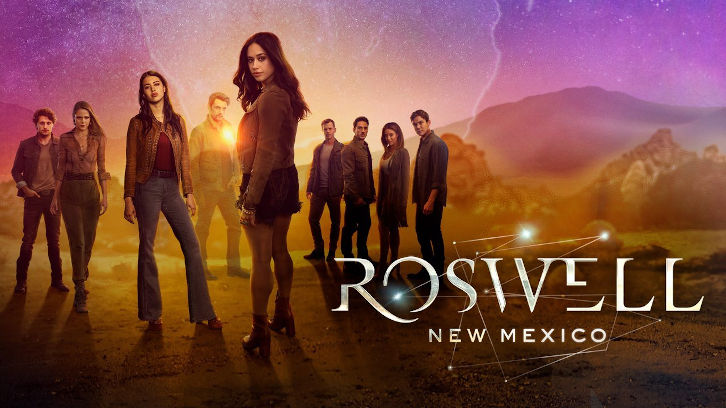 This week on Roswell, New Mexico Isobel tries to question Noah but he refuses to tell her anything without the antidote as he's currently dying from Liz' serum. Max wants him dead. Michael, Alex, and Kyle find a military facility where numerous elderly aliens are being held (and have been tortured for 7 decades). Alex' brother works there. Michael tries to break a woman he recognizes out but a self-destruct sequence is initiated and he reluctantly has to leave the woman, who he finds out is his mother, behind to die. He then fights Max for the serum because he wants answers from Noah.

Not what I meant: When I said I wanted Max and Michael to have more real and heartfelt moments, I did not mean at gunpoint fighting and fighting each other. These are 2 incredibly stubborn characters and they've both been on edge lately so when they end up on opposite sides all hell breaks loose. I do believe that if they'd been calmer they would've been able to talk it out instead of going for extremes. But Max is angry and wants Noah to suffer while Michael just saw countless aliens die and is desperate for answers. Personally, I don't understand how Max and Isobel are just fine with never knowing where they came from. I guess they do have their human family, but still. Michael, on the other hand, just got a glimpse of an actual family for the first time in his life, only for it to be ripped away. If Noah can even give him a chance at finding more of his family, he might be tempted to help him.

Creepy as hell: Speaking of Noah, the writers did a great job at showing just how creepy this guy is. The way he described the start of his relationship with Isobel sent a cold chill down my spine. He had been preying on her since she was 14. I'm glad they didn't sugarcoat how he violated Isobel. It's like there were 2 Noah's. The loving husband and the homicidal manipulator. Isobel is now trying to unify the knowledge of what happened with her happy memories. This is going to give her some serious trust issues (more than she already had).
Ignorance is bliss: Sometimes it's really better to not know something. Both Alex and Kyle discovered things about their fathers this week that I'm sure they'd rather forget. Alex already knows his father had done horrible things but knowing it and seeing it are 2 very different things. And clearly, his brother takes more after their father than Alex would like. Kyle was really upset by what he saw this week. He's been slowly chipping away at his father's secrets but this wasn't what he expected. I know he didn't mean what he said about his dad deserving his cancer, that it was just a moment of anger. But, still. This may put a strain on his relationship with his mother as well since he can't really tell her what he knows.
1 left: So, there's only 1 episode left in the season. We still don't know if this show will return so this could very well be the series finale. I'm sure they'll play up the current conflict between Max and Michael. I doubt Noah will die, he'll probably escape somehow. Maybe even get his hands on the antidote. I hope we'll find out more about where the aliens came from. I also expect some more drama between Michael and Alex, especially after what was said this week. And let's hope that it doesn't end on a huge cliffhanger, I can tolerate a small one (just in case it gets canceled).
Best quotes: Kyle: "I can't believe Roswell's mister congeniality is the killer."
Michael: "Something's wrong in there." Kyle: "I thought Isobel was the psychic and you were the Jedi?" Alex: "Jedi's are psychic." Kyle: "I've never actually seen Star Trek." Alex: "Oh my god."
Liz: "I won't pretend to know what you're going through. You were violated in a way that's unimaginable. It doesn't matter what Michael needs to know from him, and it doesn't matter how angry Max is. What do you need?"
That's it for this week. Check in again next week for an all-new review and let me know in the comments what you thought of this week's episode.
Please be respectful in the comments, any unnecessary rudeness isn't welcome.