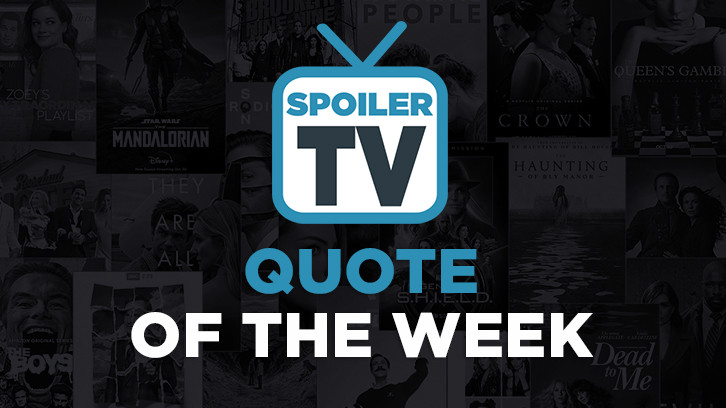 A weekly feature highlighting the best quotes on TV as picked by the Spoiler TV team. We'd love to hear your picks too so please sound off in the comments below.
1. Kat: "You saw Pinstripe's peen-stripe?" Sutton: "I did. I saw the not-so-weeny peeny."
2. Sutton: "Hey Andrew." Andrew: "Please don't ask my opinion." Sutton: "Okay, I won't. Is Jacqueline around?" Andrew: "No." Jacqueline: "Uh, Sutton. Come on in." Andrew: "Why am I even here? Just...go in."
3. Eli: "Not gonna lie. I'm a little jealous." Richard: "Sutton's great." Eli: "I bet. Oh, come on. You gotta give me something. I mean, what is she, 26? And I bet she's flexible too." Richard: "Listen, Eli, you're talking about my girlfriend here. And she's smart, talented, and -" Sutton: "- And wildly flexible. I mean, he has no idea how flexible. And he never will. Oh, you're married. That's great. You should probably work on that. I gotta feeling it's not going too well." Eli: "It's nice to meet you, Sutton." Sutton: "So great to meet you. See you around." (Michele)
Fam -
1. Ben: "David, I apologize, but I have to cut this date short. My wife needs me." David: "You'd be surprised how often I hear that."
2. Shannon: "Our family just isn't cut out for marriage. I mean, think about Dad and Jolene. Or Dad and Carol. Or Dad and Other Carol."
3. Clem: "You keep making jokes, saying that I'm gonna end up like Dad and Carol or Dad and Other Carol." Freddy: "Ah. Other Carol. Now, there was an attractive Mennonite." (Mads)
Roswell, New Mexico -
1. Cameron: "Yeah, and we spent 12 hours a day in a car together for 2 years and I never once thought "hmm he kinfs smells like an intergalactic crime fighter today."
Max: "Fair."
2. Michael: "Oh, we are literally aliens, and you're gonna old me to some outdated binary of sexuality?" (Prpleight)


Single Parents -
1. Angie: "You hate this music." Will: "I don't love it. There was 20 minutes where I thought I was kind of connecting with it, and then I realized the band was actually taking a break and I was just listening to a Hall and Oates CD."
2. Angie: "Graham, what on Earth would make you think this is bad?" Graham: "Douglas told me so." Douglas: "Oh, don't look at me surprised. You know who I am."
3. Angie: "And at least this time, I have a boyfriend. And a Netflix account." Poppy: "Yes!"
Will: "Um, it's my Netflix account. You're borrowing it. And how are you still watching 'Lilyhammer'?" Angie: "I love Van Zandt, and I'm done apologizing for that! If you'll excuse me, I'm going to the bathroom to pee this out."
4.

Angie: "Do you have any red wine that's even redder? Like, more the color of the blood of The Sacred Ox?" Poppy: "Okay, what's happening here? Is this a cult thing? If it's a moon cult, I'm in. I love moon stuff."
5. Sophie: "Well, you're in luck. I know everything about clam bakes. My American Girl doll, Tinsley, summers in Nantucket."
6. Miggy: "I enjoy every odd-numbered installment of the Fast and the Furious franchise,

#JusticeForHan

." (Mads)


Supergirl -
1. Kara: "I do see red sometimes, and it's not an ego thing or allegiance, or anything like that. I feel the weight of the world on my shoulders. And since Superman left, and Lex has been free, it feels a lot heavier. If my enemies are strengthened, if I'm weakened in the slightest, I could lose. And I just can't ... I can't lose."
2. Red Daughter Supergirl: "She is like a princess in a tower." Lex Luthor: "And on a reporters salary."
3. Alex: "I think you're right. There's something wrong with this government." Lena: "I thought you were the government." Alex: "No, I'm your friend. And right now I have a hell of a lot more faith in you than I do in them." (Sam Dinsmoor)


Superstore -
1. Garrett: "Look, it's only a couple more hours. It's the length of a movie. If I can sit through 'The Hitman's Bodyguard,' I can make it through this."
2. Jonah: "Isn't that embezzlement?" Glenn: "No, embezzlement is when you put jewels on your jacket." Jonah: "I think you mean bedazzling." Mateo: "Which is also a crime."
3. Cheyenne: "Hey guys, you won't be hearing from me for the next five hours, but don't worry, I haven't been kidnapped. I just can't use my phone. But if you don't hear from me after that, I probably have been kidnapped, and it was probably my uncle. He's really nice, but just statistically." (Mads)


Whiskey Cavalier -
1. Frankie, after seeing the RV safe house Ray got them: "Eventually, I'm gonna have to murder Ray." Will: "I'm not gonna stop you." Standish: "Oh come on, y'all. It's Spring Break Bulgaria." Susan: "I'm with Standish. When I was a kid, my parents used to pile us into one of these and drive us down the shore." Will: "How'd that turn out?" Susan: "Oh, we all wanted to kill each other." Frankie: "Exactly."
2. Will: "She's just standing there." Frankie: "I don't see a gun." Jai: "Yeah, she could probably take you out with that teddy bear."
3. Susan: "You know I ran into my ex-husband last week. He's actually a good guy but he was with his new fiance and I swear it took every ounce of self-control I had not to shoot both of them." Frankie: "You should have." Susan: "I know." Frankie: "I would have cleaned up the bodies for you." (Dahne)