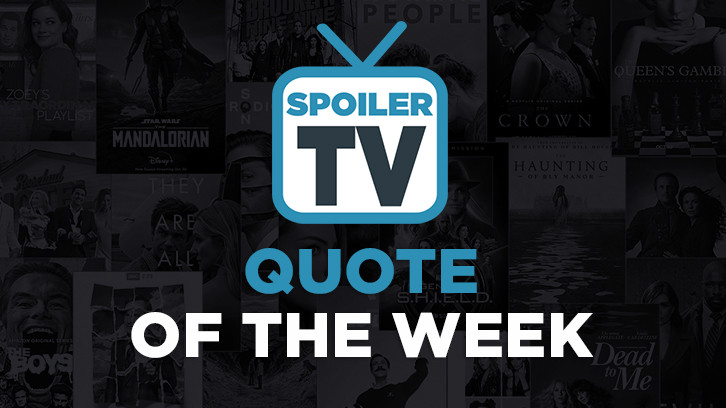 A weekly feature highlighting the best quotes on TV as picked by the Spoiler TV team. We'd love to hear your picks too so please sound off in the comments below.



Cobra Kai -
1. [a student makes of video of Johnny to promote Cobra Kai and Johnny put it to 'Thunderstruck'] Aisha: "Sensei, you need copyright for that." Johnny: "It's ok, I own the tape, it's in the car." (Zandarl)
Game of Thrones -
1. Arya Stark: "I know Death. He's got many faces. I look forward to seeing this one."
2. Tormund Giantsbane: "[The giant's wife] suckled me at her tits for three months. Thought I was her baby. That's how I got so strong. Giant's milk."
3. Jaime Lannister: "Arise, Brienne of Tarth. A knight of the seven kingdoms."
4. Dolorous Edd: "Samwell Tarly– slayer of white walkers, lover of ladies. As if we need any more signs that the world's ending."
5. Tyrion: "I wished father were here. I'd love to see his face when he realized his two sons are about to die defending Winterfell." (Laura B)
NCIS: New Orleans -
1. Loretta: "Bads news?" Pride: "Good news...maybe." Loretta: "That's the worst good news face I've ever seen."
2. Ryan: "We're not together anymore, Hannah. Your disapproving looks hold no sway anymore."
3 .Hannah: "You cannot make unilateral decisions that affect our family." Ryan: "Sure I can. I learned from the best." (Dahne)
Superstore -
1. Garrett: "It is a bold choice to wear a dress like that at a party full of a bunch of horny teenagers. You're really putting the ladies out there." Dina: "Why should I have to police my body because the men of this world can't keep it in their pants?"
3. Glenn: "Oh, and Amy. Jerusha has to watch Rose, but there was no way I was gonna miss this celebration of Emma's transition from girlhood to womanhood with cultural roots in Mesoamerica." Amy: "Thank you Glenn. Did you spend some time on Wikipedia?" Glenn: "Yeah, I did. How?" (Michele)