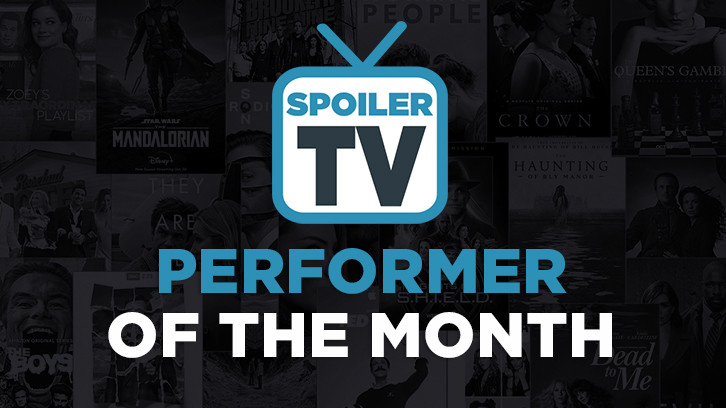 Results:

This round of POTM proved to be quite interesting. The staff voting was pretty close up until yesterday afternoon when the ultimate winner pulled ahead. The Readers' Choice winner pulled ahead from the start and was never caught again though the competition fought hard. The astounding thing is that both winners are the same person. In a historic first, there is one ultimate Performer of the Month that won both the Staff Choice and Readers' Choice polls.


The winner of this historic round is Grey's Anatomy's Camilla Luddington (Dr. Jo Karev) for her raved about performance in the poignantly powerful episode,
Silent All These Years
(15x19). Luddington has earned every bit of praise she has received for this episode. Her performance allowed everything Jo was feeling and experiencing to feel painfully real to the audience. From dealing with her own origins to helping Abby (Khalilah Joi) through the most horrific day of her life everything felt real, almost too real, and the performances honest. The show bravely fought to tell the often overlooked darker aspects of a rape storyline and Luddington made sure to proudly represent the show with a raw performance and to honor those who have in real life experienced the horror this episode shone light on. It was an intense hour of television and every performer highlighted in this episode deserves to be recognized. This award honors Luddington and the winner article will focus on her performance, but through her win, all of her fellow co-stars are also honored because this episode took a true team effort to make it as poignant and memorable as it was. This episode and Luddington's performance in it will not soon be forgotten. For all these reasons and many more to be talked about in her article, Camilla Luddington is SpoilerTV's Staff and Readers' Choice Performer of March.
Camilla Luddington's article will be out later this month. In the meantime feel free to use the comments section to discuss all of her amazing fellow nominees.
Original Post:
Thanks to all of you nominations we have an outstanding list of nominees. These 10 outstanding performers will now battle it out for the title of SpoilerTV's Readers' Choice Performer of March.
2018 Staff's Choice Performer of the Year: Sandra Oh
2018 Reader's Choice Performer of the Year: Alycia Debnam-Carey
January Winners:
Readers' Choice: Jared Padalecki (Sam Winchester) - Supernatural
Staff Choice: Andre Braugher (Captain Raymond Holt) - Brooklyn Nine-Nine
February Winners:
Readers' Choice: Jensen Ackles (Dean Winchester) - Supernatural
Staff Choice: Hale Appleman (Eliot/The Monster) - The Magicians
Please remember that a performer can only win once in 2019. After that win, they will be ineligible to win again in 2019, but they will secure a spot in our year-end Performer of the Year contest.
Now comes the hard part where you can
only vote for 1 performer
. The poll will be live until
Thursday, April 11th at 6 pm ET
. After you vote be sure to make a pitch in the comments section for what the performer you voted for most deserves to win.