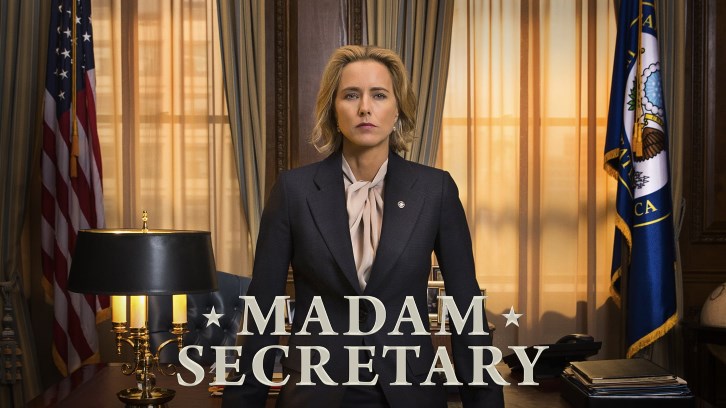 Madam Secretary
"The Great Experiment" was written by Matt Chester and was directed by Sunu Gonera – the team who also brought us the previous week's episode. Once again this episode focuses on real world issues – the rise of nationalism globally – and the expense of minorities and the double standard with which women are treated at work, dovetailing into the #Metoo movement. I really hope that this show gets renewed so that it can continue to shine a light on these important issues. I really want to see Elizabeth (Tea Leoni) as President! I want to see her kick Callister's (Will Chase) butt! I loved that the episode concluded with her talking about Alexis de Tocqueville and the Great Experiment – the United States balance of democracy and equality.
The episode opens with the beginning of the campaign as everyone gathers at the McCord house. Mike B (Kevin Rahm) and Jay (Sebastian Arcelus) are sharing campaign manager duties – and that really can't end well, can it?
Russell (Zeljko Ivanek) shows up just as things are starting to get going with a bombshell for Elizabeth. The Washington Chronicle is going to release an article that alleges that Dalton (Keith Carradine) and Elizabeth had an affair while the two of them worked together at the CIA. Elizabeth is supposed to be declaring her candidacy, but they decide to push it a few days. Mike B tells her not to give it any oxygen and it will die with the next news cycle, but Jay thinks not saying anything makes it look like they have something to hide.
Of course, it's the mudslinging that she's been expecting once the campaign starts, but she's caught off guard by the charge that she slept her way to the top. She and Henry (Tim Daly) discuss that they have to tell the kids.
Meanwhile, work is still going on in the State Department. China has broken an agreement over Myanmar, and Elizabeth wants to take them to task. Jay is reluctant because they need China for the Climate Migration Treaty. Peter Harriman (Skipp Sudduth) returns in this episode and suggests prosecuting for crimes against humanity. Elizabeth tries to get Chen (Francis Jue) on board and calls him on China's own violations against human rights and abuses of minorities.
Into this mix, Callister declares his own candidacy on an anti-immigration platform that spews hatred for minorities. Elizabeth points out that she's just asked Chen to fight nationalism around the world and now it's running for President!
Chen won't fall into line, and Harrison points out to Elizabeth that Poland, Hungary, and Russia have all favored a nationalist platform, so why not the US? Harrison points out that there are other ways to focus the world's attention on Myanmar – for instance labelling the atrocities as genocide. Elizabeth is on board to also help send a message to Callister that they don't tolerate attacking minorities anywhere. In the end, Dalton counsels her to pick another term to shame China.
Elizabeth is surprised when Governor Hayes (Michael Pemberton) stops by to discuss her future plans. He asks her to run against Callister for the Republican nomination! She's a bit gobsmacked as his party doesn't even believe in climate change. If they don't want Callister, she asks him why they don't simply condemn him, but of course, he represents one end of the spectrum. Hayes tells her that they don't want to alienate that part of their base – they want to try to reach them through her.
Jay is adamantly against her taking the Republican offer and has already been contacted by the Democrats. Elizabeth admits that she does agree with some of the Republican platforms – she's for privatization and a strong military and feels the government should step back from business, but she doesn't agree with the way the party uses wedge issues to fire people up with empty rhetoric. In the end, she tells Jay and Mike to work together and stop jockeying with each other. She also tells them that she's running as an independent – like Dalton. I really like how the show takes this middle ground – it's a way of reaching both sides of the audience too.
When Henry insists that they tell the kids about the story before it breaks, they each have a different response. Stevie (Wallis Currie-Wood) tells Elizabeth she doesn't have to apologize – as a Washington-insider, she knows about the mud-slinging – and trusts her mother. In fact, none of them doubt Elizabeth. Alison (Katherine Herzer) insists that the real scandal is Callister and his platform. Jason (Evan Roe), perhaps because he's the youngest, is angry at what's being done to his mother. He's also a bit angry that they aren't going to defend themselves.
Elizabeth doesn't read the article when it comes out, but Henry does, and he goes to have lunch with Isabelle (Marin Hinkle). She insists that she never heard the rumors and has no idea who could have made the claim. She also tells Henry that they called Dalton and Elizabeth the honor twins – and that's there's nothing to it. But Isabelle tips her hand and Henry knows it was her because Elizabeth told him how she and Isabelle used to joke about the rumors. It's also clear that Henry suddenly has doubts. Elizabeth finally does get angry and points out that this is how the poison works.
Elizabeth confronts Isabelle, who admits that people were jealous that Dalton favored her. Elizabeth insists that she earned everything she got, but she doubts herself too. I loved the scene in which she asks Dalton if he did favor her. He tells her that he did – the same way any boss would favor any employee who was "smart, diligent, and thought for themselves." Elizabeth also confides in Dalton that she's worried about the fallout for the family in an election. He counsels her to keep her private life separate from the job.
I really loved how this episode dove into the #metoo movement and deepened the look at how women are still facing these challenges at work. When Nina (Tracee Chimo Pallero) finds out that Deputy Secretary Bailey (Brian Kerwin) will be taking over for Elizabeth, she goes to Kat (Sara Ramirez) to ask for a transfer. She tells her that she's heard rumors about Bailey and doesn't feel comfortable working for him. I thought this was an interesting juxtaposition of the types of rumors that circulate in the work place – and which are true and which are false. There is nothing to support the rumors about Dalton and Elizabeth…
Kat tells Elizabeth who asks Nina about Bailey. At first, Nina is reluctant to get anyone in trouble over rumors, but then she tells Elizabeth that there is a document that circulates among the women in government working in low level jobs about the male superiors – that describes things like groping, lunging, and weird comments. Elizabeth asks to see the document, and Nina is quick to assure her that Dalton isn't in it – and Nina also tells Elizabeth that she's sorry about the article.
I absolutely loved that Elizabeth had Kat talk to Bailey. The scene is perfect. We see subtle evidence of exactly why Bailey is in the document. He touches Kat's arm and tells her to call him Stephen as the meeting begins. Kat tells him about the document that details male employees of the government who make women feel unsafe. Instead of expressing any remorse, he gets angry. Kat assures him that if any of the allegations are true, he won't be becoming Secretary of State. His response is to accuse women of no longer having a sense of humor. And then, in a beautiful shoe on the other foot moment, Kat commiserates that it must be shocking for him to be confronted by something so shocking and disempowering at work. And that she's pretty sure that every woman in the document knows exactly how he feels….
In the end, Bailey resigns and Under Secretary Susan Thompson (Tonya Pinkins) is tagged as the next Secretary of State – so we'll still have a Madam Secretary….
The episode ends with a wonderful cameo by Jane Pauley as Elizabeth gives an interview to deal with the rumor about her and Dalton. As she tells Jay and Mike – she knows that she has a long road ahead of her, but it's one she wants to be on – but on her terms. I loved how the episode then seamlessly weaves the themes of the episode together. Elizabeth tells Pauley that the rumors aren't true and that they are being spread by people who want us to be scared and suspicious of others. It's when we're scared that these people will seize power – and then she turns the conversation to Myanmar. She tells Pauley that Nationalism is the greatest threat to humankind. Extremists haven't been able to defeat the US from without – so now they are trying from within.
Once again, this show has delivered a tightly written, topical episode that is beautifully acted and directed. This show brings up so many important issues in such a thoughtful way, I am really keeping everything crossed that it gets renewed. We need this show now more than ever to help foster a measured dialogue around these issues. What did you think of the episode? Let me know your thoughts in the comments below!