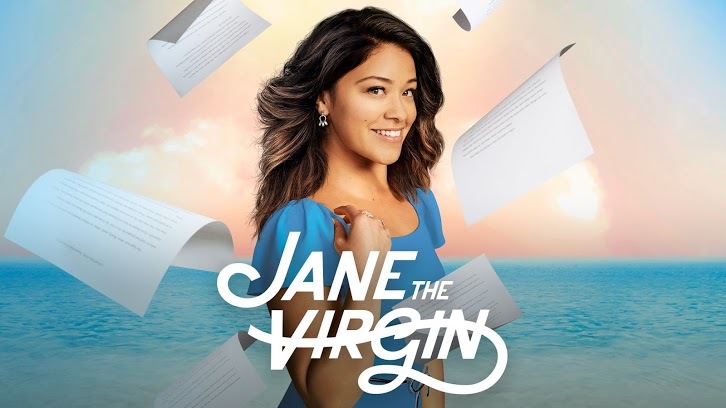 Jane the Virgin
"Chapter Eighty-Three" was written by the team of Chantelle M Wells and Katie Wech and was directed by Gina Lamar. Wech joins the writing team with previous credits on
Rizzoli and Isles
,
Vegas
,
Once Upon a Time in Wonderland
, and
Vegas
. Jane (Gina Rodriguez) struggles with feelings of guilt while Rogelio (Jaime Camil) struggles with his new co-star – River (Brooke Shields).
The episode opens with a re-cap of Jane's religious life, emphasizing her devotion to vows. In the present, Jane is moving out of Alba's (Ivonne Coll) while Jorge (Alfonso DiLuca) is moving in. He arrives with his and Alba's marriage license – and we all remember who encouraged Jane to remain a virgin and who is the most religious one in the family. Jorge reminds Alba that he's only staying until he can get the travel permit to visit his mother. It's clear that Alba doesn't consider her marriage license to be just a piece of paper – and that she does have real feelings for Jorge.
Meanwhile, Jane's lawyer is having trouble deciding if Jane is still married or not – giving us this week's title card:
Jane the Virgin Mrs?
In another throwback, we see Rafael (Justin Baldoni) and Michael (Brett Dier) have very different reactions to receiving Jane color-coded calendars. Now Rafael is happy to have one and Michael isn't. Rafael also isn't too thrilled about Mateo (Elias Janssen) going for Catholic classes. Rafael doesn't want Mateo to think that every time he does something bad he's going to hell – a pretty hilarious theme that runs throughout the episode.
Also hilarious? Michael walking in on Jane and Rafael making out on the couch – because he's early, because he gets up at the "cock's crow" – nice one writers! Jane is moving Michael into the Mirabella because Rafael has given up his apartment where Michael has been staying. Michael was staying with his father for a few days – no memories came back and the two spent the time watching NCIS! Michael had a good time – it was quiet. Quieter than all the talking with Jane!
Rogelio is finally shooting The Passions of Steve and Brenda, but he's also worrying about Xo (Andrea Navedo) who is at home. Was anyone else super distracted by just how much hair Jaime Camil has when it is "boofed" up?? Xo tries to get him to concentrate – and play nicely with River. Rogelio is determined to try – until he gets script revisions that cut his lines and give River more! Naturally, Rogelio storms off to sweet talk the writers – after a brief stop in the production office – and finds out that River plays a serious game of sweet talk – in fact, she's sent everyone a "River-boat" of sweet treats! The writers remark that River is "just so nice." Of course, we know differently… Also hilarious? River has her own cookie company – MS Fields – lawsuit pending** with MRS Fields!
At the Mirabella, Michael is clearly still attracted to Petra (Yael Grobglas). Petra isn't happy about the dog, but Jane suggests that she thinks about it as an emotional support animal because "Jason" is not a people person – but it's clear when she sees him laughing with Jorge that Jason just isn't a "Jane" person! Meanwhile, Jane doesn't have any luck jogging his memories, and when they go through a box of Michael's things, he wants the money for his old car that she sold! And it's at this lowest moment that Jane's lawyer calls to tell her that they are still married.
Rafael doesn't think it's good news either. Jane explains that the death certificate is like a marriage certificate – but it's nullified because Michael isn't dead. Jane has to wait six months to get a marriage dissolution. When Rafael suggests that she just get a divorce, Jane points out that she's catholic – and then falls through the floor into Hell! I loved it! Rafael points out she's broken lots of other rules – naturally as a nun walks by! I love that the show never misses an opportunity. Jane points out that marriage is different because it's a sacrament. One of the statues in the Church foyer helpfully points out that Jane's guilt comes from the inside – not the outside (ie the church).
We get to see Dennis (Christopher Allen) when Luisa (Yara Maritnez) goes to the prison to try to get Rose (Bridget Regan) to explain why she wiped Michael's memory. Luisa points out that her previous encounters with Rose resulted in complete mental breakdowns, but she also points out that she's now stronger and sober. She's even made a list of all the evil things that Rose did: killed father, kidnapped nephew, kidnapped me (Luisa), never has the same face. I'm also loving all the ways that the show is finding to remind us of what has previously happened – like Dennis going on a date with Jane. It's a great way to jog the audience's memories after such a long hiatus – plus a LOT has happened on this show!
Meanwhile, Rogelio has tried to sway the writers by giving them all "Ro-boats" – better than a "River-boat." The head writer, Hannah (Ericka Kreutz), tells Rogelio that they aren't giving him back his monologue – sometimes less is more. Rogelio suddenly realizes that he knows a real amnesiac and brings Michael on to the show to be a consultant. Of course, Rogelio thinks his best buddy will have his back – and Michael is eager to make some money – after all, he's not getting that car back! In the end, of course, Michael is now a man of few words and ends up getting Rogelio's speech cut down to a single "What?" And Michael further alienates Rogelio by turning out to be a huge River Fields fan.
When it seems like Michael is suddenly remembering something, it really sends Jane for a loop. She goes straight to Xo for help. She's scared to get a divorce in case Michael does get his memory back. She just doesn't know what she'll do or feel. Xo stops Jane from calling Rafael before she considers what she's going to say. Xo realizes that Jane is feeling guilt "from a different place." She also tells her not to tell Rafael that she's not sure what she would feel if Michael got his memories back. Xo tells her to sort out her feelings before talking to Rafael.
Rafael and Luisa go to see Rose, and Rose suggests that Rafael is with Luisa to thank her for getting rid of the competition – or maybe he's there to find out if it's reversible! Rose goads him by pointing out that if Michael gets his memories back, Jane will run back to him – her one true love. Luisa goes back in to talk to Rose alone. Rose tells Luisa that she worried that Michael had seen her mask slip. Also hilarious? That Rose tells Luisa that it was "way harder" to fake Michael's death than to kill him because she'd promised not to kill any more! When Luisa confronts Rose with the number that Dennis gave her from Michael's notes, Rose finally gets angry and storms off.
Rafael calls Jane to tell her that the reason Rose did it was just random. The narrartor (Anthony Mendez) gives us a peek at what Jane and Rafael really want to say to each other. Jane confesses her confused feelings about the possibility of Michael getting his memories back – which really ends up with her saying that she loves Rafael and wants to spend the rest of her life with him. But she really just says she's ok. Rafael wanted to say that he was in Hell. He's terrified that Michael's memories will come back and he begs Jane to choose him if they do. Baldoni is really good in this scene. And honestly, I was SO team Michael back in the day. The show has just done a great job in showing us what a terrific guy Rafael has grown into by taking their time with this storyline that they've turned me into team Rafael… and I feel guilty about that! In the end Rafael says he's fine too….
Jane vents to Mateo about her confused feelings after Mateo tells her what he learned in Catholic classes – be a good person and trust that God has a plan. Jane thinks she is a good person – and isn't seeing the plan. I loved her analogy of a lost puppy – and then Mateo wanting to take the puppy… it also reinforces how confusing this is going to be for Mateo. How will he feel?
Michael turns up at Jane's and tells her that he's out. He's walking away from a bad situation and he's tired of disappointing her every time he does anything. He tells her that it's not her fault – but it's also not his fault that he's different. And I don't know about you, but I think Michael has his memories back. I'm not sure if it really was the shot glass and he turned the story into an NCIS episode when he saw Jane's reaction or if it was when he was talking to River, but I think that his coming to the door like this is Michael doing the selfless act. He's seen that Jane isn't the same, and he's not the same either. He tells Jane that it's not his fault that he's different – or is he giving her permission to realize that she's different too? However, he does tell her that he's realized – thanks to River – that he's the victim. And he's not wrong…
Jane turns to Alba this time to discuss her guilt. She admits that she's guilty because she's disappointed that he's not Micheal, but she's still not sure what she'd do if he was. Alba draws on her background as a nurse and tells Jane that you have to get to know the patient, get them to lower their walls. Jane decides to start over and get to know "Jason." Jorge points out that he had no expectations when he met Jason because he didn't know Michael which made it easier to get to know him. Alba thanks him for agreeing with her – and it seems pretty obvious to me that there are feelings on BOTH sides of that relationship! I love Coll getting a juicier storyline!
Rogelio brings Xo to set because he was feeling guilty about working and leaving her at home – and that was keeping him from doing his best work. But Rogelio has a plan to make his one word last as long as River's monologue. It's hilarious! And Rogelio holds up the production until Xo reads him the riot act – and pulls the cancer card! – and points out that there are more people on set than just him.
Jane takes Alba's advice and goes to "Jason" and apologizes for not getting to know who he is now. She still has to push, but "Jason" finally reveals one thing that he likes to do – and he takes her line dancing! They do pickle-back whiskey shots and dance. Jane is surprised when she has a great time – right up until "Jason" kisses her. "Jason" apologizes – and clearly feels badly…. But does he feel badly because he kissed her – as Jason – knowing she was with Rafael – or did he feel badly – as Michael – because Jane got angry.
Rafael drops Luisa at a condo under a false name to try to keep her hidden. Luisa reassures Rafael that Jane loves him and he has nothing to worry about. But when Jane gets home, she tells Rafael about the kiss – and when Rafael pushes her to get a divorce, she finally admits why she is feeling guilty. She tells Rafael that it's not Catholic guilt – it's because she wishes he'd never come back! And she feels like a terrible person to wish that just because she was happy – and Rafael is at least happy to hear that. She tells Rafael that she took Mateo out of CCD because she's not seeing the plan anymore. Rafael, however, points out that plan or no plan, it's been a force for good in her life. Jane decides that she's getting the divorce – but she has to tell Alba….
When she goes to tell Alba, she finds her celebrating with Jorge because his travel permit came through. It turns out that Alba asked Rogelio to call in a favor to get the permit quickly because she was falling for Jorge. She also surprises Jane by being ok with the divorce. Jane tells Alba that she doesn't feel married to "Jason." Alba tells Jane that even if her marriage wasn't in the church she feels married – so she needs to protect herself and her heart.
The episode ends with some "scary" moments. River asks Xo to reveal something to Rogelio. Luisa opens the door to her new apartment to be welcomed to the building by Bobby (Tommy Dorfman) who has brought pie – and is one of Rose's minions!!!! Jane goes to pick up the divorce papers and "Jason" tells her that Bo ate them – but we see when Jane leaves that the papers are still intact! Maybe "Jason" doesn't remember Jane, but clearly, he's starting to fall for her now that he's getting to know her too… What did you think of the episode? What is River up to? What about Rose – what's her endgame – just getting Luisa back? Will Jane fall for Jason? And is Jason starting to remember Michael? Let me know your thoughts in the comments below!