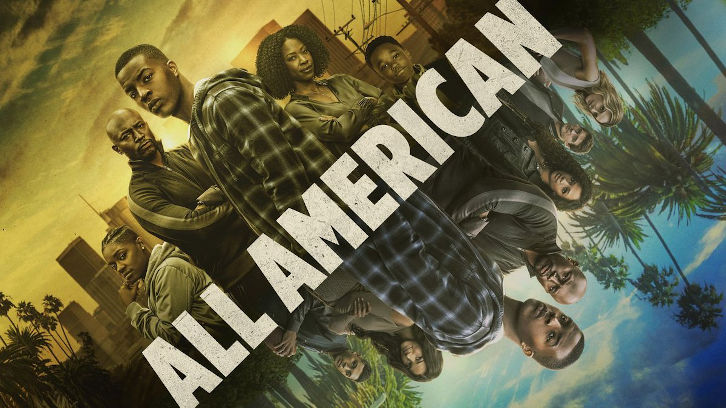 Just like that the first season of All American is over. This season went by so fast, and it's crazy how attached I got to the characters over 16 episodes. I'd be lying if I said I didn't miss the show.

The biggest story in the final episode is the championship game between Beverly and Crenshaw. Spencer struggles with not being able to be apart of Crenshaw's success. I understood his issues, but I was also a little annoyed. He made his choice a long time ago to switch schools. He must have known that playing against Crenshaw was a possibility.
During the game things take a devastating turn when Spencer hits Chris, and Chris can't feel his legs. This shakes Spencer, but he's able to recover after a talk with his dad. He blocks the field goal that would have won the game for Crenshaw and scores a touchdown! Beverly wins! After the game Corey tells Spencer that he's going to coach Crenshaw next season and he wants Spencer to come back home. This was an unexpected twist.
Another twist was Corey asking Grace about Dillon. Now, I had a theory about this earlier this season, but since the show hadn't brought this up when Corey came back I didn't think it was true. What do you all think? Do you think Dillon is Billy's? Do you think Spencer will stay at Beverly?
Coach Baker resigns after the game is over. I didn't this coming, either, and I was surprised when he went to his dad's to stay. I hope Billy figures out what he needs to and is able to get his life back on track. I hope he gets his family back, and I hope that Jordan is able to move on. At least Jordan was able to say his piece at the end like Olivia did. I was happy that Jordan and Spencer made up. Their relationship shouldn't suffer because of their parents' mistakes.
Other Thoughts:
- I'm so glad that Coop was able to take down Tyrone. If there is a second season, hopefully the violence will end or at least be a much smaller part of the show.
- I think Asher definitely likes Olivia. They were really cute in his kitchen when she made him breakfast. When the show started I wanted Olivia and Spencer together, but I think I've changed teams.
- Layla is still in a rough place, and her fights with Olivia and Spencer didn't help. The last scene of her destroying the furniture was powerful, but at least Olivia showed up to help her. I really hope she gets the help she needs to work through everything that's happened to her over the last year.
I'm crossing my fingers for a second season of
All American
. I became emotionally invested in these characters and stories, and I would love to have another year with them. Do you think it will be renewed? What would you like to see happen if it is?

Thank you for reading my reviews this season. It's been fun, and I haven't enjoyed a show on the CW this much in years. If you didn't watch the show while it was on or would just like to watch it again, the entire season is now on Netflix.