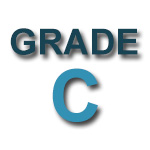 If Sarah thought Katie's pregnancy was a shock, she gets an even bigger one this week when she learns her daughter has actually known about said pregnancy for more than seven weeks! The father of the child, some guy named Jagger, (sounds like a real winner), isn't in the picture anymore either. But Katie doesn't seem inclined to get an abortion. Which is fine, but wow wish the show would just say the word and not dance around it.
Finding out this bombshell about her daughter sends Sarah into a tizzy. She feels like she might be losing Katie because she kept something of this magnitude from her for so long. On the opposite side, Katie didn't tell her mom because Sarah had mentioned losing her own mother the second she told her she was pregnant. Luckily she has Enzo to give her some sage advice and they have an exchange where one of the characters actually says, "we're not really talking about the roommates are we?"
Katie and Sarah wind up making up and channeling Meredith and Cristina by dancing it out, though not before Katie has a heart-to-heart with her secret dad, Nick. I mean how weird is it that her father is living in the same building but Sarah still hasn't told Katie who he is? Oh and he has a tie-in to 9/11 too because apparently that's all the rage in this dramas right now after the cringe-worthy twist from
A Million Little Things
, NBC had to try and top it I suppose. Katie and Nick also talk about war and why it's actually a good thing sometimes.
Photo Credit: Scott Gries/NBC
Moving on from there family drama (though it's technically
all
family drama since the characters on this show say "when you're here you're family" in reference to their apartment complex more times than an Olive Garden commercial). Enzo is having a rough time at the retirement home because he gets a new, awful roommate named Macklemore. Luckily, Gabe decides to come through and let his father move in with him. And I have a feeling he broke up with his girlfriend in the process who is less of a person and more of a an archetype for the typical "ice cold girlfriend" type.
As for Gabe's assistance in Ava's case. The show delivers its cheesiest scene yet when Gabe makes the judge (who is not a fan of immigration) listen to a plea by their good-hearted cop neighbor, the guy who is currently taking care of Ava's son, listen to him vouch for Ava and make the judge have a sudden change of heart and grant her bail! Turns out, she also knew about her papers being fraudulent but is pretending she didn't.
Returning to the matriarch of The Village complex, Patricia does tell her husband about her cancer being back this week. So at least that reveal wasn't dragged out for long.
Overall, I'm thoroughly unimpressed with the
The Village
and it's ridiculously heavy-handed emotional manipulation. At least
This Is Us
and
A Million Little Things
have
some
degree of depth, whereas this show is a shallow, saccharine, IV drip of sugar that just makes you feel nauseated by the end.
New episodes of The Village premiere Tuesday nights on NBC.