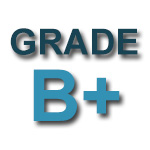 In the aftermath of Zoe's death, things must continue to carry on as normal, or as normal as they can be under the surveillance of a new captain, one who is more interested in micro-managing and the location of boots than he is about the real work being done.
It becomes apparent immediately this guy is going to be a problem, particularly for Sergeant Gray who has to work with him most often.
Outside of the precinct, things are going well between Nolan and Jessica Russo. She even has a volunteer job for him. One of her work friends needs volunteers for a protection detail and John offers to go. He gets paired with Bradford, who welcomes the chance to work with Nolan in a pairing we haven't seen much of yet.
Photo Credit: Richard Carwright/ABC
Together they have to keep a key witness in a cartel smuggling case from being killed by said cartel. Joel McHale guest stars as the witness in question, Brad Hayes. He's the cocky character we've come to expect from McHale and he doesn't have much interest in following orders from Tim and John. He actually lashes out in aggression towards John and tries to steal his money.
The outburst is a little strange and I suppose it's meant to add more drama to what is a boring stake-out (at first). Then a big earthquake hits and rattles every character and their given circumstances. For John and Tim, it almost gets them killed. With landlines and radios down, they're alone and out of touch from the aids looking into the cartel planning to kill Brad. When they show up, firing guns without hesitation, they barely make it out alive.
Where would you go to hide? In plain sight, it's John's line of thinking anyways. They go to the beach, it's the last place the cartel would think to find them. Until they find out Brad has a tracker in his shoe! Another firefight breaks out. Tim and John barely make it out yet again. But they do eventually emerge triumphant.
Photo Credit: Richard Carwright/ABC
As for Tim's usual rookie, Lucy, she tags along with Bishop for the day. The focus for Lucy this week is a personal one as she visits her father in the hospital after he gets his arm broken from one of his patients lashing out. Her dad was doing an alternative form of anger management when his patient lost control in a dissociative state. Lucy wants to arrest him, but her father fundamentally disagrees with the way of the justice system. He doesn't want to see his patient further hurt by being arrested when he needs mental care.
Ultimately, Lucy makes the arrest. But she does ensure he will get the mental health assistance that he needs.
Meanwhile, West has romantic issues when he inadvertently offends Gino by shooing him out of his workplace when he was simply trying to help him out by returning his weapon (which he had left at his house - a fireable offense). The two make amends, particularly after the earthquake when Jackson realizes how thankful he is just to see Gino is okay.
As for Sergeant Gray, he takes complete control at the precinct in the earthquake's aftermath while the captain is absent. He excels at keeping everything organized and under control, even without the use of their radios and communication servers.
Ultimately, Gray pretends it was the captain who did so well and sings his praises to those higher in command, thus ensuring he gets promoted and gets the heck out of their precinct. Who will be the next captain? Why doesn't Sergeant Gray give it a shot?
New episodes of The Rookie premiere Wednesday nights on ABC.