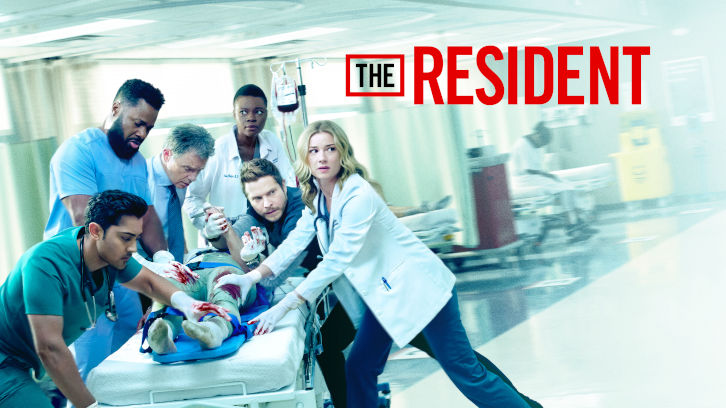 "Betrayal" was another amazing episode for "The Resident," as they continue their fight against the medical device company. Still, this show continues to deliver week after week, keeping its momentum going, with the trills and the intrigue.

As the episode begins, AJ finds himself at Abe's residence. Seeing his car in the driveway but with no answer at the door or on the phone, the surgeon decides to walk inside where he finds Abe, with a gunshot wound. Immediately, he calls for an ambulance. Despite everything that went down recently between them both, they still have a history, and despite being mad Abe lied and sold out, AJ is very emotional about his old mentor. Abe is not dead, but he isn't strong. They quickly get him to surgery, but cannot finish it as he is too weak. The bullet has done a lot of damage internally. AJ and Mina leave him open, in the hopes of being able to continue when he is a little bit stronger.

At first glance, it looks like a self-inflicted wound, a suicide attempt, but it is hard to believe. Being a doctor, Abe would have known where to shoot for a kill shot. It's far more likely Quovadis tried to silence him. Gordon makes for a very compelling villain. There is not much that seems too evil or contrived for him. Of course, they can't know for sure that Gordon tried to have Abe killed, and it's all speculation until Abe can wake up. Still, it's a pretty good theory. The team all work very hard to save him, and it's easy to see that AJ is personally invested in the outcome, more so than the others.





"Never in a million years did I think we would end up like this." –AJ


AJ wants to save his mentor. Devon, on the other hand seems only interested in having him talk. I found Devon to be quite unprofessional in this one, urging the other doctors to wake Abe up when he was very weak in the hopes that he would give them information on Quovadis. He knows where the bodies are buried, that's for sure, but it's not a reason to wake him up before his body is ready to take it. Am I alone here?

Nic begins the episode at the clinic, where she treats two best friends with mono. With one's health quickly deteriorating, and his oxygen saturation levels continuously going down, the nurse transfers him to Chastain. Even in the hospital, Evan's health continues to deteriorate, and when Nic and Conrad come to the conclusion that the mono has caused him to develop pneumonia, he is transferred to the intensive care unit.

With Abe not recuperating well from the surgery, and Evan not getting enough oxygen in his system, both need to be put on ECMO. Only one machine is available; the closest available one being a day away. Being both too sick to be transported elsewhere, someone needs to decide who gets the machine. AJ, Mina, Devon, Conrad and Nic all end up in Bell's office fighting for their patient. In the end, because of Evan's age and prognosis, he gets the machine. As Mina points out, they need to keep emotions out of it, and go with simple statistics.





"Someone has to play God." –Devon


AJ still wants to save his mentor, believes he deserves a chance at redemption, which is something Bell understands completely. He seems to become a better man with each episode passing and I believe he deserves a chance at redemption too. Maybe he thinks that since the doctors seem to have forgiven Abe, they will forgive him too, but I don't believe they know he took a payout from Quovadis, yet. Does anyone know if that is?

While I found Devon to be inappropriate in "Betrayal," in the end, he's the one that finds a way to save Abe and get his lungs oxygenated. Having nothing to lose, the man is dying anyways, they flip him, hoping to get more air in his lungs. It works, and they are able to safely wake him up. Abe can communicate one word with them: Sever.

This doesn't seem like a lot, but that one word is enough for Conrad to get Gordon to freak out. At the end of last week's episode, I was appalled at Marshall's behavior, how quickly he was willing switching sides only to make a couple of bucks. I was outraged at the fact that he would disregard his son's feelings like that. It was just a ruse to get Gordon to open up about his misdeeds. Thank goodness. It did not work though. Gordon turned his offer down, and sent him away.





"I'm okay, son." –Marshall


I loved how father and son worked together, how their relationship has developed. I adore how Conrad now refers to Marshal as "Dad." By the end of the episode, Marshall goes back in, but wired that time, with the FBI listening in on their conversation and ready to intervene, one last effort to get Gordon to talk. He and Conrad manage to rattle Gordon's cage enough that he lets down his guard. After having he confesses to having tried to get Abe killed, the FBI and Gordon's men get into a firing match. When Marshall falls to the ground, I feared the worst, now that he and Conrad had mended bridges, he was going to die. I truly believed that. Thankfully, I was wrong, and Marshall was fine. They really have put Conrad and his father trough the ringer this season, keeping the audience on their toes.

Gordon manages to escape, and pull the officers in a wild car chase. The sound score to the ending of "Betrayal" was on point, as this show usually is. The crash though felt a little extreme, but at least it's clear that no one could have left that crash alive.

Is the chapter on Quovadis really over? And if it is, it leaves one thing: What now?