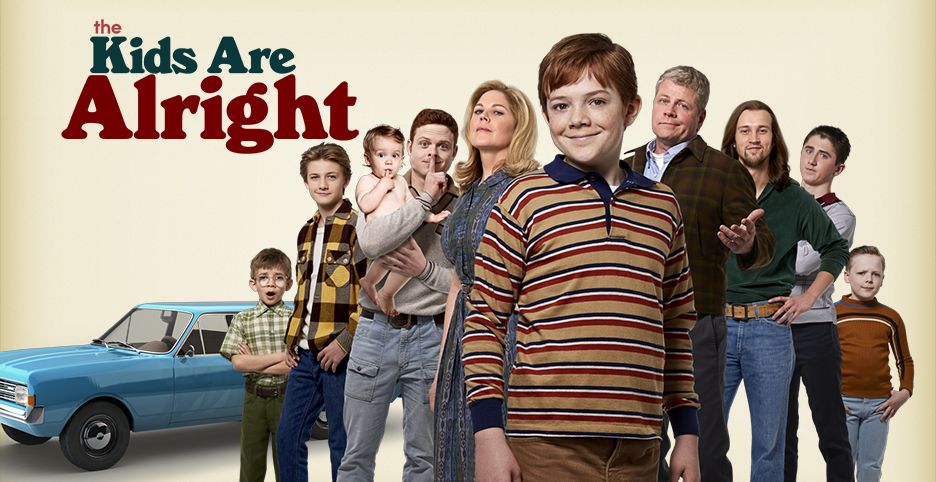 With weeks until the next new episode and no renewal announcement yet, it's time for a refresher about why The Kids Are Alright is just getting better and better. Many comedies hit their stride around midseason, and that has been true of this show. It deftly and consistently balances a sprawling range of characters, while also capturing perspectives that aren't commonly shown on TV. One character often falls to the wayside, but nearly a dozen others provide constant exasperated laughter. The cast wears their roles like good old footed pajamas, and you can't help but love this crazy big crazy fun family.

"Happy Cecil" shifted the focus to Mike and Peggy, which always produces great things in spades and lets Mary McCormack and Michael Cudlitz shine bright. The Cleary's world gets thrown out of orbit when their priest drops a bombshell. Father Cecil has found true love, so he's taking up civilian life. Both the Cleary parents find this extremely perturbing, though for different reasons. Earlier, Mike commented that Father Cecil couldn't be both his priest and his friend. He struggles to make sense of the new dynamic. There's also the fact that neither parent, but especially Peggy, is comfortable around Cecil's successor Father Abdi. There's more than "a whiff of racial prejudice", and the episode doesn't shy away from it. Jojo Nwoko is quite delightful in the role of Abdi, who gives the episode one of its funniest moments in the scene he shares with Peggy near the end. Peggy herself does her best to put asunder the prospective nuptials. What's a little insinuation of murder when the stakes are this high? Peggy's schemes land Cecil on the Clearys' couch where in a very touching moment Cecil confesses to Mike that he wanted what Mike and Peggy have. Mike realizes that Cecil views him as a friend, and he recites St. Francis's prayer with Cecil at the latter's request. It's a wonderful scene. Paul Dooley and Michael Cudlitz knock it out of the park. Peggy is so moved that she repairs the fallout from her meddling.
There's also loads of great Frank moments in "Happy Cecil." When Mike goes to the rectory to meet up with Father Cecil for a baseball game, Frank answers the door, something he asserts he's been doing for weeks. This provides near constant entertainment throughout the episode. Father Cecil confides in Peggy that Frank can be a bit much, to which Peggy replies that he might end up being a "holidays-only" child. Frank also drafted his own extensive oath of confidentiality for working at the rectory. He exhorts Father Abdi to establish order by "sending a lot more people to hell." Sawyer Barth tempers Frank's self-righteousness with total disconnect and sincerity, which makes every Frank gag a hit.
"Nine Birthdays" turns back time to an earlier year. Pat doesn't have glasses. Lawrence does have short hair. And Mike tells Peggy to throw away some birthday candle stubs, prompting a several months long feud between the parents. As the narration goes, Peggy doesn't like being told what to do. Her candle-saving ways evolve into adapting a Pinocchio candle into a Richard Nixon candle. Even when the candle-making starts to wear down on her, Peggy won't quit to give Mike the satisfaction of winning. It's a familiar dilemma, but it makes room for a nice conversation between Peggy and the underused Lawrence. The conclusion where Mike and Peggy mutually agree to return things to normal and plan a sunny vacation for two puts a nice cap on the story.
There are actually birthdays in the episode, and there are nine birthdays. The parents' birthdays aren't celebrated. The ninth birthday belongs to Lynn, the daughter Peggy has established as Eddie's twin who didn't survive the first trimester. That is something of a sad revelation but the show handles it with appropriate amounts of macabre amusement. Especially since Peggy holds a slight grudge against Eddie because of it. She even takes him and Pat to the cemetery on Eddie's birthday to what must be someone else's grave (?!) There Pat (who really needs those glasses he'll eventually get on his own birthday) spots the ghost of Lynn which turns to be Wendi. As far as meet-cutes go, this one is perfectly awkward adorable. The rambling conversation about the female doctor is delightful and gives Caleb Foote some well-utilized time in the spotlight. This episode also scores points for continuity, as it's now been shown more than once that Eddie and Pat have a special bond. It's Eddie who looks out for Pat after the latter is turned upside down to dislodge a quarter (which Peggy pockets), and Pat helps Eddie find Wendi again after he loses her number to a lawn mower. There's also some great bits for William who not only encourages Peggy to let Eddie off the hook for Lynn but also helps Peggy make Timmy's birthday wish come true. And there's still time to get a little insight into how Lawrence started questioning priesthood, more fantastic Frank moments, and some solid Joey schemes.
When it comes to
The Kids Are Alright
, every bit of mischief and chaos and laughter and brotherhood and teamwork is worthy of celebration.
Cleary Boy Birthday Months
January: William
February: Andy
February: Eddie
March: Frank
April: Lawrence
May: Pat
June: Timmy
July: Joey