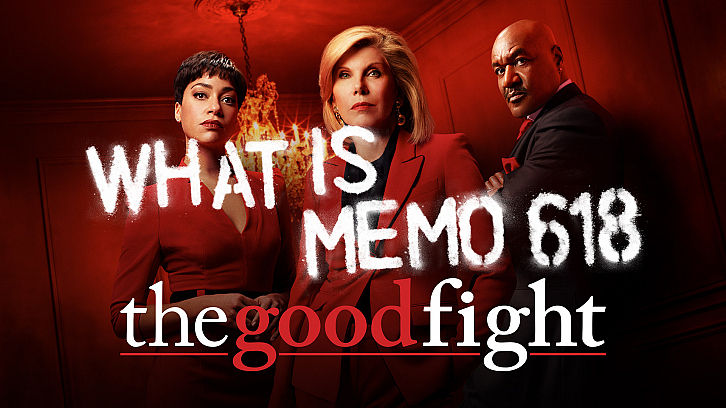 The gender power struggle is real in this week's episode. Maia, Lucca, Liz, and Diane (sort of) find themselves going up against men, and for everyone except Lucca, it looks like those fights are just getting started.

Maia versus Roland

Maia gets the A plot this time. She's forced to work with raging sexaholic, drug addict Roland Blum (Guest star Michael Sheen) in a case where both of their clients are defendants in a murder case. Blum is an overstepping, loud, wildcard who keeps getting in the way of Maia just trying to do her job. But he thinks she's not effective with the jury, while he can at least provoke a reaction with his crazy antics. Although, the reaction he should have provoked from everybody, especially the judge, was to kick him out or at least hold him in contempt. He gets away with breaking all kinds of rules both in and out of the courtroom. Honestly, while I think he was supposed to come off as some, "I do and say a lot of bad things but I'm really charming about it so it's okay" kind of guy, he just comes off as inappropriately gross. Characters like this might have been okay some years ago, but I think in today's changing political client where comments and behavior like that are much more openly not accepted, I don't think he will go over well with most audiences now.


Especially with the way he treats Maia, who puts up with way too much before deciding it's too much. Because although he's not very interested in her at first, once he learns she's a Rindell, he gets his claws in her. He gets her to meet him at his place to "go over the case," and he's as unprofessional here as he was in the courtroom, including being pantless and smashing and sniffing pills. He tries to get her to play his game, basically to behave like Roy Cohn, but she won't do it. I don't understand why Maia is putting up with this or why the firm would let themselves be associated with a man like this, especially considering their recent troubles with Tom and Jerry and trying to adjust their image. He's beyond eccentric, he's actively sexually harassing her and making inappropriate comments. Then, he gets Maia to take her to a drug deal where he gets hospice narcotics to get high off of, and then go to a club to party. Maia, for some reason, even though she knows it's wrong, goes along with it.

But at the next court meeting, she's had enough. Finally, Maia wants to turn him in, but he threatens her, telling her that he has police friends who will help him out and that he could get her in trouble because she took those narcotics too. She still tries to dissociate from him by getting the judge to separate their clients' cases, but the judge declares a mistrial instead. He tells them they're going to do this again, together, and that this time he wants them to get along. Seems unlikely a judge would do this but considering everyone else in that courtroom have been behaving nonsensically, I guess that makes sense in this context.


Lucca versus Jeffrey

The firm is looking at hiring someone to head their matrimonial litigation division, and Julius brought in a friend of his, Jeffrey Peyton, to interview for the job. All the men are on board with him, not so much the women. Lucca and Liz are not fans of him, thinking that he is sexist and may not be right for the job. But it's more than just not liking the guy, Liz thinks Lucca wants the job for herself, and she's not wrong. But she doesn't want to take more hours because it takes her away from her son. She's struggling with the balance of being a lawyer and a mother. But she knows she can do this, so she's going to go for the job. And Francesca is actually helpful to Lucca, using her connections to help Lucca get some clients on her side, enough to overshadow Jeffrey's. But it's not her new clients that got her the job, it's the dirt Marissa got on Jeffrey. Jeffrey was one of the attornies that prepped Brett Kavanaugh. That's an issue the firm won't touch with a 1,000,000 foot pole. So, she gets the job.

Diane versus Eric and Donald Jr.


Diane can't let go of what happened to Kurt (much to his chagrin), so she has Marissa look into what exactly happened that day he was shot. Marissa finds out when they accidentally shot him, they didn't take him to a doctor for 48 hours, deciding to continue hunting instead. But to make up for that, the boys got him a new, well-paying job. Kurt is taking the opportunity and running, but Diane doesn't want to. And then when he has to go to a work function in which Eric and Don Jr. will be there, she wants to go to confront them and the other Republicans there, but she doesn't do much of anything there except record all of the awful things the Republicans are saying. But Kurt, loyal to his party, doesn't want her to use it in any way and she deletes it at his behest. She's not happy, but she gets the chance to take out her aggression by taking a new class on top of martial arts; ax throwing. Get it? Because Diane has an ax to grind. But that grinding comes to a halt when Diane gets the first repercussion of her actions when Tara, Diane's Deep Throat, confronts her about Naomi, the reporter, coming to her to confirm the Donald Trump paying her to abort his child story. She thinks it was Diane, but Diane lies that it wasn't her that leaked the story. Clearly, Tara is upset, but that's not going to stop Diane from continuing her crusade by a joining what looks to be a feminist movement group.

Liz versus Adrian

Finally, Liz and Adrian have a bit of their own squabble over this new hire. He's Team Jeffrey, she's Team Lucca. He accuses her of trying to build an army of women, and she accuses him of trying to change their image into a more conservative one to keep up with the rising red tide. They both claim they're not doing either, but, it looks like they each have something up their sleeves. We don't know where this fight is going to go, but it can't be good.

Other things:

- Another animated short, this time about Roy Cohn. Enjoy it or nah?

- Julius is up for a federal judgeship. Are we losing Julius this season?

This wasn't my favorite episode of the show by far, but I'm curious to see where this Liz and Adrian thing is going to go and how, if at all, radical Diane is going to get. It seems like they're setting her up to do something big. What did you all think? How are you all feeling about the new direction the show is going in?