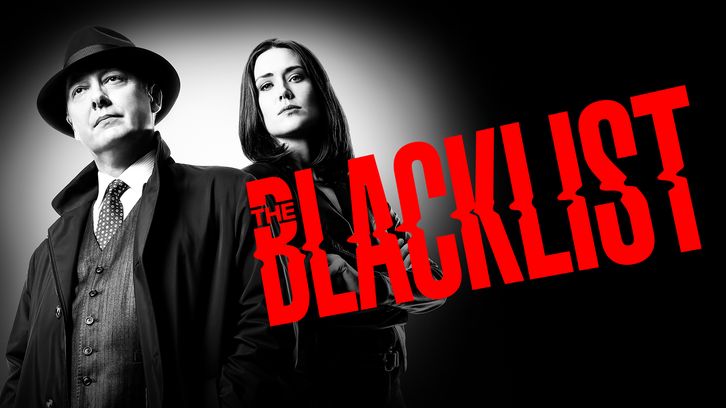 6.11 - "Bastien Moreau"
Written by Jon Bokenkamp and John Eisendrath
Directed by Andrew McCarthy
Reviewed by KathM

Time is running out for Red as he sits on Death Row in Indiana. But he'll live. We all know he will. Blacklist is about Red, whoever he is, and the relationship has with Elizabeth Keene. If there's no Red, there's no show. Since it's been renewed, and I can't exactly see Red as a rogue spirit throwing out clues about Blacklisters from the afterlife, he'll be around. Still, they are cutting his stay of execution pretty close.
Red in prison is a new kind of Red. He's always said he realized at any time that he could die, but this is taking too long. I felt an impatience in him as he's planning his last meal (cabbage soup and herring, which his mother used to make), touring the Death Chamber and gently confronting the man patiently explaining what the drugs that will be killing him that by doing so he is patronizing Red.
"When I kill a man, I don't pretend I care how he feels. I've shot them, stabbed them, suffocated them, but I've never coddled them. It's disrespectful. So, stop coddling me".
Let's just get this over with, he's thinking. Everything else is disrespectful.
There are no cheerful yarns, no jaunty hat and three-piece suits. But he has a card up his sleeve, one he gives the team even though it won't necessarily stop his execution.
And it's all about this week's Blacklister:
Bastien Moreau/The Corsican, No. 20
You might remember Bastien; he shared a plastic surgeon with Red when they were both changing their identities. They weren't there together, it was just a coincidence. After he finished up his work on Bastien he killed their surgeon, Hans Koehler (episode 6.1; Blacklister No. 33), so that he wouldn't tell tales. This whole season Red's been sending the team hither and yon, searching for Blacklisters that seem to have a kind of connection that only makes sense to Red. There's a conspiracy, Red keeps telling them, with no more information than that. But who's involved, and what are they doing? Hopefully we get to find out. It starts with Moreau, and seemingly ends with him, too. Red intimates that this "conspiracy" involving Moreau eclipses even the take-down of the Cabal several seasons ago.
In addition to killing Koehler Moreau also tried to two blow up the UN (episode 6.2), which didn't work out. It did, however, put the conspiracy on Red's radar.
The episode then takes off in two directions: one with a nice Ocean's 11sy feel, and one much more straightforward. So, who's in? The whole team, that's who. Even Ressler (le sigh). Shouldn't someone be manning the office?
Oh wait: did I mention the part about Red deciding that he can blackmail the President about said conspiracy? He expects to have his sentence commuted.
For this, he needs information about the Man in Cairo, which entails hacking into a bank in Luxembourg to find out who ManCairo sent $5 million. Apparently if they find this out, they'll be able to find ManCairo. Liz decides that she and Dembe will go alone to try and get the information, since it's terribly illegal and the bank has all kinds of weird security protocols. It's supposedly unhackable, which piques Aram's interest. Fresh from finding out about Samar's medical issues he's more than a bit protective about his gang. So, when Liz gets on the plane everyone except Harold is there, including Ressler (le sigh). Shouldn't someone stay behind and have Harold's back? It would seem not.
Samar declares that they are all Liz's loved ones, and as such they're going to help her. Their time in Luxembourg can be described in three words: Key Fob Caper, which involves Samar being kinda sultry in French and English, Liz acting the crazy American tourist, and Aram hacking in the bathroom. No wait let me clarify that: the president of the Luxembourg bank ManCairo send the money to keeps the master key for the bank's account information on a key fob that he carries around. Liz and Samar distract him, they get the key fob to Aram, who into the bathroom with a computer and hacks the info, then gets the fob back to them so they can put it back on the President's key ring. See? It was like that. After they get the info they're back on the jet to the US.
SO, it seems that the account ManCairo deposited money into is Jonas Kruger, who works for the German embassy in DC. Interesting.
Looks like the road Harold takes is straight into yet another government scandal. Panabaker gets him a meeting with the President and ends up meeting a women from the DOJ, too, Anna McMahan. Anna works with Bastien and seems to be a large part of the conspiracy Red's looking into, if not the conspiracy queen. She isn't hugely open to the idea of Red living, and puts a bug (you'll get it later) in the President's ear about how it will appear to the public if he does. Poor Harold! How can he possibly win Red his life back?
Death Row in Indiana has video conferencing; who knew? Red gets online with Harold, McMahan, Panabaker and tells them what Liz and Co. found out. So, Kruger works with Ava Ziegler, president of Germany's Federal Intelligence Service. Apparently if somebody doesn't find out why Kruger suddenly has an extra $5 million in his account, Ziegler will be assassinated in DC. Doesn't it seem logical that Kruger got $5 million to
be
that assassin? Apparently not, because it should come as no surprise to anyone that Red, and Red alone, has the information that can prevent Ziegler's death. Commute his sentence and he'll share what he knows with the whole class.
Unfortunately, McMahan is not interested in Red's life, and tells him that the President will never grant him clemency. This leaves Harold knowing that in order to save Ziegler, who is seen by everyone else as more important than Red, he must let Red die. And Red is okay with that. Before he signs off Red tells Harold that he understands and grants him "absolution" if he needs it, to put Ziegler's life before his own. He goes on to tell Harold "what a good person, agent, and friend" he has been to Red over the years. And you know he likes Red, too, and despite what Red says, he will not feel absolved.
As the sun slowly sets on Red's final hours, the gang finds Kruger just as he's getting ready to skip town. All he did was give some guy (Bastien) his credentials and tell him Zeigler's schedule. He was supposed to sweep the hotel and make sure security protocols were in place but really, why should Kruger care? Someone gave him $5 million, which goes pretty far in many of the countries that to do not have extradition treaties with the US. Unfortunately for him, he is now under arrest.
Cut to the hotel where Samar and Ressler find Ziegler taking a meeting with Senator Wade. She tells them that German Intelligence has been working with an MI6 agent who showed her a dossier outlining a "plot against America". No idea what, apparently not worth mentioning. But Bastien is also interested and takes the MI6 agent hostage and demands to be taken to the dossier (which the MI6 agent does not have because…well, I don't know).
While this is going on Harold is making one last try at saving Red's life by pleading on his behalf to POTUS. Who is involved with this whole plot thing? Did I forget to mention that? Sooo much going on! Harold tells him that if POTUS listens to Red, then Ziegler will live, but listening to McMahan will only doom her to death. Or not. Because at that moment McMahan gets a call letting her know that Ziegler is safe in protective custody in an "offsite location". So, yeah. Looks like they didn't need Red anyway. Sorry, Harold.
I'm not sure where the offsite location is, but all I see are Wade and Zeigler standing in what looks like the hotel kitchen. Wade wants the dossier they'd been chatting about when Zeigler feels her throat tickling and she starts having trouble breathing…
OMG beetles! BEETLES! Crawling out of her mouth and flying around the room. And here I was thinking that General Shiro's work as a Blacklister was complete. She collapses and well, you can guess what happens.
At 11:50 Harold and Panabaker are driving asway from the White House when they hear on the radio that Ziegler has died and decides to make a last stand. To the White House, Harold yells to the driver! He'll convince the President to change his mind about Red or Harold will go to the NYT with everything he knows! When Panabaker reminds him that it could end his career, Harold assures her that the only one whose career would end is the President's. Go on, Harold! If nothing else I have no doubt Dembe will know how to set you up with a fake ID and some cash if you fail and become a fugitive.
So, this last part is heartbreaking on a number of levels. After deciding that she is going to push Red on the "who are you" front Liz does a 180 when Red starts to talk about his (possible) family, his mother and father. Instead of making sure Liz thought like a criminal he should have taught her to think like his mother, who ""understood the problems of the human heart in conflict with itself," and therefore "everything". His mother could see that, surrounded by people who cared for her, who loved her, she would have known Liz would be okay. And because of those people, he is now at peace when he thinks of her.
Liz is teary, we're all teary, and part of me wishes that she'd had the gumption to ask him who he really was. But instead as he's led away, she says the most surprising thing of all.

I love you.
Red is gobsmacked; I don't think he ever expected to hear that from her. The only thing that could have made the moment more perfect would have been if he'd answered with his real name. But you can't have everything. Besides, we have another season to get through.
Liz joins Dembe as they watch Red led into the Death Chamber and hooked up to the various chemicals. A religious figure of some sort is reading scripture at him, and you think Red would object. But as the time ticks away, there seems to be no Calvary on the way. Even though you know someone that they're all doing their best.
Okay, that's it for this week! See you for the next episode, which airs tomorrow night. Thanks for your patience while I got this done and hope that tomorrow's episode is a good one and that I type faster. I leave us with some points to ponder:
If Red isn't pardoned, how does he get out of…well, death? I think he might take a page out of Liz's book and have something done with the chemicals to create the illusion of death, then get himself out of the prison (I don't know how long it takes for them to release bodies in his case).
What, if anything, was true about what Red told Liz about his family, and what can it tell us? I tend to believe what he told Liz, although all of it could have been a lie. Some things stuck out: Red describes his father as "excommunicating" him. We normally think of that as a Catholic thing, but it has also been used in the past as just a general religious thing to stop someone from participating in various rites within the Church, restricting the individual from taking part in certain things like taking the sacrament. Since the show focus's so much on Russia as being part of Liz's history, the world "excommunicated" is found, but more as something against a branch of the church rather than an individual. Additionally, is mother making cabbage soup and herring could also be a clue, as this is a meal often served in the Ukraine.