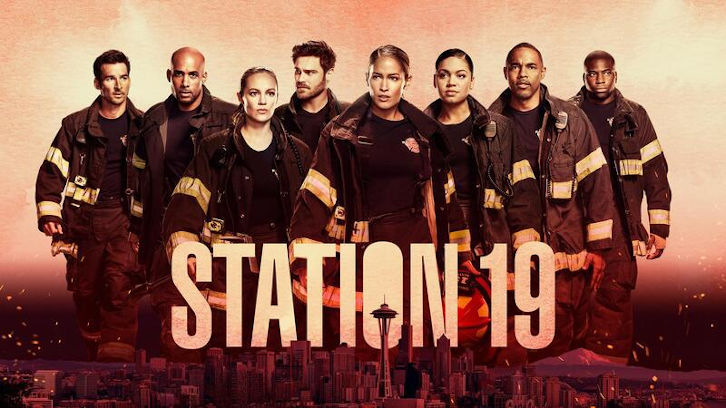 Last we left off, Ben's Friendsgiving was moved to the Firehouse due to the intense windstorm. Vic and the Fire Chief were heating up. Jack was on the verge of a mental breakdown and only (former) Captain Herrera knew it. Travis learned his boyfriend never wanted to become his husband. Ryan and his father were caught at a crossroads - much like Maya who was promoted to Lieutenant but by taking the job would have to leave Station 19. Oh, and Andy and Captain Sullivan are trapped in ravine with a civilian in a serious ambulance accident - and no one knows.

As far as mid-season premieres go, we've got a lot to work with.

While the episode opens up on Andy being unconscious and most likely dealing with a significant concussion, it's clear Captain Sullivan is a much more immediate problem since he can't feel his legs. Definitely not a good sign. Fortunately, the patient Shannon survived the fall - however her luck would be short lived. If it wasn't the open leg wound or the multiple crash codes that give us the hint she won't be leaving the ambulance alive, it was her heartbreaking monologues about her 89-year-old grandmother and her necklace that sure did. Well, that and the weird camera angles. Another interesting thing to note, Sullivan seems to really be opening up to Andy. This experience could be setting the stage for significant changes to their previous relationship...

Meanwhile at the firehouse, many of our storms come to a head. A station intervention for Jack goes south very quickly and just as soon as Jack tells off Pruitt for not being the boss of him - the Chief re-deputizes Captain Herrera to lead the search for Andy and Sullivan's missing ambulance. First order of business, Jack is benched and Montgomery is charged with minding him. The rest of the squad is joins the rescue. Sidenote: I didn't realize just how much I missed watching Miguel Sandoval's Pruitt take control of high intensity situation. He commands with confident authority and the squad follows directions with no hesitation.

Back at the crash site...Andy makes a final-ditch effort to save themselves in perilous climb out of the ravine with the last working flare (because of course all the others broke in the crash). This will give them 30 minutes to be found or they're at minimum stuck for the night - which is not good for a paralyzed man, injured civilian. I held my breath and cringed watching the entire scene. Jaina Lee Ortiz always plays Andy as strong, but in this scene she really shone. And like clockwork, the second Andy returns to the van Shannon is coding for the second time and ultimately is too far gone to save. Honoring her wishes, Andy removes the neck collar and puts Shannon's necklace on so her grandmother will "know she liked the gift." (I, of course, cried.) Shortly after, the rest of Station 19 arrives to save an injured Sullivan and distraught Andy.

Cut to, four months in the future. We're at a ceremony awarding Andy a Medal of Valor. Many familiar faces are in the crowd, several are missing - namely Captain Sullivan and Jack. Fortunately, all our questions are soon answered. Jack has been in therapy (after a stint in-patient) for the last four months. He's not talking to Dean, but Maya won't leave him alone. Vic is still hooking up with the Chief. (Surprising even myself, they're kind of cute together.) And Sullivan is not fully paralyzed, he is still recovering and is walking with a cane. He also seems to be carrying feelings for Andy, if the look he gave Ryan (after he and Andy evidently had sex her her bedroom during her party) is any indication. Seems like Andy's life is gonna get even messier moving forward...


Quotes-Out-Of-Context

Andy: Did you lose consciousness at all, Shannon?
Shannon: No. I was awake for the whole thing. Wouldn't want to do that again.
--
Dean: She's Dr. B. She's fine.
--
Travis: What did Pruitt want to see us about?
Vic: No clue. But he probably doesn't want to see man-bits. Zip up.
--
Pruitt: Hey, Mongtomery, I've never heard of this person. Who is Cardib?
Travis: Cardib? Come on. I'll explain it all over pigs in a blanket.
Pruitt: Ooh!
Travis: Cardi B.