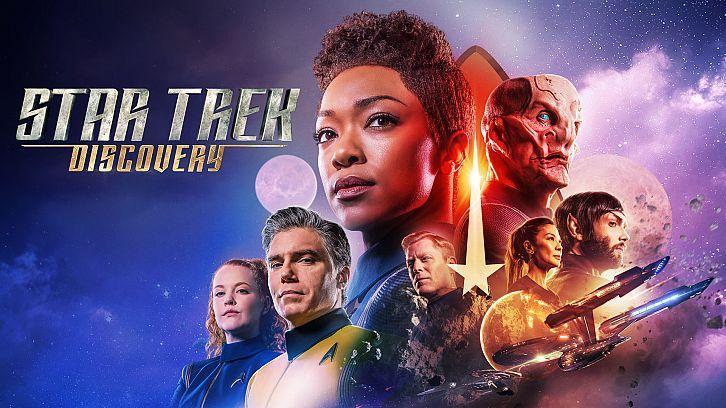 Star Trek: Discovery, just like that, pulled the rug from right underneath our feet in an awesome hour that landed, revealing the Red Angel's true identity as Burnham's mother. It was a compelling twist, especially after seemingly wasting no time in confirming that it was Burnham herself, I was almost expecting that to be that. It did seem a little too quick though and the final reveal was a powerful one, especially in an episode packed with so much good stuff already. Full credit to the great work of director Hanelle M. Culpepper (who's also directing the premiere of Star Trek: Picard, or whatever it ends up being called) & writers Chris Silvestri & Anthony Maranville.

Opening with the funeral of Airiam, the show continued to hit the emotional beats after the already emotional ending of the previous episode. Despite how well it landed it could have hit home even harder if we'd known Airiam properly beyond just that of a supporting character for longer, but Star Trek: Discovery does a good job at making up for it. The funeral gave the chance for the likes of Stamets, Burnham and Saru (all characters who have been on the receiving end of the most attention out of the crew in terms of the story), as Doug Jones got to sing in a burial that almost reminded me out of something from Lord of the Rings. The singing was emotional and backed up Airiam's farewell expertly, and it's helped that the series is already showing signs of paying more attention to its supporting cast in its wake with a conversation between both Commander Nhan and Burnham in the wake of Airiam's death. I'd like to see more time spent on the fleshing out of the supporting cast in Season 3 and less time spent on Tyler, please.

Discovery can really move through its plot quickly when it tries to so this episode had plenty of forward movement and defiently, along with the last episode, has been among the closest so far to remind me of the tone of the 2009 reboot with JJ Abrams. It makes sense that if the series is getting more hopeful and optimistic each season, we're at the Abrams stage now after the darker Season 1. Out of all the captains, it's interesting too to note that Mount's Pike resembles Starfleet Chris Pine's Kirk the most.

Following the death of Airiam, Tyler was freed and brought back on board Section 31 to aid with the capture of the Red Angel. After all the squabbles between Discovery and Section 31, it was good to see the two working together at last even if it may be too little too late. Leland was finally forced into Burnham know that he was the reason behind the (now) apparent death of both her parents, who had been working on Project Daedalus the entire time, which turned out to be something to do with time travel that the Klingons were working on. It looks like Burnham's mother was able to utilise it and become the Red Angel as a result, and they may end up needing her help despite capturing her to stop the AI known as Control and the next episode will be very much a crucial one in this regard.

Control was apparently lying dormant all this time after the revelation that it had gone rogue to avoid detection, only to intervene at the last minute when the Red Angel was captured and nullify Leland. It's kind of disappointed to see Leland go if this is his end, especially as I'd been warming up to the character this episode, but that stabbing of his character behind the eyes was brutal and almost will certainly have some kind of effect on him ala Airiam if he does survive, somehow. I liked that he'd come clean to Burnham and was admitting that what he'd done was in the past, but that didn't stop Burnham's punches from being rewarding when she found out what Leland believed to be the truth. It was interesting to position Section 31 as this kind of necessary evil, which I hope the series goes into in more detail.

By capturing The Red Angel Discovery may have unwittingly furthered Control's quest for destruction. Seeing Spock and Burnham working together and finally making amends was fitting, especially given that the Red Angel was always going to be somebody close to the two characters even if it wasn't Burnham herself. Sonequa Martin-Green's performance here was brilliant from the word go and was exactly what this episode needed, really upping the emotional stakes of the chapter as her character dealt with one big revelation after another. Burnham's life might just be one of the most messed up out of all of Trek's protagonists given what's happened to her, and considering it's not even been two seasons yet, there's plenty of potential for it to get even more complicated.

On a side-note, the Stamets/Georgiou/Tilly/Culber moments were fun if short lived and it was cool to see the characters working well together and Georgiou embracing her true nature as a chaotic former Emperor. Culber had a chat with Admiral Cornwell too as they highlighted the fact that his return to life is something that has never happened before and is a first time for everyone, not just Culber.

The Red Angel mystery was never the most interesting thing about this series until the last episode so it's good to see that the series is moving on quickly. With just four episodes left, and the mystery now revealed, the show will undoubtedly have plenty of material to get to grips with given the time that's left. Keeping the Red Angel apparently seperate from Control has given the series an interesting direction to go in and it'll be fascinating to see what happens to Burnham's mother now that she's back and revealed to pretty much the entirety of the main crew, who by this point, were acting under the belief that like the rest of us that Burnham was the Red Angel.

Next Thursday can't come quickly enough.