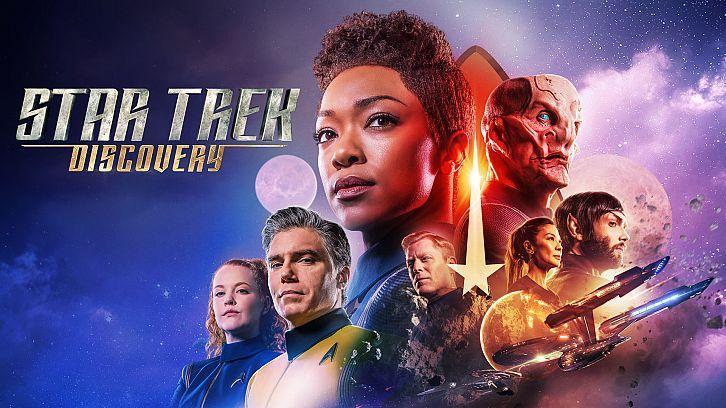 Light and Shadows took Star Trek to all new heights with an entertaining, fast paced narrative that split up the main Spock-sized storyline whilst the crew of the Discovery faced an investigation of a space-time wormhole. It was an exciting hour (at this point, when is it not?), packed with plenty of tension between Burnham and Section 31, and some more exciting revelations concerning the mystery of the Red Angel and Spock's fate as the series gets closer and closer to the truth.

As a first introduction to a present-day Spock, beyond just the flashbacks to the past, it was clear that this Spock has such a long way to go before he becomes the Spock that Trek fans are familiar with. He's rambling, having retreated inside his mind, and returned to his mother in Vulcan, who Burnham is able to get the truth of his location from Amanda Grayson. It's always cool to see more Amanda in this series and I loved the look and feel of Vulcan as a planet, in what little glimpses that we got to see of its exterior. As always, Star Trek knows how to make a world feel important and lived in, and in a world such as important to the mythology as Vulcan, it's right that everything is spot on.

It was interesting seeing Spock so quickly turned over to Section 31, I was under the assumption that it might have been a more drawn out negotiation period before that happened, but Burnham's adopted father stepped in and intervened, arguing that it would damage Burnham's career as a Starfleet officer again if she went against her orders. The main goal for Burnham was keeping Spock out of danger and out of harms reach, so it's no surprise that when eventually Spock gets turned over to Section 31, she's able to break him out once he learns that he is in danger. Director Marta Cunningham aced the fight sequence here between frenemies Burnham and Emperor Georgiou which was very well choreographed with help from Stunt Coordinator Christopher Mcguire and Fight Coordinator Hubert Boorder. The longer Georgiou stays on Star Trek: Discovery before making the leap to the spinoff series, the better, as Michelle Yeoh makes the most out of every scene that she's in, maximising her screentime to showcase the differences between her and her prime-verse counterpart.

Two more important revelations this week - The Red Angel is someone from the future with advanced technology. This couldn't have been more evident than when the probe came back to fight the exploration vessel with some high-tech upgrades that made the most out of the conflict between Pike and Tyler. Pike has never been able to fully trust Tyler (and for good reason, his Klingon self Voq killed a member of the crew, even if Culber may have now been brought back to life, it doesn't change the fact that he murdered a crewmember). Tyler working for Section 31 doesn't do him any favours either, but their disagreements are resolved in the episode when both characters save each other's lives, trapped in the close quarters of the ship together. As always it's Anson Mount's charm that carries the day here, as much like Yeoh, he too is one of the best assets that Star Trek: Discovery has.

The other big revelation that we got this week was that the man in charge of Section 31 was responsible for killing Burnham's parents, and it's the biggest hint that we've had to their mystery so far. Could Burnham from the future be the Red Angel, who has learnt of what happened to her parents and reacted badly? Although that said, the technology has advanced to a sufficiently degree, and the Red Angel is apparently unaware of Starfleet data, resorting to hacking into a vessel - and a crew member with a robotic body, to gain information.

Another of this seasons' strengths outside of its casting is that the pacing of Season Two has improved from that of Season One, with a clear split between the main series arc and a fun subplot, occasionally bringing the subplot around into the main narrative as was the case in Light and Shadow. It echoes the formula that shows like Person of Interest and the current season of The Blacklist have used so well, allowing the series to experiment and retain that fun factor that it developed in the early episodes of the season without resorting to episodes that were outright filler.

The series is also course-correcting the Spock storyline, with it becoming more interesting upon an in-person appearance, where he's played by Ethan Peck. The mystery was executed nicely, predictably ending on an exciting enough cliffhanger, with Burnham and Spock, two foster siblings at last reunited, now on the run from both Section 31, the rest of the Federation and potentially, even Discovery itself, with a wanted fugitive in tow. All in the search of coordinates, that could determine the fight for the future, which - despite Tyler's observation that it is only happening against the Red Angel - is as per Pike, taking place around us, all the time.