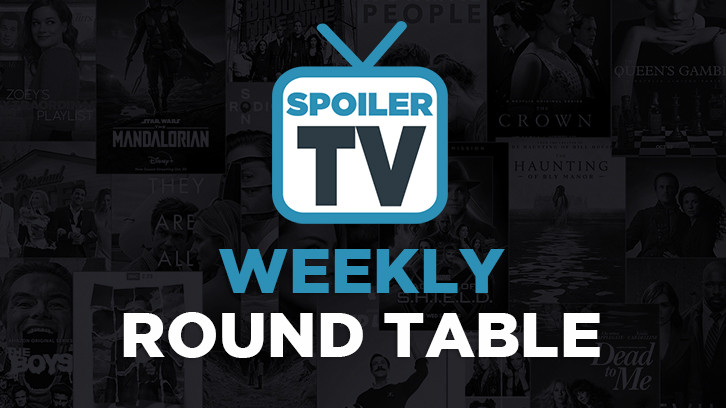 Hello and welcome to a new edition of SpoilerTV`s Weekly Round Table. Joining me this week is Milo (MJ), Lisa Macklem (LM), Donna Cromeans (DR), Sam Dinsmoor (SD), Popcultureguy, Kollin Lore, Jamie Coudeville, Angela Niles, Michele, Ellys Cartin and Claire Serowinski (CS). You just have to sit back enjoy the read and join the discussion in the comment section down below.


HBO released the much anticipated trailer for Game of Thrones final season, and its already broken their previous highest viewing numbers. Are you hyped for the final season?
MJ: I am hyped for the final season, but not as to the extent that I was earlier seasons, preferring to instead turn my attention elsewhere on HBO's line-up with the likes of His Dark Materials and the final season of Veep. The writing has dropped off a bit since the show has surpassed the books but it's sure to be an epic, emotional rollercoaster that won't hold anything back, and I'm excited to see how the creators can deliver in what is surely to be a divisive end.
LM: I am incredibly hyped for the final season - but really sad to see this terrific show come to an end. The fact that it has an end game, however, is one of the things that helps to keep the writing so tight. I'm also excited to be working on Titancon in Belfast this summer and getting to visit some of the filming locations - as well as the fact that George RR Martin himself is the Guest of Honor...
SD: With the final season being dragged out for like two years, the hype for it died down for me a lot and honestly didn't return when we finally got a trailer. I don't know if it's just a coping mechanism to help me deal with the fact that Game of Thrones is about to be over for good, or if after all this time my interest has just peaked. I'll be tuning in for the final season for sure but I feel like I'm already over it, which is strange because I've been a super fan for so long.
Kollin Lore: Hyped? Hyped doesn't even begin to express my feelings for this final season. One can argue about how the writing has dropped off, and how the wait has been so long to the point of desensitisation - all fair arguments - but this is the final season and we are finally going to see the war with the White Walkers in apparently the longest battle ever seen on a screen. We are finally going to see what the whole show has built up to. So, yes, I am uber-hyped. Bring it on!
Jamie Coudeville: I'm hyped all right, but I'm trying to limit my expectations. I fear that if I get too hyped, I'll end up being disappointed. 2 years is a long wait for this final season and everyone has their own theories. I just want to enjoy the ride.
Michele: Am I hyped? Well, since the trailer dropped last week I have watched it possibly 10 (okay, 15) times and analyzed it with a dozen friends. I've also started a forum with my coworkers so we can share new articles and trade theories before the final season kicks off. I was honestly too afraid to watch Game of Thrones until season 7 aired in 2017. When I caved, I managed to binge the show in 3 weeks and I caught up in time to watch the season 7 finale live. I cannot wait to watch like a true fan this season, although I am not looking forward to waiting a week between episodes...
Ellys Cartin: The last couple seasons of Game of Thrones weren't my cup of tea in terms of quality and character development. I am only moderately hyped for what happens in the final season. I am, however, very hyped for the watercooler discussion around the final season. Must-see weekly TV shows are a dying breed, and it is sad to lose such a big one. Six more weeks of sharing in the suspense and speculation and surprise with other fans is a gift to be treasured.
Sad news this week as Like Perry passed away. What was your favourite moment from any of the TV shows or movies you watched him in.
SD: The loss of Luke Perry was devasting for me as a fan of Beverly Hills, 90210 and the BTVS movie. The moment that's standing out for me is that episode when Dylan and Brenda go on their first date, and it goes disastrously, and how well Luke pulled off Dylan dealing with his alcoholism and father issues. Luke was such a good, humble actor and it showed through all of his characters.
Popcultureguy: Such sad news, really happened before his time and I'd been happy to see him have this resurgence on "Riverdale." Because I didn't watch "Beverly Hills, 90210" until later in its run – I hopped on when Tiffani-Amber Thiessen showed up as bad girl Valerie Malone – my first exposure to him was in the "Buffy the Vampire Slayer" movie, which, if people haven't seen it, is obviously not the show, but is fun in its own right. He plays Pike, a sorta proto-Xander to Kristy Swanson's Buffy. And I guess my favorite moment of him in that movie is when he faints in Buffy's arms after she and her Watcher Merrick save him from some vampires.
KL: I'm not familiar with a lot of Luke Perry's works. Hell, I didn't even know Luke Perry was that dude in the Buffy the Vampire Slayer film. His passing, though, is nevertheless saddening. Now, I don't really have a favourite Luke Perry moment from Buffy, per se, but if I had to choose a favourite role, definitely him as Pike in Buffy!
Jamie Coudeville: I only knew Luke Perry from Riverdale but I loved him as Fred Andrews. His character was one of the few decent parents left on the show.
Angela Niles: The only thing I've seen Luke Perry in was an episode of "Criminal Minds", in which he played Benjamin Cyrus, the creepy leader of a polygamist cult. That episode is a highlight among the fandom for a host of reasons, but I think Perry's performance is a large part of what makes it so memorable. Given all the wonderful stories I've heard this past week about Perry being a super nice, friendly, down-to-earth guy, it's really interesting to see him playing against type as he does in that episode, being this really sleazy, disturbing character. I tend to believe some of the best acting comes from people who are the complete opposite of the characters they play, and if that's true, this episode is a good example of that.
And yet, in some ways, that role was also perfect for him in the sense that it did well to highlight his natural charisma and good looks. It made his character that much more believable as a result, as you could easily see how somebody with that kind of charm and presence could sway people, for better or, in this episode's case, for worse.
Plus, it was fascinating to see how he interacted with Reid and Emily throughout. He really threw himself into that role, and made his character so notable among the CM fandom, and that's a testament to his talent. I'm glad the show allowed him that kind of opportunity.
Michele: Fred Andrews is without a doubt the best parent character on Riverdale. Luke Perry played a caring father so sincerely, and based on what's been said since his passing, I'm sure he didn't have to act much to master the role. My personal favorite moments to watch were any scene he shared with KJ Apa. They were always felt real and sweet (amidst the rest of the insanity going on in the show).
Ellys Cartin: The news of Luke Perry's passing is devastating and not just because his character Fred Andrews was shifting into an exciting new dynamic on the show. Luke's family and costars are grieving now. Their lives forever changed. Robbed of so much. He brought a huge chunk of the heart to Riverdale, keeping the show grounded. Each scene of quiet courage or fatherly love, each flirtation, each hug.....Luke Perry played Fred Andrews with smoldering sincerity. He will be missed very much.
CS: Still in shock about Luke Perry. I've never watched Riverdale, but I caught the most recent episodes and he was lovely on it. I was a big fan of the OG 90210. It premiered when I was in college and was a weekly ritual for me and my friends. I think that Dylan and Brenda were my first ship. I was just obsessed with them and completely devastated when he ended up with Kelly. I'm still not over that break up. Just so sad that he's gone.
More big pilot casting news this week with Jennifer Morrison among the actors getting picked up. From the scripts you've read, which actors do you see matching the casting roles?
DR: Of the scripts I've read and know the casting, I easily saw Morrison matching her role and could easily see David Ajala as another member of that cast. I also raised my opinion of Carol's Second Act after learning Patricia Heaton was starring and the show also had Kyle MacLachlan in the cast.
KL: I've only read the Evil script, and honestly, all I can say is the exact opposite. None of the actors matches their role in my opinion. Mike Colter, Luke Cage himself, as a priest? Hard to envision. Comedian Aasif Mandvi as a blue collar worker? Even harder to envision. And after the script, still could not see those actors in the roles. But I'm open to being surprised, so we'll see, assuming Evil gets picked up.
Michele: The casting of Odette Annable in Adam & Eve (as Eve) felt right on the nose. As I read the script, I could hear Eve's words in Annable's voice. Sarah Drew also is a perfect cast for The Republic of Sarah.
Ellys Cartin: I have read through several of the network pilot scripts. I don't get a sense of who should play these characters, so much as I picture a certain kind of personality making the role stand out. The two biggest "that's so brilliant" casting decisions so far for me are Rachel Skarsten for Batwoman's Alice and Juliet Rylance for The Hypnotist's Love Story's lead. Leah Lewis's guest roles over the years (most recently on Charmed, Station 19, and the Good Doctor) make me excited to see the Nancy Drew pilot. Also excited to see Cobie Smulders, Allison Tolman, Sarah Drew, Maggie Lawson, and Odette Annable potentially lead their own shows. However, nothing can quite top the casting so far for Why Women Kill. There's plentiful talent in the mix. One just hopes they will be given material worthy of them.
CS: I've only read the NYPD Blue script and the main character is Theo, Sipowicz's son. He's grown up and working for the NYPD (big surprise). It's a great script and I keep seeing Josh Hutcherson in the role. Hope it gets picked up.
Stephen Amell announced this week that the next season of Arrow will be the last. What do you hope to see in the final episodes? Which DC show do you see being the next to finish? Do you think the new kids could lead a new show?
MJ: I haven't finished Arrow, stalling somewhere in Season 6, but during its peak it was one of the best shows on television with a spectacular second season. As something that led the way for the rest of the Arrowverse to follow, it's not a bad legacy. I am very curious upon my eventual catchup to see more of Emiko Queen - her character was introduced brilliantly in Jeff Lemire and Andrea Sorrentino's New 52 run which was my favourite from that era of DC Comics, and more elements that the show incorporates from that run, the better.
LM: Thank God. This show has been dying a slow death, so I'm glad they are putting it and me out of our misery. It's been heartbreaking to watch the demise of this show. I would love to see the final season stripped back to what made this a great show in the first place. Let's have Oliver, Diggle, and Felicity featured. I'm happy to have Laurel - and I'd love to see Roy really back - not some stupid future storyline. Could they get Willa back for the final run? That would also be sweet. Then, get RID of all the new kids. They are what has killed this show, so NO they couldn't carry a spin off. I'm betting Supergirl is also not long for this world.... or any 'verse.... (don't hate me! the ratings are terrible!)
DR: Not sure what to expect in these final episodes of Arrow as I have felt the show should have ended a couple of seasons ago. Have not been a fan of the "Prisoner on Cell Block H" scenario we've had this season. I guess if anything I would like to see more of the development of what leads to the future as seen through the eyes of Mia and William and Connor Hawke. I'd also like to see more of the friendship between Felicity and Laurel Lance.
As far as the next show to end I think it's likely next to go will be Legends of Tomorrow which I felt jumped a major shark and lost me for the most part at the end of last season. There have been individual good episodes since then, but I just think the consistent quality storytelling the show once had is not there any longer.
Not sure who you mean by the "new kids". I think Ruby Rose and Batwoman will do well, she was impressive in her brief appearance in the last crossover. The new kids-Nicole Maines, Jesse Grath, Sea Shimooka, Ben Lewis, Katherine McNamara and Jessica Parker Kennedy have all been great editions on their respective shows, but I think the jury is still out as to whether they could carry their own shows.
As for the Arrowverse future, I'm looking forward to Batwoman and would most definitely watch a Birds of Prey series featuring Laurel Lance, Dinah, and Felicity.
SD: There is so much I've hoped to see on this show and it's never panned out, so I don't know that there's anything that I want to see that would actually happen, i.e. Green Arrow with a goatee and Oliver/Laurel together (since she's dead). I'd maybe like to see a hint that there's an Oliver on another earth that is living a life much more comic book accurate. Outside of that, maybe some reappearances of some of my favorite characters like Malcolm, Tommy, Earth 1 Laurel (in flashbacks I guess), Thea, and Nyssa.
I can see Legends being the next to go, being the show with the biggest ratings struggle, and maybe Supergirl after that. I think The Flash will be around for 2, 3 more seasons at least. I don't see the new kids being able to lead a show, they haven't been interesting enough. Maybe an Emiko as the new Green Arrow spinoff could work, actually.
Jamie Coudeville: Thank god, I know that's a bit harsh but I haven't really enjoyed the show for a while now. I hope that they wrap everything up in the last few episodes. I guess they've known for a while now, and that it's the reason for the flashforwards. I am curious how the next crossover will play into this. I had a theory that something would happen to both Oliver and Barry, since they both disappear in the future, but since Arrow ends around the same time this doesn't seem that likely. But I do think that The Flash will be the next show to end.
Ellys Cartin: Perhaps the biggest challenge that the "older" CW DC shows face is how they trapped themselves in narrative loops. Arrow managed to break free of those loops at the very end of its life while also introducing a wealth of intriguing new characters. I am torn over whether I want the final season to give us emotional closure for these characters or set them up to continue their stories elsewhere. Arrow is ending because Amell made the best decision for him and his family. The other DC CW shows aren't going anywhere just yet. It remains to be seen if any of them (besides Legends) will ever again manage to maintain a high level of quality two seasons in a row. They all need a storytelling booster shot to either restore their quality or keep them growing in exciting ways. Let's hope a little crisis will be that shot. Also, I am 1000% here for the Batwoman series.
That's all from us on this weeks round table, but let us know your thoughts in the comments below and adios! Until we read again....