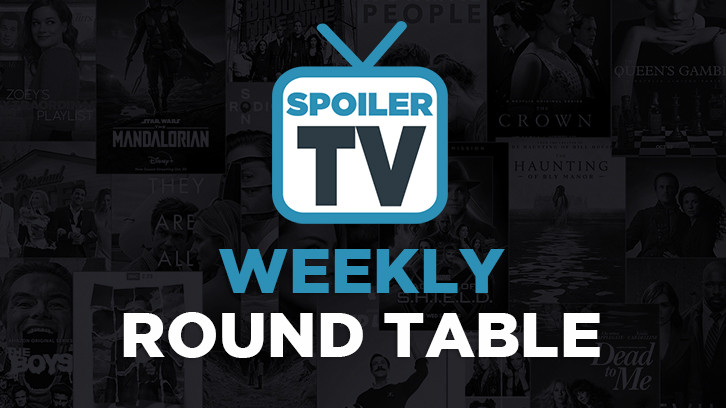 Hello and welcome to a new edition of SpoilerTV`s Weekly Round Table. Joining me this week is Kollin Lore, Laura B, Mads, Milo, Jamie Coudeville, Cecile, Ellys Cartin, Aimee T and me (Yon). You just have to sit back enjoy the read and join the discussion in the comment section down below.


This week Marvel dropped another trailer for the upcoming Avengers film and Disney also dropped the Aladdin trailer. What other movies being released this year are you excited for?
Yon:
I have to admit,
The Lion King
and
Toy Story 4
are among my most anticipated movies of the year. The latest Star Wars trilogy hasn't interested me in the slightest, and I'm not really that interested in superhero movies since it is such an over-saturated market that every film feels far too long and the same plot wise, but I might be tempted into checking out Aladdin as the trailer was rather impressive. Even though I'm not much of a horror fan, Jordan Peele's
Us
looks quite interesting and
Netflix
are also dropping a number of interesting movies this year including a Spanish one A pesar de todo that sees two of my favourite actresses on screen together for the first time.
Kollin Lore:
Enough has been said about the likes of
Detective Pikachu, John Wick, Godzilla
, and all the big tentpoles. I'm going to stick to the under the radar films. I am excited to see James Gray's next film that sees Brad Pitt go to space in
Ad Astra
. I am also excited for Ang Lee's next film,
Gemini Man
, which has been in the works since the 90s. One last movie I'm excited for is Rian Johnson's (loved Brick and Looper by him, very Nolan-esque) next film
Knives Out
- the prospect of seeing Daniel Craig, Chris Evans, Michael Shannon, Jamie Lee Curtis, Toni Collette, Christopher Plummer and Don Johnson in one film is super, super exciting. Tarantino's
Once Upon a Time in Hollywood
and
IT 2
will not be under the rader for too long and all of the rage as we get closer to their release dates, but excited for them, as well.
Milo:
J
ohn Wick Chapter 3 - Parabellum, Us and Star Wars: Episode IX
are my 3 most anticipated movies for the rest of the year. As the final end to the Skywalker saga Episode IX should be a memorable one and if The Last Jedi was anything to go by it should cement the sequel trilogy's place as the best Star Wars Trilogy. John Wick Chapter 3 should continue the John Wick saga on an awesome note, and Jordan Peele's Us, out on Friday, looks set to be a follow-up on the same level as the incredible Get Out.
We also have Rian Johnson's follow up to The Last Jedi,
Knives Out
, which should be another winner from the director, Richard Linklater's adaption of Maria Semple's novel
Where'd You Go, Bernadette
, Martin Scorsese's Netflix gangster drama
The Irishman
, the clash of the titans in
Godzilla: King of Monsters
, an all-adult Losers club in
It: Chapter Two
, Greta Gerwig's
Little Women
, which comes complete with an all-star cast, The Safdie Brothers'
Good Time follow-up Uncut Gems
, Tessa Thompson/Chris Hemsworth buddy cop sci-fi comedy reboot
MIB International
that looks set to capitalise on the chemistry that they shared in Thor: Ragnarok , James Gray's bold sci-fi film
Ad Astra
, a Tim Story-directed
Shaft sequel
featuring multiple iterations of the iconic private detective (His own Infinity War, if you will), Danny Boyle's
What if
? Beatles drama that removes the band from existence entirely in
Yesterday
(let down by its casting of Ed Sheeran AND James Corden), a Elizabeth Banks-helmed Kristen Stewart, Naomi Scott and Ella Balinska-starring
Charlie's Angels reboot
, and on top of that, Ollie Masters & Ming Doyle's awesome comic book series
The Kitchen
is being brought to life with an all-star cast that includes Melissa McCarthy, Tiffany Haddish, Elisabeth Moss, Margo Martindale and more.
There's a lot of movies coming our away this year - that's before I even mentioned the likes of
Avengers: Endgame and Detective Pikachu
, and most of them are hopefully going to be pretty damn good.
Laura B:
In terms of the bigger blockbusters I'm most looking forward to
Star Wars Episode IX, Dumbo, New Mutants, and Godzilla
. Other popular films I also would love to see would be Martin Scorsese's
The Irishman, Goldfinch, and Doctor Sleep
adaptations. Then there are also some lesser known productions like an adaptation of Jack London's novel,
Call of the Wild
staring Harrison Ford and Dan Stevens, or Joe Wright's
The Woman in the Window
, Ang Lee's
Gemini
, and Noah Hawley's
Lucy in the Sky
that all sound intriguing to me!
Mads:
Can't wait for both
Avengers and Aladdin
! Also so excited for the
Godzilla: King of Monsters
, I feel like I've been waiting for ages! I think that's one of the biggest ones for me and then
Us, Shazam, It: Chapter Two, Spider-Man: Far From Home, Frozen 2, Brightburn, Dark Phoenix, Joker, Pet Sematary, Maleficent: Mistress of Evil, Ad Astra, Men in Black: International, Rocketman, and The Kitchen
are some of the big ones!
Jamie:
I actually don't watch that many movies, I've always preferred tv shows. But the ones that I'm excited about, aside from Endgame, are
The Lion King and Wonder Woman 2
.
Cecile:
I was tentatively excited for
X-Men: Dark Phoenix
but, um... Sophie Turner was a weird choice acting acbility-wise and her leading this movie does not inspire confidence. The trailer that just came out really doesn't help, either. Otherwise:
Little Women
(so long to wait for that though, ugh),
Once Upon a Time in Hollywood, IT: Chapter 2, Dumbo.
Ellys Cartin: Simply cannot think about
Toy Story 4, Frozen 2, Avengers: Endgame, or Star Wars Episode IX
. I am way too emotionally invested in these franchises, to the point I doubt I will ever be able to properly enjoy them again. Woe is me. Instead, I have my eye on
The Sun Is Also a Star
, which is such a moving, lyrical book, and the movie is so impeccably cast. That being said, it's hard to translate onto screen, but I look forward to it. I hope it isn't watered down to fit into typical teen drama molds.
Annabelle Comes Home and Maleficent 2
are a couple other films I'm excited for. I find that when I have no idea at all what to expect I enjoy movies more. Other films to keep an eye out for include Irish mobster wives drama
The Kitchen, the Downton Abbey film
, the sure-to-be-absurd-yet-very-fun
Hobbes and Shaw
, and
The Woman in the Window
. That last one is even more interesting now that the author's bizarre past has been unveiled. And should I watch Zombieland? The cast is kind of amazing, and there is a sequel coming.

Aimee T:
Based on the trailers it seems like DC got something right with
Shazam
. It looks like a fun romp with heart, and the use of Eminem's "My Name Is" in the last trailer is a nice nod to 90's. I am sufficiently hyped.
It was announced on Friday that James Gunn will indeed be directing the third Guardians of the Galaxy movie. Considering we're living in an era where one wrong move can irreparably damage your reputation, do you think Disney were right to give him a second chance or should they have stuck by their initial decision?

Yon:
This is a very difficult one for me...... I am all for giving people second chances and James has appeared to be apologetic over his past tweets and explained the place where he was at when he wrote them. There's no evidence at all that he ever did anything past joking about matters that really shouldn't be joked about, but we are living in the era where one wrong move can irreparably damage your reputation, and there have been many people that have said questionable things, learnt from them and fought to get their lives back but that hasn't happened, so why should James Gunn be the exception? At the weekend we had another questionable person Shane Dawson making some extremely distasteful jokes which he has been quick to assure the world were just jokes, but people who have followed him for years very much doubt that to be true and we have no real way of knowing with James either. Given the backlash from a large amount of Hollywood when he was first fired, Disney were always going to go back on their decision and especially when the DC verse decided to scoop him up for the new Suicide Squad movie. My main concern is this setting a precedent for the future, where no matter what people say or do and claim it to all be a joke, are we going to be forced to accept their apology even if we don't believe it because we have here?

Kollin Lore:
I wholeheartedly think Disney made the right decision. The cast wanted him back, fans wanted him back, GoTG would not be without Gunn. Also, having a hissy fit over tweets he made in 2008/2009 is so wrong on so many levels. People change in 10 years. Glad Disney had the balls to do what the Oscars couldn't do for Kevin Hart.
Laura B:
Well do I think James Gunn is bit of loose canon? Definitely, but I don't think his 10 year tweets warranted the kind of extreme reaction Disney took against him. The cast wants him back too and honestly, I'm not sure if the franchise could be a success without him.
Milo:
James Gunn's jokes in the past may have been tasteless but there's clear evidence that he's learned from them and become a better person as a result, and his apology was more sincere and genuine than most celebrity apologies have been. He should have never been fired in the first place but it's good to see him back in the driving seat, his vision of Guardians of the Galaxy is so iconic that it's hard to imagine someone else, even someone with a similiar style like Taika Waititi - stepping on in his place.
Ellys Cartin:
I don't know James Gunn personally, so I can't speak to who he is as a person. His so-called jokes were distasteful, to put it mildy, and even though they were just words...I won't be able to watch any of his films again without a sense of ick hanging over the whole thing. That being said, I don't believe Disney ever truly and thoroughly fired him. They are a corporation. They wanted to see what would happen a few months down the road, if anyone would still care about all that. And with ALL the despicable scandals and crimes to come out recently, James Gunn is the very, very least of monsters.
Aimee T:
Disney made the right decision to reinstate him considering his transgressions were a decade old and he was immediately apologetic. Morever, in the era of #MeToo and #TimesUp where there are actual abusers and harassers that need to be held accountable, it seemed frivolous to fire someone who whose offense was making some lowbrow tweets.
After months of keeping fans and the cast/crew on a knife edge, Netflix finally announced this week that it has indeed cancelled One Day At a Time. Do you think this was the right move and is it really fair for Netflix to claim that a show despite acclaim hasn't found an audience, when it doesn't actually release viewing figures publicly?
Yon:
I'm gonna start out by saying I've never gotten through One Day At a Time. Despite all of the hype and numerous people recommending it, I found the pilot to be extremely boring and just couldn't get into the show no matter how hard I try. Now with that aside, I do think this is an incredibly bad decision on Netflix's part. I feel extremely sorry for the cast and crew, who are now out of a job that they obviously loved, but more sad for the fact they have been made to beg and plead on social media for people to watch & retweeting other popular people trying to get more people into the show and that's the way its been for the last two seasons. The people who manage the Netflix social media accounts like to portray the company as being fresh and hip, which is a way of thinking the Execs have tried to reiterate during the countless Hollywood interviews where reporters are pleasantly surprised by how laidback everything at Netflix HQ is, and Netflix try to act like they're open for all but decisions like this just prove that they're not and it is all for show. Netflix is a company that like every other company out there needs to turn a profit in order to keep creating content.
However, if you have 100 million dollars to spend on licensing a show like Friends, which finished airing over a decade ago and is still in regular syndication on TV channels across the world including in the UK where TWO different channels air repeats a the same time but at different points and everyone has seen the show at least twice? You can spend money on One Day At a Time. If you have the money to order a second season of a critically panned show like Friends At College? You have the money for One Day At a Time. If you can have a show like The Ranch around, spout out movies that no-one is watching every frigging week, along with the really niche shows that no-one even knows are on Netflix yet you keep renewing them? You have the money for One Day At a Time.
This bullsh--t argument of wanting to keep a show on air but not being able to because it hasn't been able to find an audience, is exactly that; bullsh--t. You can't claim that a show isn't being able to find an audience if you're not releasing viewing figures on what exactly the audience it has found is. Netflix are very quick to tell us that You got over 40 million viewers, Ricky Gervais new comedy did beyond expectations and which movies are the most popular, but you can't pick and choose what information you do and don't want to release. There's also the fact that Netflix are extremely bad when it comes down to promoting their shows. Again, if you're a show or movie they like? All the advertising in the world. But stuff like One Day At a Time and even Alexa & Kate? Barely any advertising for people to know the show is even back. There needs to be as much transparency with streaming giants as there is with Broadcast TV, and I do truly hope that the show does manage to find a new home because whilst it wasn't for me, I know it has helped a lot of people and tackled extremely sensitive subjects that other shows wouldn't dare to and all with a Latino cast.
Laura B:
Sadly I never got around to checking out this re-imaged series, but I absolutely feel for the fans loss. My gut feeling however is that Netflix is cleaning house, as they have taken on so many new projects, many of them seem like they require very high budgets. I suspect this is because Amazon Prime is about to up their game with productions like The Lord of the Rings prequel series and other things such as the Wheel of the Time series. And of course Disney will be crashing the streaming platform party later this year when Disney+ will role out with Star Wars: The Mandalorean. I worry about all of Netflix's early staples and unique character-driven niche shows alike!
Milo:
Netflix needs to release viewing figures publicly as it's hard to take them at their word, especially for shows like One Day at a Time that they don't earn full ownership for. I'm still bitter that we lost One Day at a Time, especially given how little promotion that it received - most people that I spoke to in real life when I told them that one of my favourite shows - albeit, one that I came late to and am still catching up on - was cancelled - they weren't even aware that it was on Netflix in the first place at all. When you see Netflix spending insane amounts of money to keep Friends - a comedy that is on TV every other day and chances are anyone who has seen it will have watched it multiple times by now anyway - it's maybe better for the company to reinvest in other, (and dare I say better) series.
One Day at a Time just deserved so much better and I hope another network (this would be a perfect fit for CBS All-Access, who are ever-so good with their content and almost unrecognisable from normal CBS, or somewhere like Amazon would fit this show perfectly) can pick it up.
Jamie:
I was very attached to One Day At A Time so I definitely do not agree with Netflix' decision to cancel it. And let's face it, it may not have had a huge audience (even though I'm pretty sure it had more of a following than some other shows that were renewed) but that was largely due to the fact that this show never received proper promotion. I only found out about this show after seeing people reblog gifs from the first season. Despite spending a lot of time on this site, the show was not on my radar at all. I have a lot of friends who have a Netflix account. Every time someone asks me what they should watch on there, I recommended this show. Not one of them had ever heard of it. I expected a bit more promotional material before the second season but it was pretty much non existent. The same for season three, in fact, it seems like most of them promotion came from the actors' own social media accounts, not from Netflix. Yet shows like Stranger Things get promotion nearly a year before their season premiers. So for them to dare say that they canceled it because not enough people watched it is just bullshit. And you can't tell me that this show was expensive to make, compared to some others. This is not something I'll forget anytime soon.
Cecile:
I'd rather have them cancel shows and release quality content than keep everything on air. (And yes, I am aware they renewed Insatiable so some of those choices remain questionable, but still). They don't release ratings but they do give some indications as to which shows are being watched the most, and they seem to give shows more shots than other networks so all in all... not up in arms about this.
Ellys Cartin:
I'm quite surprised that Netflix hasn't released viewing numbers for the shows it cancels. At some point, someone they do business with is going to want numbers. It's hard to justify cancelling a show that seemed to be so loved when you don't share the data backing your decision.
Aimee T:
I don't/didn't watch ODaaT, but heard about it mostly through online word-of-mouth. Contrast that to shows like 13 Reasons Why and The Umbrella Academy, whose advertising I could not escape, and it seems like Netflix selectively chooses which shows it wants to promote. If you have one show relying on an online audience push to reach more viewers, and another that has an extensive official advertising campaign behind it, then it's a bit unfair to cancel the former when it was never given the same suppor
Following Thursday's episode, Siren is now on a mid-season break until July and joins a long list of shows that have its seasons split in half. Do you think it's a wise choice for a Network to air seasons in two different parts with a lengthy hiatus in between, or does it stop a show from gaining momentum just as things are getting good?
Yon:
For me this really depends on the show. Sometimes a split season can work, in splitting the storytelling in half so one half is based on one storyline and the other on another, which somewhat alleviates the need for filler especially when you have a high season order. At the same time though, breaks can kill shows. What starts out as a two month break can turn into a year-long one and by the time the show returns, most of audience has forgotten it was on in the first place so the numbers drop. Then I look at channels like The CW who keep putting their shows on really awkward breaks every few weeks apart, Dynasty being one example, and I start to think that splitting the season would actually be a good thing. One big chunk of episodes, a few months break, and then another big chunk of episodes means they're not giving small breaks every now and then to fill time in their schedules. With Siren I have slightly fallen behind on the show due to illness and personal issues, and the break gives me enough time to catch up and finish University for the year, and when it returns in the summer my schedule will be slightly less hectic, but again there is the question of whether the viewers will follow the show there.
Milo:
This seems like a good choice and means a shorter break between seasons in a long run if they're spread out, but as mentioned, it runs the risk of killing momentum if the series is not paced properly - or if there are too many episodes, it also runs the risk of over-saturating. But it does give audiences more time to think about the series and more time to balance their viewing schedules given the amount of shows on nowadays. No longer do audiences have to wait full years between episodes.
Jamie:
Yes, I'm so happy that more shows have a hiatus right now. I have so many shows on at them moment, Last week was so full of shows, I barely had time to watch them all (and write 3 review on top of that). During the months March, April and May I have an average of 40 shows a week. But in summer that number usually drops to 10 a week max. So I'm really glad that more networks are doing this. Also, I'm not a fan of the 22 episode season format that the major networks have going on so this is a nice way to split it without having the storyline drag.
Cecile:
I'd rather have 2 well-built half seasons, than one lengthy full season with filler eps. As long as it's well done of course, but I believe it can be!
Ellys Cartin:
Siren going on break gives me more time to catch up! Some shows that don't have the same high quality as Siren suffer from such a split, as they aren't strong enough for people to remember to tune back in. For good shows, though, a split season can allow tighter, meatier stories, since the show can be divided into two separate stories.
That's all from us on this weeks round table. Leave your thoughts in the comments below, and adios until we read again....