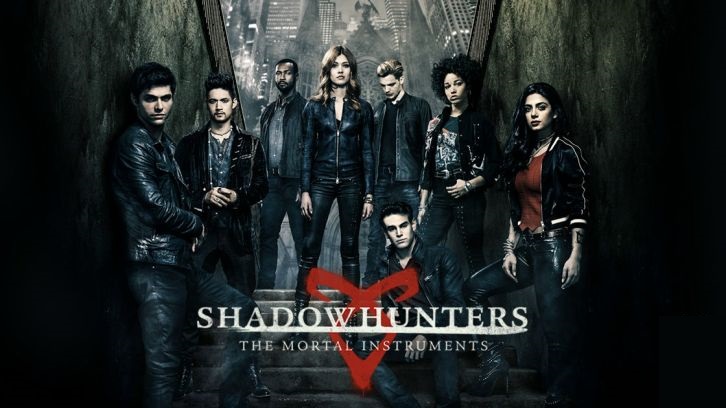 This week on Shadowhunters, Clary starts to notice herself going darker as she beats up Aline and puts her hand in a fire after meeting up with Jonathan. Izzy is forced to arrest Rafael. Maia and Simon search for evidence against Heidi. They save a girl who can prove that Heidi was responsible for the massacre of the werewolves. Maia confronts her and kills her by tricking Heidi into biting her when she's injected herself with holy water. Alec asks Magnus to move in together and Magnus starts to seize.

Justice (?): The topic of justice seemed to be a guiding line throughout this episode with many of the characters. Maia clearly wanted revenge on Heidi, understandable. But she nearly got herself in a precarious situation. I get that Alec's hands are tied as head of the NY Institute, but it bothered me that he seemed to go along with Heidi's story. All in all, I think Maia resolved the situation well. Heidi would've been too dangerous to contain. And you can't really say that she killed Heidi, since Heidi wouldn't have died if she hadn't bitten Maia. Even though we know that Maia kind of baited her, she could have easily injected herself as a precaution. But then there's Rafael. I'm surprised how quick Alec was to order the arrest of Rafael, knowing what he knows about what happens to prisoners of the Clave. I have a feeling Rafael will play a vital part in that storyline. He'll find some way to contact Izzy when things go badly.

Don't do it: The writers already turned Jia into an enemy, I really hope they don't do the same with Aline. From what I remember from the early books, Aline was on Jace and Clary's side. And she's one of my favorites from the later books. But the Aline I saw this week was very different. Of course, she has a reason to be angry with Jonathan for what happened to her cousin. But hurting Clary so it would hurt him is a line I never thought she'd cross. So, yeah, I'm a bit worried about the direction her character is headed.
A rollercoaster: Magnus and Alec's journey this week was quite eventful. I kept thinking someone would cause trouble because Magnus was staying in the Institute, but everything stayed relatively calm. Then there was a brief spat about Alec sharing their previous troubles with someone else, causing Magnus to be jealous. But the most import part was of course when Alec asked Magnus to live together. This is a huge step in their relationship. They may spend pretty much every night together but living with someone is still quite different. It's a shame their romantic moment was ruined when Magnus started to seize. I'm glad Alec will finally know about the symptoms Magnus has been experiencing. He shouldn't have kept it from him. But I sure thought it wouldn't progress this fast.
Side effects: Putting your hand in a fireplace is not a good sign. It seems that the mark that links Clary and Jonathan does more than just that. Is it just making her darker or is it merging her light with Jonathan's darkness (which would make Jonathan lighter)? I guess only time will tell but this seems like just the beginning.
Why did you do that?
I still can't believe Luke is actually confessing to those murders, despite having nothing to do with them. Which they're evidence should have proven by now. Like I said last week, if they did autopsies (or even basic examinations), they'd know the time of death and that Luke couldn't have done it because they were still following him around. And would the Clave really allow a werewolf to be sent to prison or would they interfere to limit the risk of exposure? Or is this the Praetor's jurisdiction? There are so many better things they could be doing with his character.
Best quotes: Magnus: "Alexander, I appreciate the hospitality but doesn't the Clave have rules against Downworlders living here?" Alec: "No, they're not rules. They're suggestions."
Luke: "Clary, you know that I will always love you." Clary: "Then don't leave me. Please, Luke, please, not now. I need my dad."
Simon: "Alec, it's Simon. The Daylighter." Alec: "I know who you are."
That's it for this week. Check in again next week for an all-new review and let me know in the comments what you thought of this week's episode.
Please be respectful in the comments, any unnecessary rudeness isn't welcome.