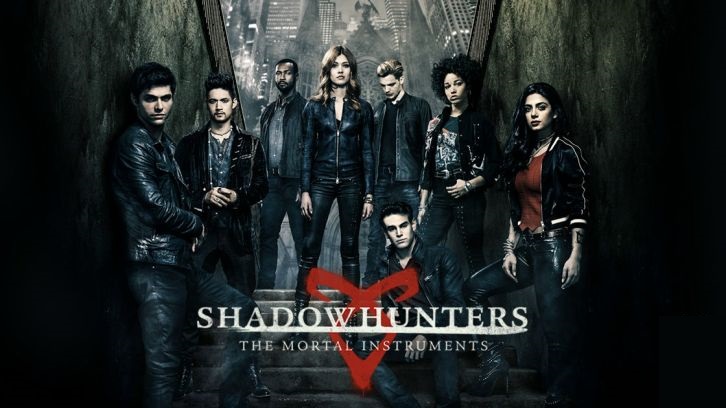 This week on Shadowhunters, Heidi returns and starts a war between the vampires and werewolves which leaves Jordan severely injured and trapped with Maia. Clary and Jace search for a way to unlink Clary and Jonathan. The latter keeps messing with Clary, first burning himself, then carving a message. Alec and Izzy look into the rumors of torture of Downworlders by the Clave but their lead is killed to keep him quiet. Meanwhile, Izzy deals with withdrawal after Simon fed on her.

What did you expect? Did our heroes really expect Jonathan to play nice? He's linked to Clary, of course, he was going to mess with her. And leaving creepy messages carved in your skin is exactly something that he would do. I have to ask, though. If they feel the same pain, do they also feel the same … pleasure? Because yuck. As for Alec's brilliant plan to ask the other institutes to bring Jonathan in alive, does anyone actually think they'll listen? Especially with what we know of the Clave. They don't care that it'll kill Clary too.

That escalated quickly: Well, Maia got what she wanted … sort of. Yeah, Russell was an asshole and he let the power of being alpha go to his head. However, when it came down to it, he gave his life for his pack members. So maybe he wasn't that bad after all. I was really proud of Maia stepping up. She saw that her pack was in trouble and wanted to fix it. And after a little push from Luke, she was ready to stand up for her pack. Unfortunately, she never got around to it when the vampires attacked. I guess Maia could become alpha now but I fear that there aren't that many members of the pack left. I'm looking forward to seeing how she'll handle herself next week with Jordan gravely injured.
Was it a break-up? I have to say, I didn't realize Simon and Maia were still together. They'd been weird around each other these last few weeks. And yeah, a lot has happened, but the fact that the other person wasn't there for those events, means they were already headed towards a split. But I get that Maia wanted everything to be clear and out in the open. I wouldn't really call it a break-up, though, more like consciously uncoupling.
Look who's all grown up
: Heidi gets scarier every time we see her. But she wasn't a loose cannon like usual this time. She had a plan and executed it perfectly. She singlehandedly managed to start a war between the werewolves and the vampires. And she barely even had to lift a finger. She knew that Jordan or one of the other wolves would lose it at Hotel Dumort and that the vampires would be easy to manipulate after that. Mark my words, not only have we not seen the last of Heidi, I wouldn't be surprised if she was in charge of the vampires next time we see her.
Staying strong: I'm really proud of Izzy this week. She received a lot of venom from Simon yet she seemed to be handling it really well. It must have helped that she had a support system behind her and something to focus on. But considering the circumstances, she handled everything very well. And being around Simon didn't seem to affect her weirdly either.
Odd pair: I feel like I'm having déjà vu, I may have said this before already, but I can't help but find Luke and Maryse a weird pair. They're so different and yet, it sort of works. They kind of complement each other. Luke is more a man of action, brute force (like how he tried to open the safe) while Maryse is a politician, she thinks things through, too much sometimes. It's a shame we only have limited time left because it would've been interesting to see where this headed.
Best quotes: Izzy: "You know that's not going to make it any better, right?" Magnus: "I don't know how you work with these machines all day. I could use some magic and a drink right now."
Izzy: "Since when do you eat candy?" Alec: "I like to snack." Izzy: "What's in it?" Alec: "It's candy. It's in the name, candy bar." Izzy: "Magnus told you didn't he? You know, next time you're trying to help me with venom cravings, no coconut."
Alec: "I wish I was half as strong as you on your weakest day."
That's it for this week. Check in again next week for an all-new review and let me know in the comments what you thought of this week's episode.
Please be respectful in the comments, any unnecessary rudeness isn't welcome.