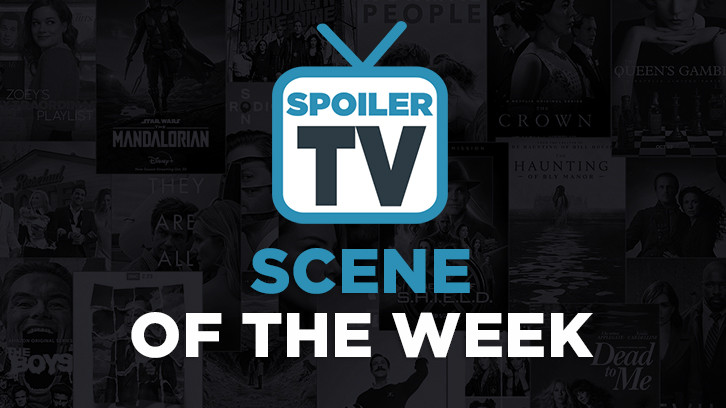 A weekly feature in which we're trying to find the most compelling, best acted, written, directed and just generally great, memorable scenes that we've seen in past seven days on TV.

A MILLION LITTLE THINGS, "Goodbye", February 28, 2019, Actors: Ron Livingston, James Roday, Grace Park, David Giuntoli and more, The Scenes: The reveal about Jon's past & Gary says goodbye to Jon & Eddie asks Katherine to come outside & Katherine tells Hunter off
Justyna: I couldn't decide which scene to select from this great season finale. The truth about Jon, Maggie's news and unboxing, Gary's goodbye or Eddie and Katherine's progress, so many moments worth highlighting. But in the end I had to go with the reveal. Throughout the entire season we've been getting small clues about the reason why Jon would take his own life. Was he a liar? A cheating husband? A man with an entire other family? Or a criminal secret in his past? Turns out there was no dark twist in the story. Jon wasn't revealed as a completely different person who betrayed everyone, just as a friend, the same one they all loved, who couldn't live with the survivor's guilt anymore. He lost his best friend, a father of an unborn child, when Dave boarded Flight 11 on September 11th, 2001. This was such a heartbreaking and absolutely unexpected reveal. But it made all the sense in the world. There are so many people who were affected by this tragedy. It's hard to believe how long it's been since 9/11. And sometimes the world forgets just how much has changed on that day. This was such a painful reminder but a meaningful way to have a discussion about mental health, tragedy's impact and the survivor's guilt. Hopefully most of us will never experience it but everybody should be aware of what it means. It might be more common than we think... This reveal was done in the best possible way. Slowly, in a sequence like any other, with each piece following the story as both audience and Delilah learn the entire truth. The subtle additions, such as Sophie being the name of the woman who stopped Jon from boarding the plane, were very well placed. This was such an emotional reveal, probably done better than I was expecting. I'm glad the truth helped everyone understand Jon in a way they couldn't before but it didn't result in somehow altering the relationships he had with his family and friends. This tragic story even ends up leading Gary to finally say goodbye (another memorable moment) while trying his best to honor his friend and still be able to move on with his life. In a way that was never possible for Jon. Wonderful work by cast & crew on this powerful scene, as well as the show overall. So glad to know there's going to be season 2. Can't wait!
Claire: The scene where it is revealed that 9/11 is the thing that broke Jon and pushed him to suicide; the guilt over watching his friend, Dave, take off on Flight 11. That day is seared into our American consciousness forever, but as time passes, we sadly start to forget just a little. So when we are unexpectedly brought back to that horrible day, it is shocking.
Jamie: Jon sees the plane crash. I really loved the way this entire sequence was shot, how we slowly found out it was 9/11. It was so unexpected. I can't imagine what it must have been like for the people who just missed those flights or who were supposed to be in those buildings.
Luana: I love it when shows and/or movies do this, not specifically for this event perhaps, but it's interesting to see the most familiar stories from different angles. It's impossible to even imagine the millions of little ways in which events like 9/11 can affect people's lives, after all, if you really see the big picture, the whole world is like a chaotic game of Dominoes. So that moment when Jon is talking to his friend and we learn it was flight 11 from American Airlines he was supposed to get into, my jaw dropped, it showed so perfectly how every day life can turn upside down in a instant.
Ellys: Eddie asks Katherine to come outside. One of the most unexpected turns that A Million Little Things took in its first season was bringing Eddie and Katherine back together. Grace Park and David Giuntoli have moved mountains with their performances as the couple learned all over again what it meant to respect, support and care about each other. He asks her to come outside, and they sit together on the bumper of their minivan. There's no moment more emotionally satisfying than when Eddie tells her he wants nothing more than to come home. Which makes it an incredibly agonizing yet effective cliffhanger when he says he needs to be honest with her first, and the screen fades to black as he starts to tell her about the child he's having with Delilah. For just a couple minutes, the emotional stakes are through the roof. The season ends with an unexpectedly deep, seemingly insurmountable curveball: how far do forgiveness and redemption extend? It's a brilliant and personal way to conclude the season, not with a gasp-worthy shock but with a painful dilemma.
Beth: Yes, this episode had huge revelations and payoffs, but seeing Katherine cooly tell Hunter that he was sloppy seconds (or thirds) was extremely satisfying. This woman has been through a lot this first season, and that has been a bit lost throughout all the other issues of other characters. So to see her take back power that Hunter thought he deserved was a great moment for this amazing character.
DarkUFO: Gary says goodbye to Jon.

BLACK-ISH, "Black History Month", February 26, 2019, Actors: Anthony Anderson and more, The Scene: Dre's talk about Black History Month
Luana: I love it when Black-ish focuses on these subjects, it always makes for TV that's not only entertaining but also essential and it helps you see the world through other people's eyes. After deliberating with his family about who to choose for his speech at the school to celebrate the end of Black History Month, Dre decides talking about just one person isn't enough, the same way just one month to talk about black history isn't enough, because black history is history and should be taught in class all year long. Also I have to say I was happy when they mentioned DeRay Mckesson, since I listen to him every week on Pod Save the People. Wonderful episode all around.

BROOKLYN NINE-NINE, "He Said, She Said", February 28, 2019, Actors: Melissa Fumero, Andy Samberg, The Scene: Amy tells Jake a story about her old Captain
Justyna: First of all, Melissa Fumero did an incredible job with this scene and the episode overall. She's always been wonderful as Amy but this was truly her moment to shine. I only wish there was no reason to tell such a story, but sadly that's not the case. There are so many people affected by sexual harassment, especially the women. Unfortunately it can happen anywhere, on the street, at home, in the workplace. In this scene Amy tells Jake her own story, about her old Captain, a man whom she was looking up to, someone who genuinely seemed to be helping her. But he turned out to be just another person who was abusing his power and demanded "a reward" for his support in advancing Amy's career. What's more, he made Amy question whether she actually deserved her promotion, despite all the work and effort she put into becoming a detective. It felt terrible to listen to her story but it was absolutely important to share it. I'm glad to see Jake's reaction to her words. It was exactly the support she needed in this moment. Just another reason why these two are such a strong and wonderful couple. Kudos to the cast & crew for all their great work in the episode and especially with this story.
Patrycja: Amy tells Jake her story of her old Captain, who after mentoring and getting her to detective asked Amy out to dinner. There, he tried to kiss her because, as he said, he believed he deserved something in return for getting her to where she was in her career.
Mads: Amy tells Jake about being harassed by her former captain. Fumero delivered a terrific performance in this scene as she recounts her own #MeToo experience to Jake. It's tragic that so many women, almost every woman, has to deal with some form of harassment in her life, often more than once.

GOOD TROUBLE, "Byte Club", February 26, 2019, Actors: Cierra Ramirez, Dhruv Uday Singh and more
The Scene: Raj stands up for Mariana
Luana: Sometimes it's hard to appreciate when someone does the right thing too late, but in this world we're living in, sometimes you have to celebrate the wins you get while you keep fighting for the rest. So it was nice to finally see Alex get called out for his discrimination, and I'm sure it will create a lot of friction but at least something will have to change, hopefully for the better.

GREY'S ANATOMY, "We Didn't Start the Fire", February 28, 2019, Actors: Ellen Pompeo, Justin Chambers, Lindsay Wagner, The Scene: Meredith meets Alex's mom
Beth: This moment was sweet and simple. But held so much weight. To hear Alex's mom say 'You're Alex's best friend' and Mer immediately respond with 'I am. And he's mine' not only made Alex tear up, but most of the audience.
Marko: Alex introduces his mom to Meredith. The spark in their eyes told everything. How much it meant for Alex to introduce the two of them and how happy Mer and Helen were as it happened.

INTO THE DARK, "Treehouse", March 1, 2019, Actors: Jimmi Simpson, Mary McCormack and more
The Scene: Peter's crimes against women are revealed
Claire: The scene where the "witch's" coven has Peter Rake tied up to a bed to scare the hell out of him. All of his crimes and transgressions against the women in his life are revealed; including rape. It was a powerful MeToo moment and Jimmi Simpson was wonderfully hateful as Peter. This was my favorite episode of ITD, so far.

LEGACIES, "There's a Mummy on Main Street", February 28, 2019, Actors: Danielle Rose Russell, Jenny Boyd, Matt Davis and more, The Scenes: The road trip from hell & Hope tells Lizzie she'd never start a rumor about her mental health
Jennise: The road trip from hell. I've tossed this phrase around for years. I thought I knew how bad it could be. My dad dropping my sister and I off at a Taco Bell while he took the car to the repair shop, then hearing a fire truck go by and just knowing they were heading for our car. (They were.) Then pretending I was asleep while my Dad drove us home, through the Smoky Mountains, in my Grandfather's car while towing his car behind it. Desperately trying to ignore my Dad's car swaying along behind us and my Mom's constant warnings to him to be careful lest the towed car pull us off the road. The tension in my Grandfather's car was nothing compared to Josie throwing up in that confined space -- multiple times! LOL. Add to that the bickering, the unwelcome road games and Alaric's rendition of 99 Bottles of Bear and you have, IMHO a greater definition of HELL.
Jamie: Hope tells Lizzie she'd never start a rumor about her mental health. This was a small scene but it really stuck with me. It's the first time Hope and Lizzie have ever had a real conversation. Plus it showed that this is something that Hope does worry about for herself, and with her family you can't really blame her.

MAGNUM P.I., "Murder is Never Quiet", February 25, 2019, Actors: Stephen Hill, Zachary Knighton and more, The Scene: TC, Rick and Shammy welcome a vet to his new home
Dahne: While Magnum was helping an innocent man go free, TC, Rick and Shammy were pitting the final touches on new house for a double leg amputee vet and his family. Both storylines had merits, but watching this vet realize he was getting a house built for his needs struck me right in the heart. Like Extreme Makeover: Home Edition before it, these scenes always get to me.

RIVERDALE, "Chapter Forty-Eight: Requiem for a Welterweight", February 27, 2019, Actors: Lili Reinhart, Mädchen Amick, The Scene: Betty realizes how deep in the cult Alice is
Mads: Even after almost being drowned to death during the Farm's baptism, Alice shows no sign of wanting to leave the cult behind. If anything, she's even more determined to increase her role in it than she was before, leaving a helpless Betty looking on tearfully, unsure of what to do. Especially as Alice starts talking about burning down their home, believing it to be the one thing holding her back from ascension.

SPEECHLESS, "W-h-Wheelchair P-l-Planet", March 1, 2019, Actors: Minnie Driver and more
The Scene: Dr. Hinkle encourages Maya to support JJ's New York dream
Marko: As always CW is pushing boundaries and discovering ways of sharing its worlds and the pov of people with disabilities and their family members. In a beautiful scene the writers perfectly used the chemistry between Maya and Dr Hinkle to tell their story and let Maya let go of her son.

SUITS, "Harvey", February 27, 2019, Actors: Gabriel Macht, Sarah Rafferty, The Scene: Donna and Harvey kiss
Jimmy: The relationship between Harvey and Donna has always been great value and fun to watch, and while it's well known they have an intimate past, their relationship has always been one where they've never needed to take it further just to appease the viewer. That changed in this week's season finale, when they finally both realized they were meant to be together. Their beautifully filmed, emotionally vulnerable and highly fulfilling scene in the finale's dying moments was so good to watch. The final season really will be a blast and I'm very much looking forward to it.

THE GIFTED, "oMens", February 26, 2019, Actors: Stephen Moyer, Grace Byers, The Scene: Reed's sacrifice
Justyna: The entire episode (and Reed's arc) have been building up to this one confrontation. I can't say I didn't see it coming because I felt it with every single flashback of Strucker family's old life. It was heartbreaking to see Reed's goodbye to Caitlin but at this moment he realized that there was no magical cure that could have saved him from his destructive power so the best he could do was to make sure to use it to protect his family. One last time. When he enters the room Reeva calls him the most disappointing of the Von Struckers. She completely dismisses not only his powers but also his choice and the reason why he would appear to confront her all on his own. Her powers have been very impressive since her introduction, she uses them to destabilize her opponents, to make them lose control. Her sonic scream, however, does not allow her to create a physical barrier, to protect herself from an attack of someone more powerful than herself. Someone like Reed. I always imagined that his story would eventually lead to him learning to control his powers and yet in the end it's his lack of control that truly makes the difference. He focuses all of his strength and will to fight for his family and is able to withstand her attack for long enough to let his power destroy them together. I thought his last words worked perfectly, especially with the way she addressed him before their confrontation. "You wanted the power of the von Struckers? It's all yours." The montage that follows is heartbreaking to watch but Reed died as a hero and he did save his loved ones from an imminent harm at least. The fight goes on, but the Strucker name does live forever now. Kudos to cast & crew for all their work on the show. Special shout-out to Stephen Moyer for this scene.

THE KIDS ARE ALRIGHT, "Nine Birthdays", February 26, 2019, Actors: Mary McCormack, Caleb Foote and more, The Scene: The reveal about Eddie's twin
Claire: The scene where Eddie is celebrating his birthday and it is revealed that he had a twin who was lost in Peggy's first trimester. Peggy blames him and decides the twin was the girl she never had and her name is Lynn. It might sound maudlin, but this show is so well written and acted that it is hilarious. They even visit 'Lynn' at the cemetery. Caleb Foote as Eddie is one of the breakout stars of this show.

THE MAGICIANS, "A Timeline and Place", February 27, 2019, Actors: Jason Ralph, Hale Appleman and more, The Scene: Quentin convinces The Monster not to hurt Eliot
Abi: After finding out that Eliot is still alive in last week's episode, Quentin's efforts to save him have increased significantly, but at the same time The Monster's patience has also decreased and he's more than willing to pass the time with alcohol, drugs and anything he can get his hands on. Quentin cannot let any harm come to Eliot and confronts The Monster in a battle of wills that teeters on the edge of violence. It's heartbreaking, especially considering that Quentin and Eliot have romantic feelings for each other that they can't act on. As Quentin pleads with The Monster to leave Eliot's body alone, that if he doesn't and kills Eliot that Quentin will happily die as well as long as it means getting rid of The Monster once and for all, it shows the lengths that people will go to for those that they love.

THE PASSAGE, "You Are like the Sun", February 25, 2019, Actors: Mark-Paul Gosselaar, Saniyya Sidney, McKinley Belcher III and more, The Scenes: Brad kills the man who killed his daughter & Amy tells Anthony about her mother
Jennise: Brad kills the man who killed his daughter. We've seen Brad as the blind follower of orders and as a hero. But of all the places I'd expected his character to have gone in his depression after the death of his daughter, I didn't expect him to have become a premeditated killer. He lied to the police about identifying the man who killed his daughter so that he could get to him. He found the man then shot him in cold blood. It was a fall from grace that makes it much easier to understand how he could take part in convincing death row inmates to take part in Project Noah. This scene also showed us the truth behind Clark's statements that he and Brad were best friends. Until this scene there was never a single moment that made me believe that. But when Brad killed that man, not only was Clark there to offer him a job that might help him find his feet again, Clark got rid of the body and all evidence of the shooting. That's having a friend's back. Great scene that accomplished a lot of character development.
Mads: Amy tells Anthony about her mother. Sidney has continued to impress me week after week with her mature, heartfelt performance as Amy. Her quiet strength continues this week as she finally breaks down and starts to grieve her mother when Anthony questions her about what happened. It's sometimes easy to forget that Amy is a just a girl who lost her mom not too long ago, and even more heartbreaking to hear she blames herself since they had an argument right before her mother died.

TRUE DETECTIVE, "Now Am Found", February 24, 2019, Actors: Mahershala Ali, Stephen Dorff and more, The Scene: The truth is revealed
DarkUFO: The one-eyed man tells the detectives what really happened.