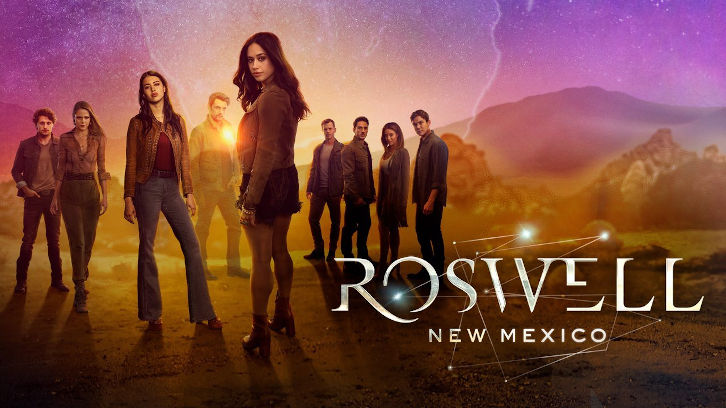 This week on Roswell, New Mexico Liz, Max, Michael, and Maria investigated a woman with healing abilities only to learn that she was a fraud. Her mother (I think) however did know more about Max' tattoo and told him of a woman who used to live with them, who died around the time that Max, Michael, and Isobel arrived. Kyle, Alex, and Cameron shared what they knew about the aliens and realized there were more than just 3 bodies, one of them being Kyle's dad. Michael and Maria get drunk and hook up. Alex confronts Michael with what he knows. Noah finds the pods. Max and Liz kiss.

Not the worst plan: So I know Max, Michael and Isobel would have probably hated it a few weeks ago (not so much now, it seems), but I really liked Kyle, Alex and Jenna (which is apparently Cameron's first name) working together. Let's face it, they have access to recourses the others do not. In just a short period of time, they already managed to uncover new information that Max, Michael, and Isobel haven't in the past decade. And yeah, it took Jenna a moment to deal with the alien element, but she took it a lot better than I thought she would. I really thought she'd end up being the antagonist here. But she really surprised me by going to Alex with all of this. I like her now.

Not a fan: What I didn't like this week was the hook up between Michael and Maria. I'm not entirely sure what the point of this was, aside from creating drama between Michael and Alex. Because that's how this felt, especially with the earing at the end of the episode. Maria has so much potential but the writers just don't seem to want to go there. There has only been one episode where there was a storyline that focused on her. But the storyline with Maria's mother was quickly swept aside. All it gets now is just a few mentions, even though I'm sure there's a lot more to that story.
Isobel didn't do that…. right? So it turns out there are a lot more bodies than just Rosa and those girls. But could that really all have been Isobel, or whatever's possessing her (still my theory)? Wouldn't she have mentioned it earlier if there had been a lot more blackouts after Rosa's death? They made it seem like the blackouts stopped after that and didn't reappear until just recently. So could this mean that there is a fourth alien after all? There were certainly hints this week, they even said it would be a possibility.
That's not good: I should've known from the start that Noah would be a problem. Again, all of this could've been avoided if Isobel had just told him the truth. But anyway, after seeing those pods in the cave he probably has some super weird theories. Luckily, it's very likely that no one will believe him if he starts spreading those theories around town. But I do think Isobel is going to have some serious explaining to do when she returns.
Best quotes: Max: "Dude, no. We can't go at her guns blazing." Michael: "You literally hate everything that I love."
Liz: "Maria DeLuca is her own savior, every damn time."
Kyle: "So you overthrew your father, sent him to Africa and brought a girl into the clubhouse." Jenna: "I'm 28-years old, served 2 tours and could break 12 bones in your body in less than a second and a half. Who are you calling a girl?"
Jenna: "You know, I knew something weird was going on but "Max Evans is an alien murderer." wasn't top of my list." Alex: "Just out of curiosity, what was?" Jenna: "I don't know. Wizard murderer?"
That's it for this week. Check in again next week for an all-new review and let me know in the comments what you thought of this week's episode.
Please be respectful in the comments, any unnecessary rudeness isn't welcome.