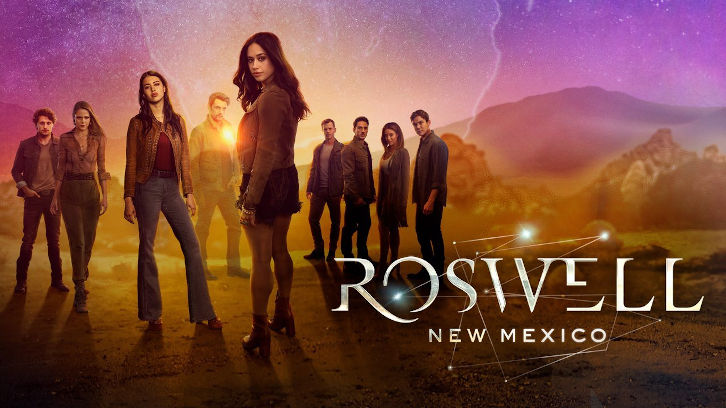 This week on Roswell, New Mexico Liz is still very angry at Max, Michael, and Isobel and even tells the latter that she'd turn her in if it wasn't for her dad's undocumented status. She tries to make a weapon that can be used against Isobel in case she loses it again but ends up wanting to throw it away. Cameron sees Wyatt, who remembers nothing of what he did to Liz and Grant, draw Max' tattoo and she starts to ask around for Manes. Isobel checks herself into a mental health facility. Maria's mom shows up with serious mental health issues but she seems to know more about Rosa and Jim Valenti.

Took you long enough: So after 6 episodes Maria finally got a storyline of her own, rather than one that revolved around one of the other main characters. Unfortunately, it's quite a sad one. Maria has been dealing with a lot but still managed to be there for her friends. Despite having to put her mother in a care facility, I doubt this is the last we've seen of her. For one, you don't cast Sherri Saum in a role that only appears once. And she clearly knows something about Kyle's dad, despite being unable to voice it. And they already indicated that her mental state might not have a medical origin. So I'm very curious to find out where she fits in all of this.

Don't make me cry: I really loved the scene where Liz talked to Mimi as Rosa. It must have been hard for her to constantly be reminded of her sister. But I loved the future she had imagined for her sister. This is the part shows often forget. That one you lose a loved one at a young age, you can't help but imagine all the things they were still supposed to do. Rosa was finally starting to get her life together but never got the chance.
I can see your point: I know we're supposed to not like Cameron for being on the opposite side of our main characters, but I can kind of understand why she's doing it. Look at it from her perspective. Her partner just casually comes upon an attempted murder and an execution-style murder in the middle of nowhere. The killer is just casually drawing Max' tattoo, in exact detail, even though he has no way of knowing what it looks like. And normally this is the part where I yell "Just ask him", but she did that and he lied to her face. So what is she supposed to think? Yeah, she probably has her suspicions about Manes as well but I think she just wants answers.
Smart choice: I'm surprised by Isobel's choice to check herself into a mental health facility. I actually think it's a really good idea but I figured Max and Michael wouldn't be happy about it because of the whole doctor thing. But I guess drawing blood probably isn't that necessary in a mental health facility (not that I'd know). I have a feeling her stay isn't going to be uneventful, though.
What did she know? So, it's been established that Rosa knew something about Isobel but we don't know what. Liz automatically assumes it's the alien thing, but I'm not so sure. Mimi said Rosa wanted to tell her dad. Can you imagine how it would've gone if Rosa had told her dad she thinks Isobel is an alien? He would've asked her if she was high again. And I think Rosa would've known no one would believe her. So I don't think that's what Rosa knew, it would be too easy. I actually think it might have to do with what's going on with Isobel. She had to have noticed the extreme changes in personality and memory loss.
Best quotes: Liz: "There are 5 stages of grief. Denial is first but we're way past that. The second stage is anger. I haven't hit stage 3 yet. In fact, I might never get there. Because to be honest, rage feels a lot better than sadness. This anger has become my best friend. It's my fuel, it's my armor."
Michael: "What happened to "I can handle the truth, Michael."? "I am the protagonist of my own story, Michael." "What would Beyoncé do, Michael?"" Isobel: "Liz Ortecho happened."
Isobel: "Here's what I need. From now on, I make the decisions about my own life, okay? Because as it turns out, you 2 suck at it."
That's it for this week. Check in again two weeks from now for an all-new review and let me know in the comments what you thought of this week's episode.
Please be respectful in the comments, any unnecessary rudeness isn't welcome.